29. juli 2021
The Latest News from Mouser Electronics
Mouser Electronics, Inc. is focused on supplying 100% certified, genuine products from its manufacturing partners for electronic design engineers and buyers. Mouser introduces hundreds of new products each month and supports innovation by supplying engineers with the newest products, technologies and resources.
The news highlights from Mouser this week are:
New Product – Mouser now stocking filter for aerospace, defence and medical applications
The ADMV8818 from Analog Devices Inc., is a digitally tuneable filter for advanced communications applications. Based on a fully monolithic integrated circuit (MMIC) with a digitally selectable frequency of operation, it offers a space-efficient alternative to large, switched filter banks and cavity-tuned filters. It is ideal for aerospace, defence and medical applications, as well as industrial instrumentation and measurement.
Full press release here: https://www.mouser.com/newsroom/publicrelations-analogdevices-admv8818-2021final/
New Award – Mouser named Americas Distributor of the Year
Mouser is proud to announce it has received the Americas Distributor of the Year Award for 2020 from Smiths Interconnect. Mouser received the award for being the best-performing partner for sales growth compared to the previous year. Mouser stocks a variety of products from Smiths Interconnect, including the SpaceNXT™ Aurora backplane connectors for LEO satellites.
Full press release here: https://www.mouser.com/newsroom/publicrelations-smiths-interconnect-dist-year-2021final/
New Product – Fully differential amplifier now available from Mouser
A novel fully differential amplifier (FDA), the THS4567 from Texas Instruments, is now available from Mouser. Applications include absolute optical encoder, AC driver position feedback, linear motor position sensor, clinical pulse oximeters, and optical coherence tomography. While standard FDAs only have output-common mode (VOCM) control, the THS4567 includes both independent VICM (input common-mode) and VOCM control. The THS4567 operates as a fully differential transimpedance amplifier (TIA) and analog-digital converter (ADC) driver in a single integrated stage.
Full press release here: https://www.mouser.com/newsroom/ti-ths4567-differential-amplifier/
To see more new products and Mouser news, go to https://eu.mouser.com/newsroom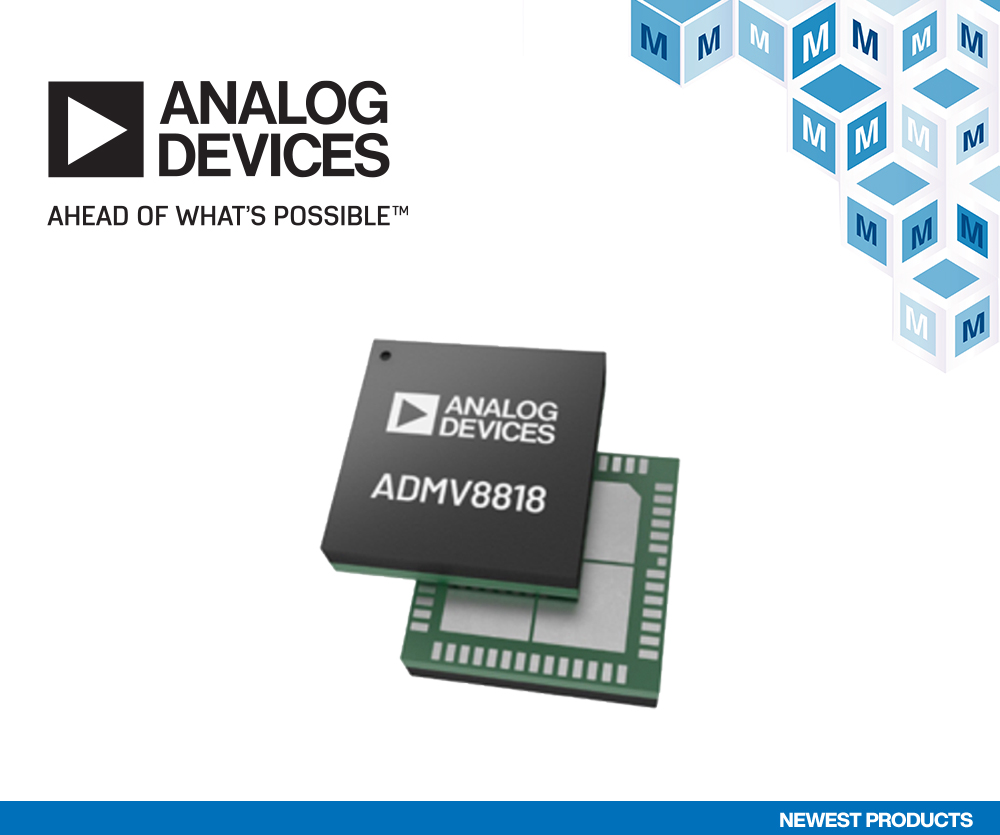 About Mouser Electronics
Mouser Electronics, a Berkshire Hathaway company, is an authorised semiconductor and electronic component distributor focused on New Product Introductions from its leading manufacturer partners. Serving the global electronic design engineer and buyer community, the global distributor's website, mouser.com, is available in multiple languages and currencies and features more than 5 million products from over 1,100 manufacturer brands. Mouser offers 27 support locations worldwide to provide best-in-class customer service in local language, currency and time zone. The distributor ships to over 630,000 customers in 223 countries/territories from its 1 million-square-foot, state-of-the-art distribution facilities in the Dallas, Texas, metro area. For more information, visit http://www.mouser.com.