16. juli 2021
The Latest News from Mouser Electronics
Mouser Electronics, Inc. is focused on supplying 100% certified, genuine products from its manufacturing partners for electronic design engineers and buyers. Mouser introduces hundreds of new products each month and supports innovation by supplying engineers with the newest products, technologies and resources.
The news highlights from Mouser this week are:
New Supplier – Global distribution agreement signed with Telink Semiconductor
A new global distribution agreement has been signed between Mouser and Telink Semiconductor, a leading manufacturer of low-power radio frequency and mixed-signal system chips for IoT applications. Mouser now offers the full range of Telink's SoCs, starter kits and multi-protocol IoT solutions. This includes the TRS827x series, which covers Bluetooth® Low Energy 5.1 and Bluetooth SIG Mesh, Zigbee, HomeKit, RF4CE and proprietary 2.4 GHz protocols. The Telink Kite Mesh Starter Kit, based on the TLSR825, is also in stock.
Full press release here: https://eu.mouser.com/newsroom/publicrelations-telink-newmanufacturer-2021final/
New Record – Over a million customer downloads
Mouser can confirm that its engineering customers have collectively downloaded more than 1 million models using the ECAD resource on mouser.com. Almost 100,000 unique users in 181 countries have downloaded ECAD models from Mouser since it launched the ECAD site. The resource was developed with SamacSys, a global leader in electronic component library solutions. Mouser's ECAD site provides a suite of free solutions for engineers, including 3D models, PCB footprints and schematic symbols for more than 1.1 million components.
Full press release here: https://eu.mouser.com/newsroom/publicrelations-ecad-million-downloads-2021final/
New Products – Interconnect solutions for AI, Industrial and IoT applications
Mouser is now offering COM-HPC® interconnect solutions from Samtec. Designed to meet the COM-HPC standard recently introduced by the PCI Industrial Computer Manufacturers Group (PICMG®), Samtec's COM-HPC products are high-density, high-performance connectivity systems for emerging technologies, such as artificial intelligence (AI), machine vision, embedded edge computing, cybersecurity, 5G infrastructure and connected vehicles, as well as industrial automation, IoT and more.
Full press release here: https://eu.mouser.com/newsroom/publicrelations-samtec-com-hpc-2021/
To see more new products and Mouser news, go to https://eu.mouser.com/newsroom/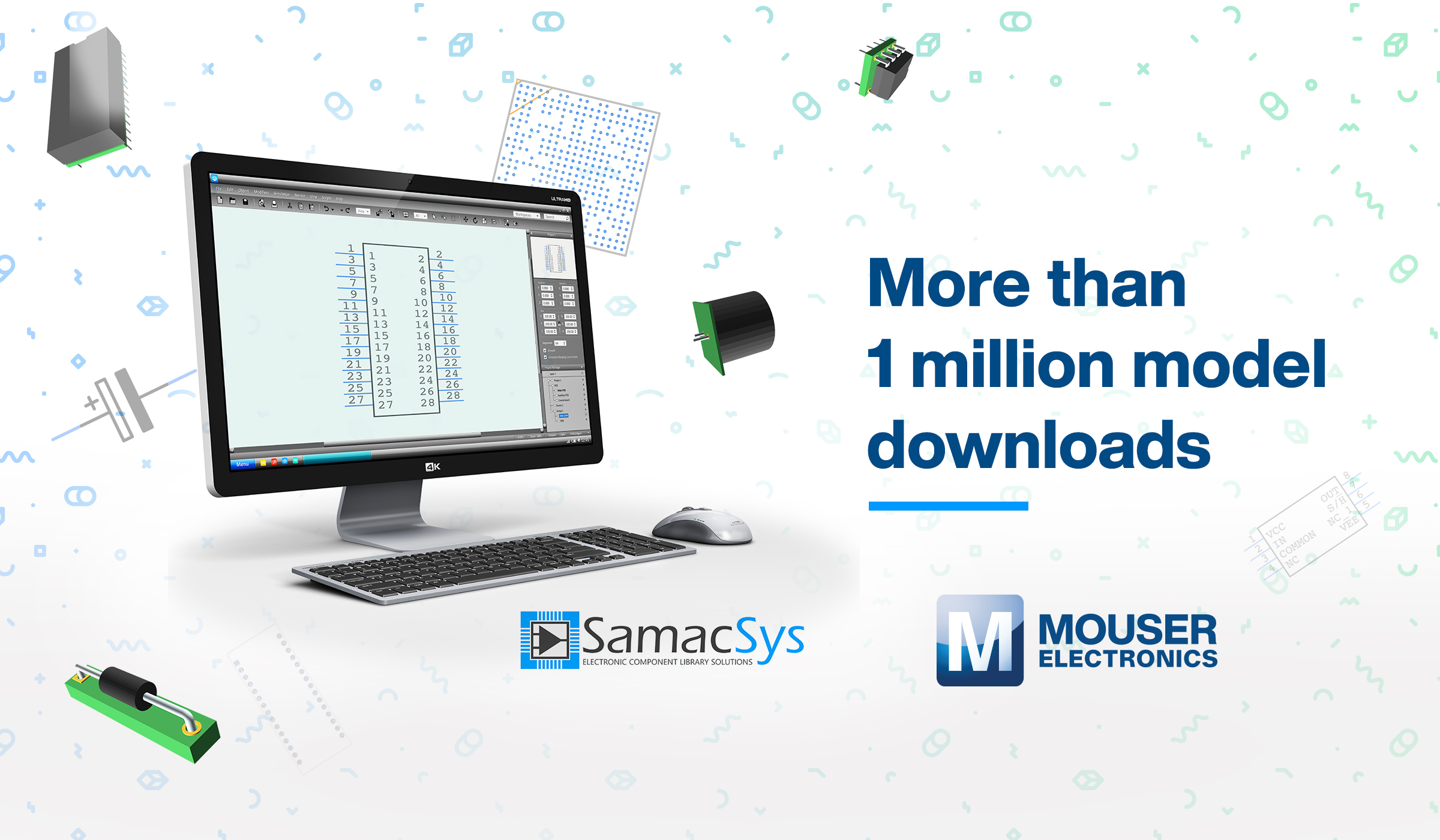 About Mouser Electronics
Mouser Electronics, a Berkshire Hathaway company, is an authorised semiconductor and electronic component distributor focused on New Product Introductions from its leading manufacturer partners. Serving the global electronic design engineer and buyer community, the global distributor's website, mouser.com, is available in multiple languages and currencies and features more than 5 million products from over 1,100 manufacturer brands. Mouser offers 27 support locations worldwide to provide best-in-class customer service in local language, currency and time zone. The distributor ships to over 630,000 customers in 223 countries/territories from its 1 million-square-foot, state-of-the-art distribution facilities in the Dallas, Texas, metro area. For more information, visit http://www.mouser.com.