9. juli 2021
The Latest News from Mouser Electronics
Mouser Electronics, Inc. is focused on supplying 100% certified, genuine products from its manufacturing partners for electronic design engineers and buyers. Mouser introduces hundreds of new products each month and supports innovation by supplying engineers with the newest products, technologies and resources.
The news highlights from Mouser this week are:
New Supplier – Global agreement with Marktech Optoelectronics
Mouser has signed a global distribution agreement with leading designer and manufacturer of standard and custom optoelectronics and assemblies, Marktech Optoelectronics. According to the agreement, Mouser will offer Marktech's range of emitters and photodiodes, including its shortwave infrared emitters, near-IR emitters and high-power SMD UV emitters.
Full press release here: https://eu.mouser.com/newsroom/publicrelations-marktech-optoelectronics-newmanufacturer-2021final/
New eBook – New eBook focuses on harsh environments
The new eBook has been developed in collaboration with TE Connectivity (TE), a world leader in connectivity and sensors. In Proven in the Harshest Environments, subject matter experts from Mouser and TE offer in-depth articles on how TE's broad range of connectivity and sensor solutions enable advancements in transportation, industrial applications, medical technology, energy, data communications and the home.
Full press release here: https://eu.mouser.com/newsroom/publicrelations-te-connectivity-harsh-env-ebook-2021final/
Mouser Awards – Mouser celebrates Best-in-Class winners
The annual Mouser Best-in-Class awards selection, now in its 26th year, recognises the outstanding individuals from Mouser's manufacturer partners who best supported the global distributor's program and product launches. Winners are selected based on strategical partnerships, promotion of product lines, creative solutions to growing market share, maximising value propositions and championing Mouser internally.
Full press release here: https://eu.mouser.com/newsroom/publicrelations-best-in-class-awards-2021final/
New Product – Mouser is now shipping 4G/5G antennas from Laird Connectivity
Mouser is now stocking the OC69421 omnidirectional antenna from Laird Connectivity. It offers expanded global cellular coverage of 4G/5G and CBRS bandwidths, combined with rugged outdoor construction for a variety of industrial, IoT, smart utilities and agricultural applications. The OC69421 comes complete with mast mounting hardware and is enclosed in a weatherproof, UV-stable radome. The complete antenna solution is designed to provide years of reliable operation without degradation.
Full press release here: https://eu.mouser.com/newsroom/publicrelations-laird-connectivity-oc69421-antenna-2021final/
New Supplier – Mouser announces distribution deal with CITEL
Through the global distribution agreement with CITEL, Mouser now offers customers a wide array of CITEL RF, AC, DC and Data Line surge protectors. Products including the P8AX-6G, DS40S, DS230S and DLA Data Line surge protection devices can be used in harsh environments, power panels and other enclosures to keep sensitive electronics safe from transients.
Full press release here: https://eu.mouser.com/newsroom/publicrelations-citel-new-manufacturer-2021final/
To see more new products and Mouser news, go to https://eu.mouser.com/newsroom/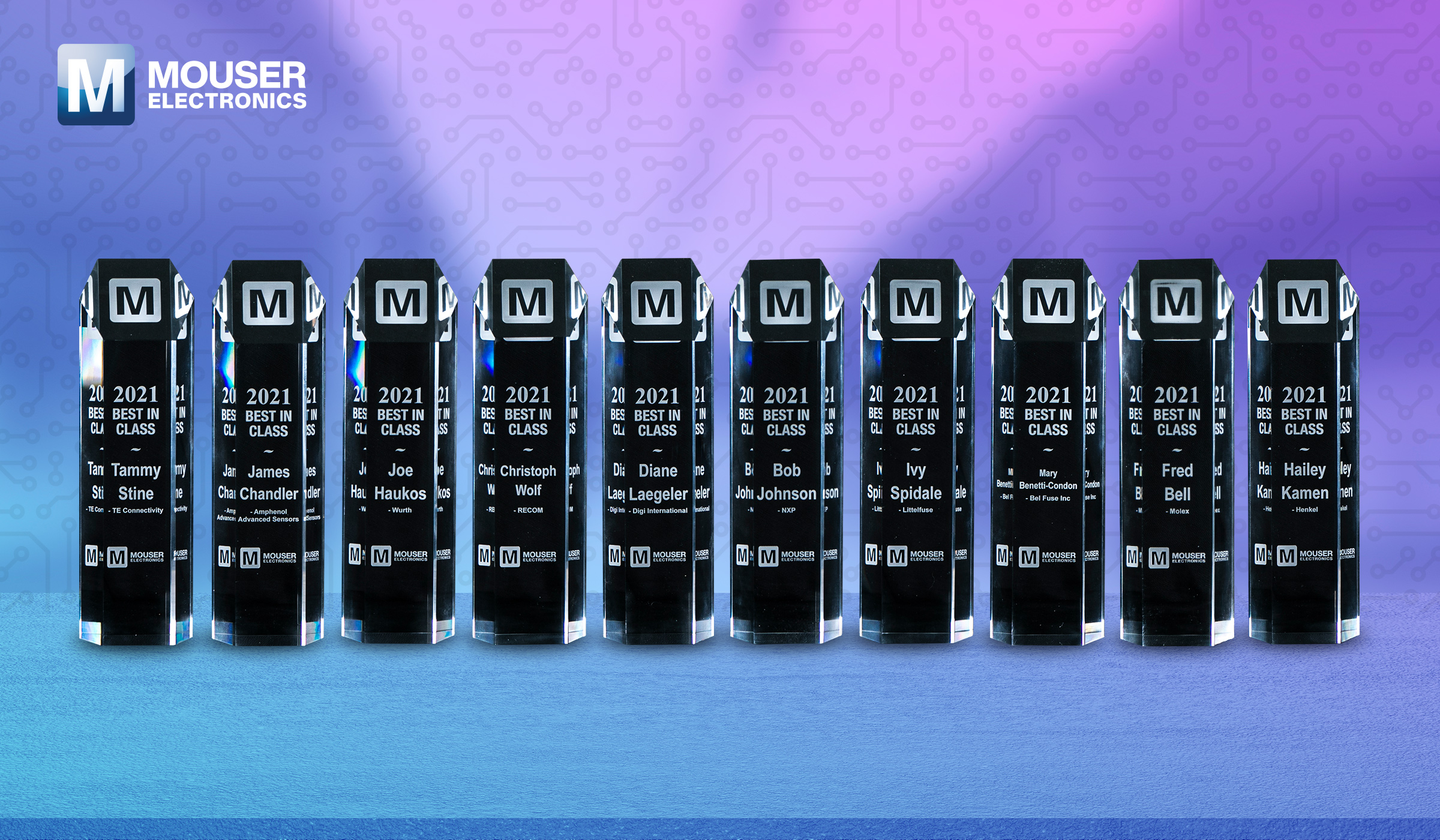 About Mouser Electronics
Mouser Electronics, a Berkshire Hathaway company, is an authorised semiconductor and electronic component distributor focused on New Product Introductions from its leading manufacturer partners. Serving the global electronic design engineer and buyer community, the global distributor's website, mouser.com, is available in multiple languages and currencies and features more than 5 million products from over 1,100 manufacturer brands. Mouser offers 27 support locations worldwide to provide best-in-class customer service in local language, currency and time zone. The distributor ships to over 630,000 customers in 223 countries/territories from its 1 million-square-foot, state-of-the-art distribution facilities in the Dallas, Texas, metro area. For more information, visit http://www.mouser.com.