25. juni 2021
The Latest News from Mouser Electronics
Mouser Electronics, Inc. is focused on supplying 100% certified, genuine products from its manufacturing partners for electronic design engineers and buyers. Mouser introduces hundreds of new products each month and supports innovation by supplying engineers with the newest products, technologies and resources.
The news highlights from Mouser this week are:
New Resource – New Mouser hub highlights TE Connectivity
A new content platform, developed with TE Connectivity, offers a comprehensively continually updated archive of infographics, videos and technical articles. The site's content provides insights into connected automobile and smart home design. It launches with more than 50 pieces of content, covering antennas, sensors, IoT devices and medical solutions.
Full press release here: https://eu.mouser.com/newsroom/publicrelations-te-connectivity-content-hub-2021/
New Sponsorship – Mouser sponsors 2021 NXP Technology Days
Mouser is sponsoring NXP® Technology Days, a world-class online training program for engineers designing solutions with embedded technology. The free, design-focused series runs from June 8th to June 30th across three tracks: Automotive, Connectivity and Edge Computing.
Full press release here: https://eu.mouser.com/newsroom/publicrelations-nxp-technology-days-2021/
New Supplier – Mouser and Jorjin Technologies announce global distribution agreement
The global distribution agreement with Jorjin Technologies Inc., a leading manufacturer of SoM and SiP products, means Mouser is now offering customers Jorjin's range of sensor modules and connectivity solutions for IoT, security and industrial applications. Examples include the WG7833-B0 wireless module with Wi-Fi and Bluetooth, the WS211x modules for Sigfox and Jorjin's ZB7412-00 wireless microcontroller.
Full press release here: https://eu.mouser.com/newsroom/jorjin-new-manufacturer-2021/
New Product – Mouser now shipping RL78/G23 MCU from Renesas
The RL78/G23 microcontroller from Renesas Electronics is part of the RL78 family, offering engineers increased 16-bit performance and lower power consumption for a host of consumer and industrial IoT (IIoT) and industrial automation applications.
Full press release here: https://eu.mouser.com/newsroom/publicrelations-renesas-rl78-g23-mcus-2021final/
New Supplier – Mouser signs global deal with GIGAIPC
The global distribution agreement is with GIGAIPC, a Titanium Partner of the Intel Partner Alliance. Through the agreement, Mouser further bolsters its embedded line card with GAGIPC board-level and system-level products for 5G, IoT, machine vision, industrial automation, smart retail and health care. This includes GIGAIPC's 3.5" single board computers, Micro-ATX motherboards and its QBiX Pro Systems.
Full press release here: https://eu.mouser.com/newsroom/publicrelations-gigaipc-new-manufacturer-2021/
New Resource – Microchip's newest products and latest insights
The new content platform is devoted to the newest resources, products and technical insights from Microchip. In partnership with Mouser, the new site offers technical articles, infographics and videos demonstrating Microchip's leadership. Topics include AI, edge computing, IoT and human augmentation.
Full press release here: https://eu.mouser.com/newsroom/publicrelations-microchip-content-hub-2021final/
To see more new products and Mouser news, go to https://eu.mouser.com/newsroom/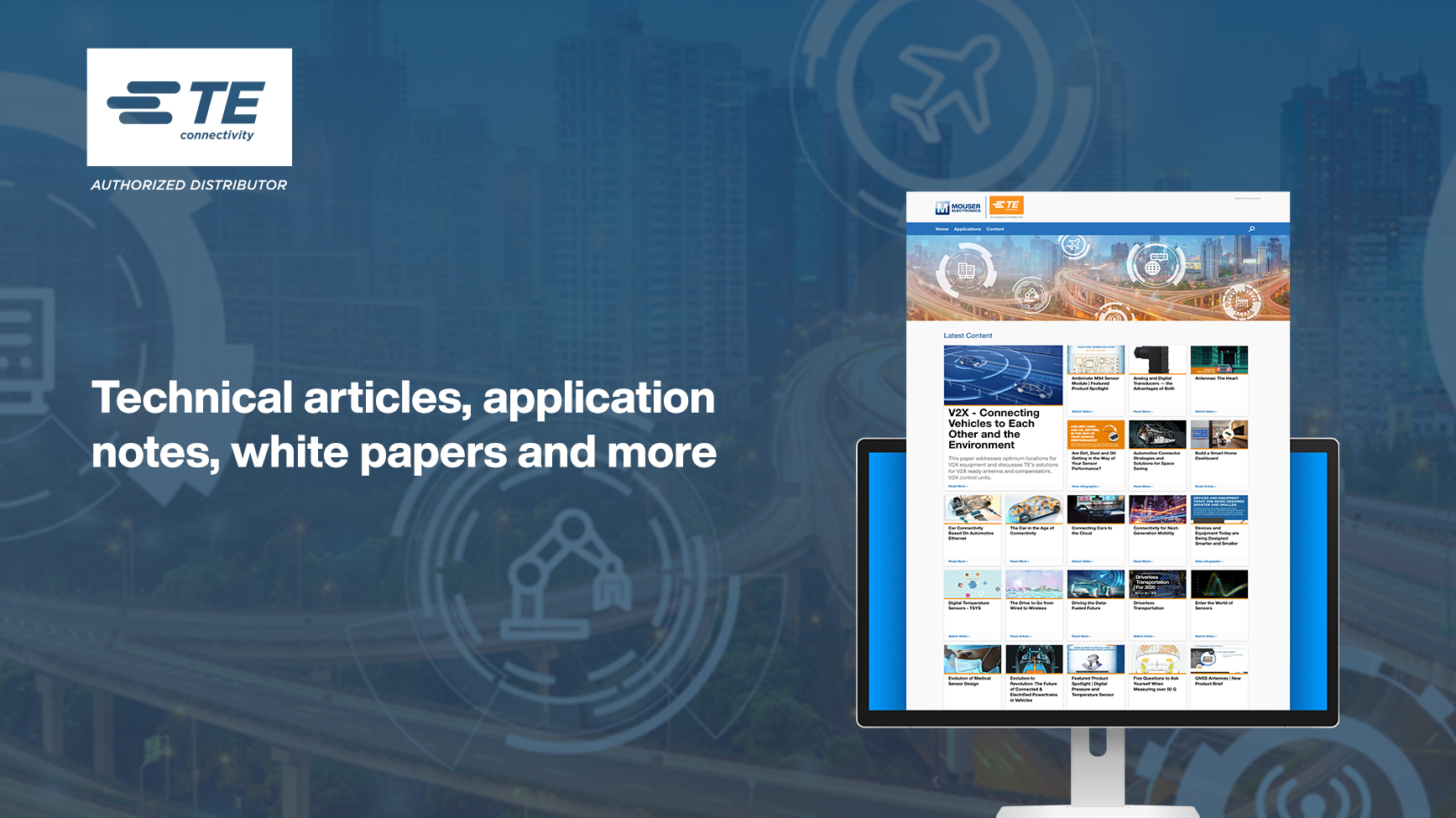 About Mouser Electronics
Mouser Electronics, a Berkshire Hathaway company, is an authorised semiconductor and electronic component distributor focused on New Product Introductions from its leading manufacturer partners. Serving the global electronic design engineer and buyer community, the global distributor's website, mouser.com, is available in multiple languages and currencies and features more than 5 million products from over 1,100 manufacturer brands. Mouser offers 27 support locations worldwide to provide best-in-class customer service in local language, currency and time zone. The distributor ships to over 630,000 customers in 223 countries/territories from its 1 million-square-foot, state-of-the-art distribution facilities in the Dallas, Texas, metro area. For more information, visit http://www.mouser.com.