11. juni 2021
The Latest News from Mouser Electronics
Mouser Electronics, Inc. is focused on supplying 100% certified, genuine products from its manufacturing partners for electronic design engineers and buyers. Mouser introduces hundreds of new products each month and supports innovation by supplying engineers with the newest products, technologies and resources.
The news highlights from Mouser this week are:
New AI Product – Mouser now supplying Vision AI Starter Kit
Mouser is now supplying the Kria™ KV260 Vision AI Starter Kit from Xilinx. The Kria KV260 is purpose-built for vision applications and allows design engineers with no previous experience in AI to get up and running in less than an hour, by implementing their designs and algorithms in an FPGA.
Full press release here: https://eu.mouser.com/publicrelations_xilinx_kriakv260starterkit_2021final/
New eBook – Explore the future of automotive design and manufacture
The new eBook 'Enabling the Future of Mobility', produced by Mouser in collaboration with Microchip Technology, highlights the products and technologies enabling the next generation of automotive solutions. Thought leaders from Mouser and Microchip offer in-depth insights into some of the most important issues facing next-generation automotive design, including motor control, cybersecurity and vehicular software.
Full press release here: https://eu.mouser.com/publicrelations_microchip_automotive_ebook_2021final/
New RF Product – Laird's MIMO vehicular antennas now available from Mouser
Mouser is now stocking Laird Connectivity's MIMO (multiple-in, multiple-out) vehicle antennas. These rugged, high-performance antennas support multi-port 4G/LTE, dual-band Wi-Fi, and active Global Navigation Satellite System (GNSS + GLONASS) for GPS and compass/Beidou navigation systems.
Full press release here: https://eu.mouser.com/publicrelations_lairdconnectivity_mimo_vehicular_2021final/
New Web Resource – New site highlights high-speed solutions for 5G and IoT
A new site developed in partnership by Mouser and Molex is devoted to high-speed solutions for future trends in connectivity, including 5G and the next generation of IoT devices. The site can be accessed by visiting http://molex.mouser.com/high-speed and features more than a dozen technical articles, podcasts and videos, each offering valuable information on topics including RF precision matching, FPGA acceleration and edge computing.
Full press release here: https://eu.mouser.com/publicrelations_molex_highspeedsolutionssite_2021final/
New Episode – Empowering Innovation Together explores WBG and power
The second instalment in the 2021 series of award-winning Empowering Innovation Together™ is available now on the Mouser website Alexa, Apple Podcasts, Google Podcasts, iHeartRadio, Pandora and Spotify. It explores power management and the potential of WBG (wide band-gap) technology. Each month, the series provides a closer look into industry-changing technologies with a timely collection of podcasts, video, blogs, articles and infographics.
Full press release here: https://eu.mouser.com/publicrelations_eit-ep2-powermanagement-2021final/
To see more new products and Mouser news, go to https://eu.mouser.com/pressroom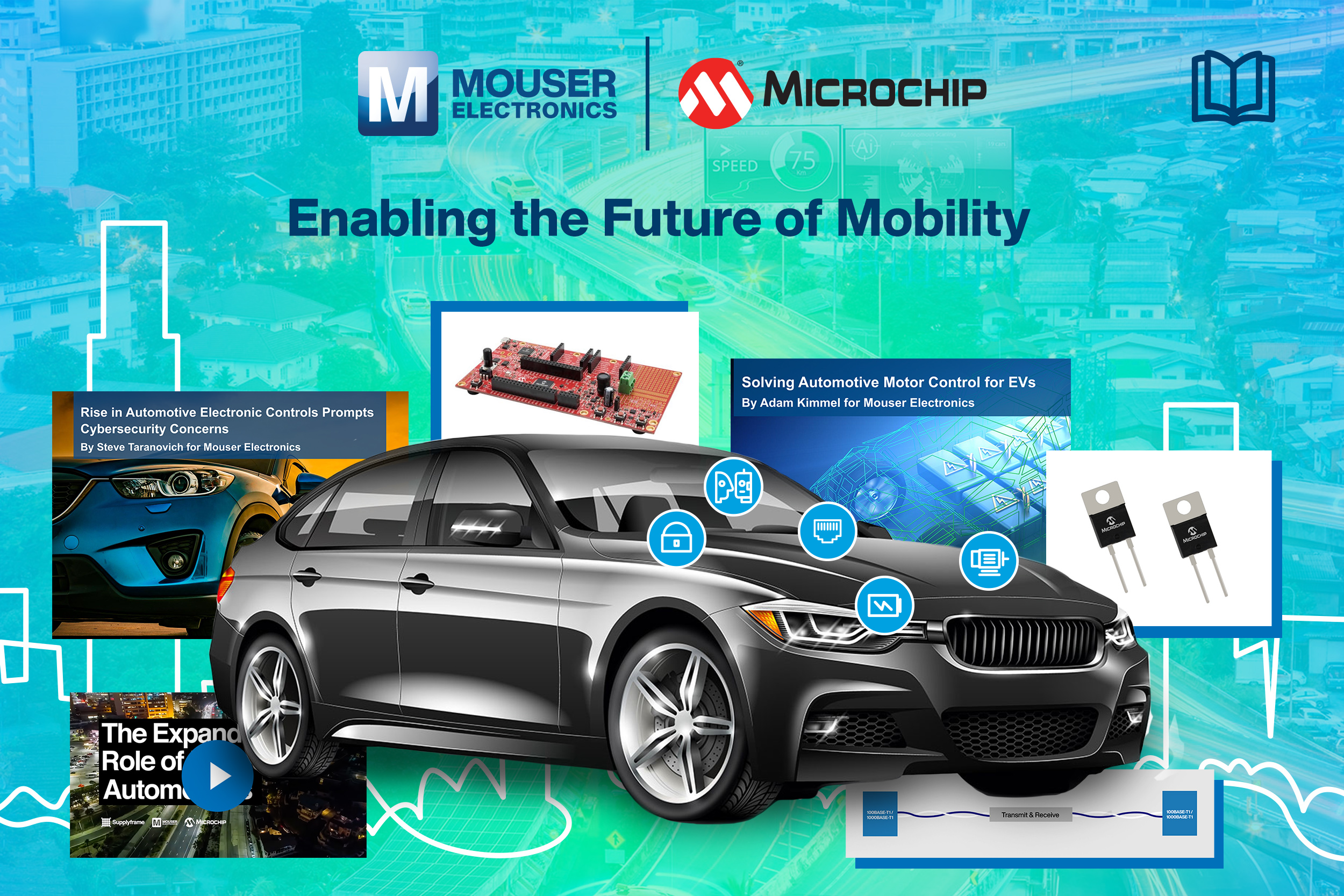 About Mouser Electronics
Mouser Electronics, a Berkshire Hathaway company, is an authorised semiconductor and electronic component distributor focused on New Product Introductions from its leading manufacturer partners. Serving the global electronic design engineer and buyer community, the global distributor's website, mouser.com, is available in multiple languages and currencies and features more than 5 million products from over 1,100 manufacturer brands. Mouser offers 27 support locations worldwide to provide best-in-class customer service in local language, currency and time zone. The distributor ships to over 630,000 customers in 223 countries/territories from its 1 million-square-foot, state-of-the-art distribution facilities in the Dallas, Texas, metro area. For more information, visit eu.mouser.com.