24. maj 2021
The Latest News from Mouser Electronics
Mouser Electronics, Inc. is focused on supplying 100% certified, genuine products from its manufacturing partners for electronic design engineers and buyers. Mouser introduces hundreds of new products each month and supports innovation by supplying engineers with the newest products, technologies and resources.
The news highlights from Mouser this week are:
New Award – Mouser named Channel Partner of the Year by Ohmite
Mouser is pleased to announce that it has been honoured with the 2020 Channel Partner of the Year award from Ohmite Corporation, a leading provider of resistors for high-current, sensing, high-voltage and high-energy applications. Mouser earned this top global recognition based on successful sales of Ohmite's new products.
Full press release here: https://eu.mouser.com/publicrelations_ohmite_channel_partner_award_2021final/
New Product – Mouser now shipping CATV Amplifiers from Qorvo
The QPL181 suite of CATV RF amplifiers from Qorvo use Gallium Arsenide (GaAs) pHEMTs in a SOT-89 package to enable space-saving designs in the 50 MHz to 1800 MHz spectrum.  Applications include cable modems, optical nodes and STBs, as well as DOCSIS 4.0, FTTH, GPON and GEPON communications.
Full press release here: https://eu.mouser.com/publicrelations_qorvo_qpl181x_amplifiers_2021final/
New Supplier – Mouser signs Raydiall Automotive
The global distribution agreement with Raydiall Automotive adds the company's USCAR-qualified FAKRA and automotive high-speed data connectors to Mouser's interconnect portfolio. Raydiall is an innovative, high-tech company dedicated to the design, development and manufacture of automotive RF interconnection systems.
Full press release here: https://eu.mouser.com/publicrelations_raydiall_automotive_newmanufacturer_2021final/
New Product – Mouser now shipping SmartIndustrial sensor family
The SmartIndustrial sensor family from Invensense, a TDK Group company, is now available from Mouser. These compact, high-precision, low-cost accelerometers and motion-sensing microelectromechanical systems (MEMS) give engineers a range of sensing choices for industrial applications. This includes robotics, tilt sensing, platform stabilisation, navigation, industrial automation and many more.
Full press release here: https://eu.mouser.com/publicrelations_tdk_invensense_smartindustrial_2021final/
New eBook – Power solutions for next-generation electric vehicles
In collaboration with ROHM Semiconductor, Mouser introduces the new eBook Driving the Future of Automotive Solutions with ROHM. Subject Matter Experts from Mouser and ROHM offer technical insights into vehicle electrification applications, including power management, lighting and motor control.
Full press release here: https://eu.mouser.com/publicrelations_rohm_automotive_solutions_ebook_2021final/
New Engineers – Mouser sponsors FIRST Robotics Competition
Mouser is pleased to announce its continued sponsorship of the FIRST Robotics Competition, which inspires innovation in thousands of young people every year. Almost 50,000 high-school students in nearly 3,000 teams from 30+ countries participate to learn, discover and solve engineering challenges through a series of virtual and live robotics events.
Full press release here: https://eu.mouser.com/publicrelations_first_robotics_kickoff_2021final/
To see more new products and Mouser news, go to https://eu.mouser.com/pressroom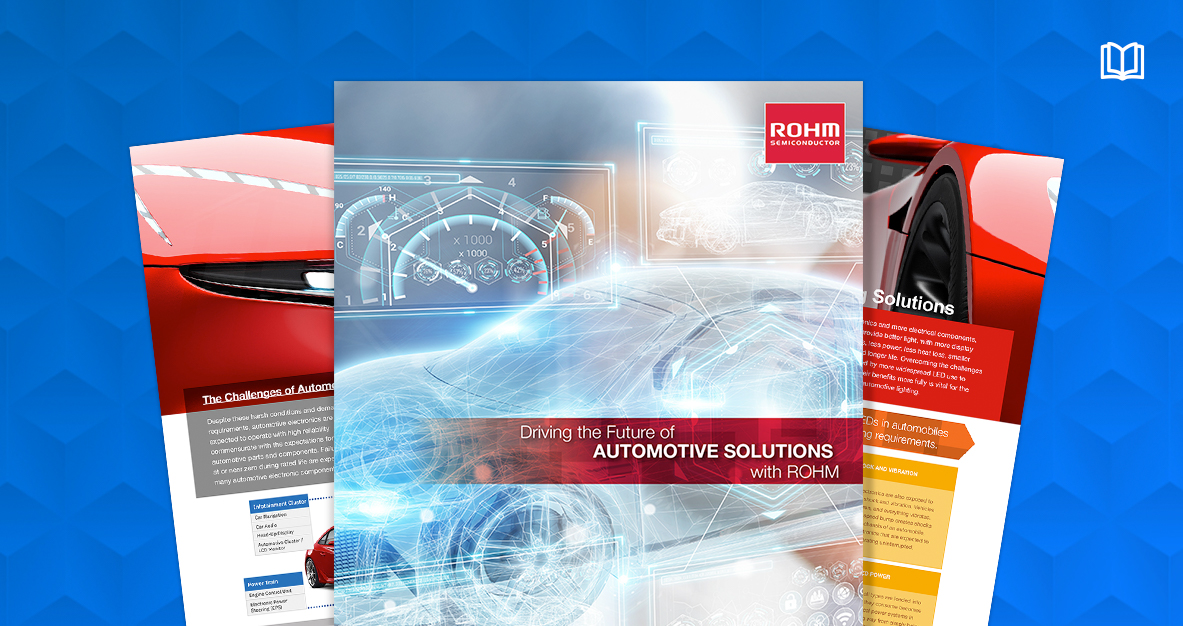 About Mouser Electronics
Mouser Electronics, a Berkshire Hathaway company, is an authorised semiconductor and electronic component distributor focused on New Product Introductions from its leading manufacturer partners. Serving the global electronic design engineer and buyer community, the global distributor's website, mouser.com, is available in multiple languages and currencies and features more than 5 million products from over 1,100 manufacturer brands. Mouser offers 27 support locations worldwide to provide best-in-class customer service in local language, currency and time zone. The distributor ships to over 630,000 customers in 223 countries/territories from its 1 million-square-foot, state-of-the-art distribution facilities in the Dallas, Texas, metro area. For more information, visit eu.mouser.com.