30. april 2021
The Latest News from Mouser Electronics
Mouser Electronics, Inc. is focused on supplying 100% certified, genuine products from its manufacturing partners for electronic design engineers and buyers. Mouser introduces hundreds of new products each month and supports innovation by supplying engineers with the newest products, technologies and resources.
The news highlights from Mouser this week are:
New Product – Building and Factory Automation Ethernet PHY from Texas Instruments
Mouser is now stocking the DP83TD510E Ethernet PHY (physical layer) from Texas Instruments. The IEEE 802.3cg 10BASE-T1L compliant transceiver provides high-bandwidth communications without the need for additional gateways, or their protocols and cables. The transceiver can communicate at 10 Mbps over 1.7 km using a single twisted pair, extending the reach of automation applications without increasing cable cost or system weight.
Full press release here: https://eu.mouser.com/publicrelations_texas_instruments_DP83TD510E_2021final/
New Partnership – Mouser and T Works partner on new facility in Hyderabad
The partnership will support India's largest state-of-the-art hardware prototyping centre, by reducing the barriers that the Indian hardware ecosystem faces when sourcing high-quality, reliable components. The facility will be equipped with 3D printers, CNC machines, laser cutters and PCB fabrication capabilities, helping Micro, Small and Medium sized enterprises (MSMEs), start-ups and individuals to convert ideas into products efficiently and economically.
Full press release here: https://eu.mouser.com/publicrelations_tworks_partnership_2021final
New Supplier – Mouser signs IoT specialist MultiTech
The global distribution agreement with MultiTech covers its product line of sensors, authentication, and communications solutions. For example, the MultiTech SocketModem Cell is a ready-to-integrate solution covering 2G, 3G, GSM and 4G LTE, allowing developers to add wireless communications to their products with minimal design effort.
Full press release here: https://eu.mouser.com/publicrelations_multitech_new_manufacturer_2021final/
New Products – Mouser is now shipping cellular antennas from Laird Connectivity
The Revie Flex series of internal cellular antennas from Laird Connectivity cover 5G and IoT applications. They provide a peel-and-stick experience, providing high data throughput for a variety of environments in a small and flexible format.
Full press release here: https://eu.mouser.com/publicrelations_lairdconnectivity_revie_flex_2021final/
Supplier Spotlight – Analog Devices Inc
Mouser now offers over 23,000 Analog Devices products, including 4,000 development tools. The two companies also collaborate on e-books to provide a deep dive into key areas such as energy storage technologies, and the importance of precision measurement in the Internet of Things.
Full press release here: https://eu.mouser.com/publicrelations_analog_devices_authorized_distributor_2021final/
To see more new products and Mouser news, go to https://eu.mouser.com/pressroom/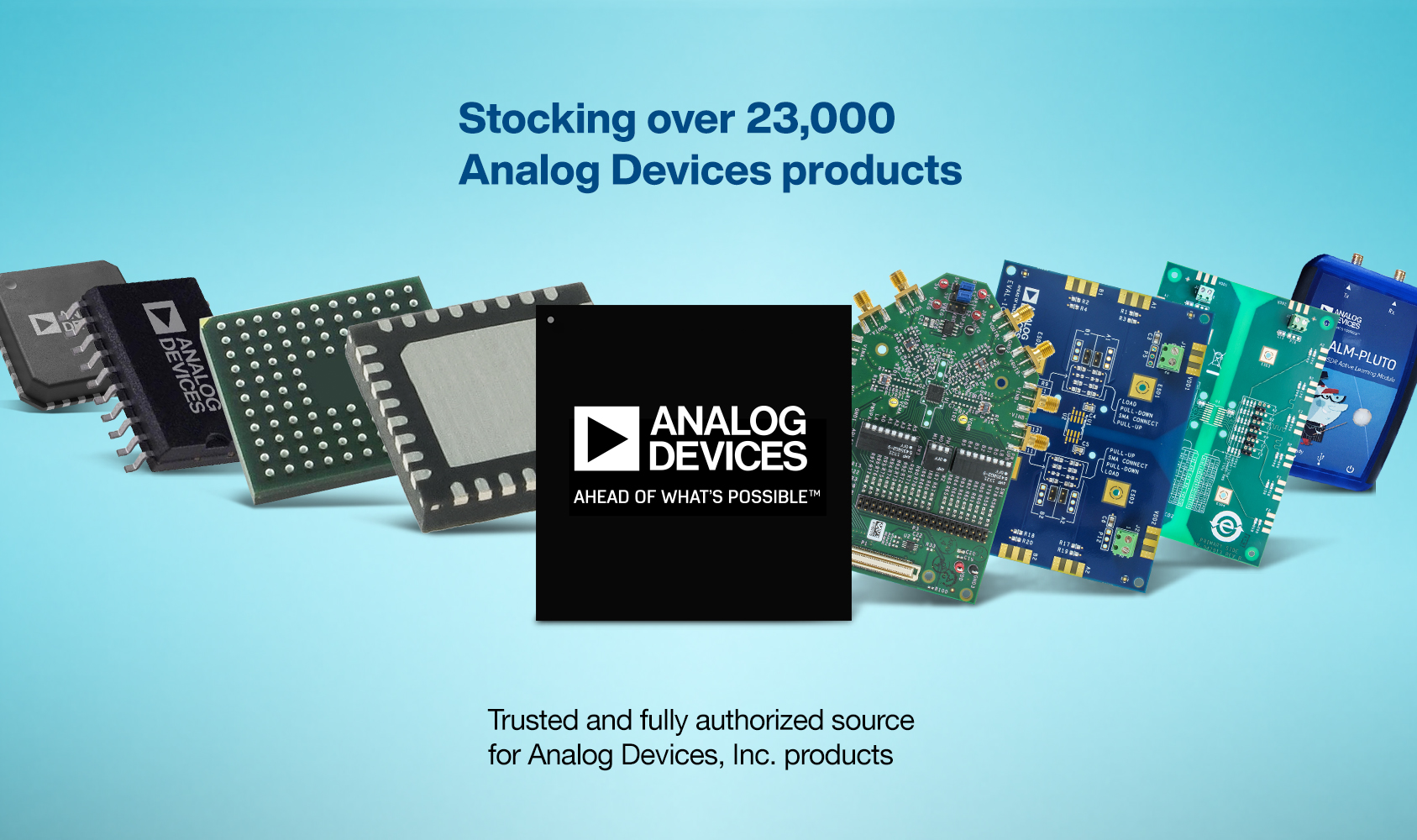 About Mouser Electronics
Mouser Electronics, a Berkshire Hathaway company, is an authorised semiconductor and electronic component distributor focused on New Product Introductions from its leading manufacturer partners. Serving the global electronic design engineer and buyer community, the global distributor's website, mouser.com, is available in multiple languages and currencies and features more than 5 million products from over 1,100 manufacturer brands. Mouser offers 27 support locations worldwide to provide best-in-class customer service in local language, currency and time zone. The distributor ships to over 630,000 customers in 223 countries/territories from its 1 million-square-foot, state-of-the-art distribution facilities in the Dallas, Texas, metro area. For more information, visit eu.mouser.com.