23. april 2021
The Latest News from Mouser Electronics
Mouser Electronics, Inc. is focused on supplying 100% certified, genuine products from its manufacturing partners for electronic design engineers and buyers. Mouser introduces hundreds of new products each month and supports innovation by supplying engineers with the newest products, technologies and resources.
The news highlights from Mouser this week are:
New Product – Mouser now shipping 5G NR LNA from Skyworks
The SKY67181-396LF broadband high-gain LNA from Skyworks Solutions Inc. is a wide-band low-noise amplifier with superior gain flatness and exceptional linearity. It operates from 3300 MHz to 5000 MHz and is designed for 4G LTE and 5G NR infrastructure.
Full press release here: https://eu.mouser.com/pressroom_skyworks-sky67181-396lf-high-gain-lna/
New Supplier – Mouser signs global distribution agreement with QuickLogic
QuickLogic Corporation is known for its embedded FPGA IP, ultra-low power, multi-core voice-enabled systems-on-chips (SoCs) and endpoint AI solutions. The agreement means Mouser is now stocking QuickLogic's EOS™ S3 microcontroller and FPGA-based platform and the QuickFeather development kit.
Full press release here: https://eu.mouser.com/publicrelations_quicklogic_newmanufacturer_2021final/
New Product – Mouser adds Trinamic IO-Link actuator
The PD42-1-1243-IOLINK PANdrive IO-Link actuator from Trinamic combines a NEMA17 stepper motor with controller and driver electronics. It connects through a standard 4-pin M12 connector and uses the industry-standard IO-Link protocol.
Full press release here: https://eu.mouser.com/pressroom_trinamic-pd42-1-1243-iolink-actuator/
New Fixture – Mouser supports Formula E Team in Rome Doubleheader
The Mouser Electronics-supported Formula E all-electric racing team heads back to Rome for the next two races in the 2020-21 ABB FIA Formula E season. Mouser will be cheering on the DRAGON / PENSKE AUTOSPORT team on an entirely new street course at the Rome E-Prix, on April 10 and 11.
Full press release here: https://eu.mouser.com/publicrelations_formulae_rome_eprix_2021final/
To see more new products and Mouser news, go to https://eu.mouser.com/pressroom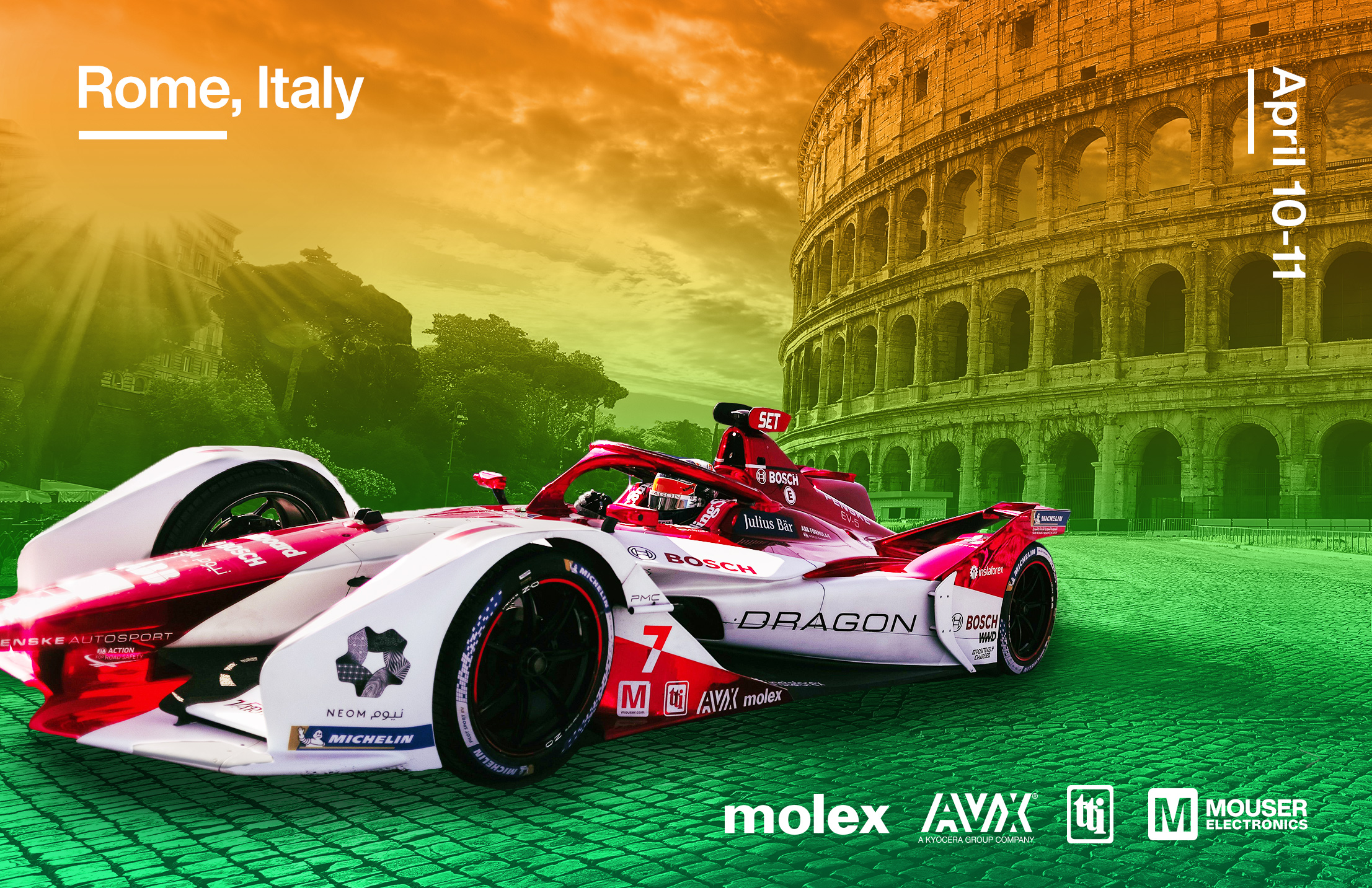 About Mouser Electronics
Mouser Electronics, a Berkshire Hathaway company, is an authorised semiconductor and electronic component distributor focused on New Product Introductions from its leading manufacturer partners. Serving the global electronic design engineer and buyer community, the global distributor's website, mouser.com, is available in multiple languages and currencies and features more than 5 million products from over 1,100 manufacturer brands. Mouser offers 27 support locations worldwide to provide best-in-class customer service in local language, currency and time zone. The distributor ships to over 630,000 customers in 223 countries/territories from its 1 million-square-foot, state-of-the-art distribution facilities in the Dallas, Texas, metro area. For more information, visit http://www.mouser.com.