14. april 2021
The Latest News from Mouser Electronics
Mouser Electronics, Inc. is focused on supplying 100% certified, genuine products from its manufacturing partners for electronic design engineers and buyers. Mouser introduces hundreds of new products each month and supports innovation by supplying engineers with the newest products, technologies and resources.
The news highlights from Mouser this week are:
New Product – Mouser offers Analog Devices' latest 16-bit DaQ module
Mouser is now shipping the small form factor ADAQ23875 µModule® data acquisition solution (DAQ) from Analog Devices, which is capable of delivering a 15MSPS throughput. With a footprint of just 9mm × 9mm package, it is a quarter of the size of a conventional discrete DAQ implementation.
Full press release here:
https://eu.mouser.com/publicrelations_analogdevices_adaq23875_2021final/
Product Range Expansion – Broad array of Microchip telehealth and medical solutions now available via Mouser
Mouser is able to provide customers with the most extensive selection of medical/telehealth solutions from Microchip Technology. Covering key applications like pulse oximetry, blood pressure monitoring, body-worn ECGs and connected digital thermometers, the products involved include ultra-low power microcontrollers, authentication chips, wireless SoCs and high-resolution data converters.
Full press release here:
https://eu.mouser.com/pressroom_microchip-telehealth-medical/
New Product – Mouser adds Qorvo® ACT88329 and ACT88321 to its PMIC portfolio
Mouser is now supplying the ACT88329 and ACT88321 I2C-configurable PMICs from Qorvo®. Intended for use in solid-state drives (SSDs) and FPGA-based applications, these compact devices have an input voltage range spanning from 2.7V to 5.5V. They each feature built-in 4A DC/DC step-down regulators, 2A DC/DC step-down regulators and 300mA low-dropout regulators.
Full press release here:
https://eu.mouser.com/publicrelations_qorvo_act88329_act88321_pmics_2021final/
New Product – Mouser now stocking ADS131B04-Q1 ADC from Texas Instruments
Highly optimised for automotive applications, such as current sensing, battery management and temperature measurement, the ADS131B04-Q1 from Texas Instruments is a 4-channel, simultaneous-sampling, delta-sigma data converter IC. This AEC-Q100 qualified device has a 24-bit resolution and supports a 32kSPS sampling rate.
Full press release here:
https://eu.mouser.com/pressroom_ti-ads131b04-q1-delta-sigma-adc/
To see more new products and Mouser news, go to https://eu.mouser.com/pressroom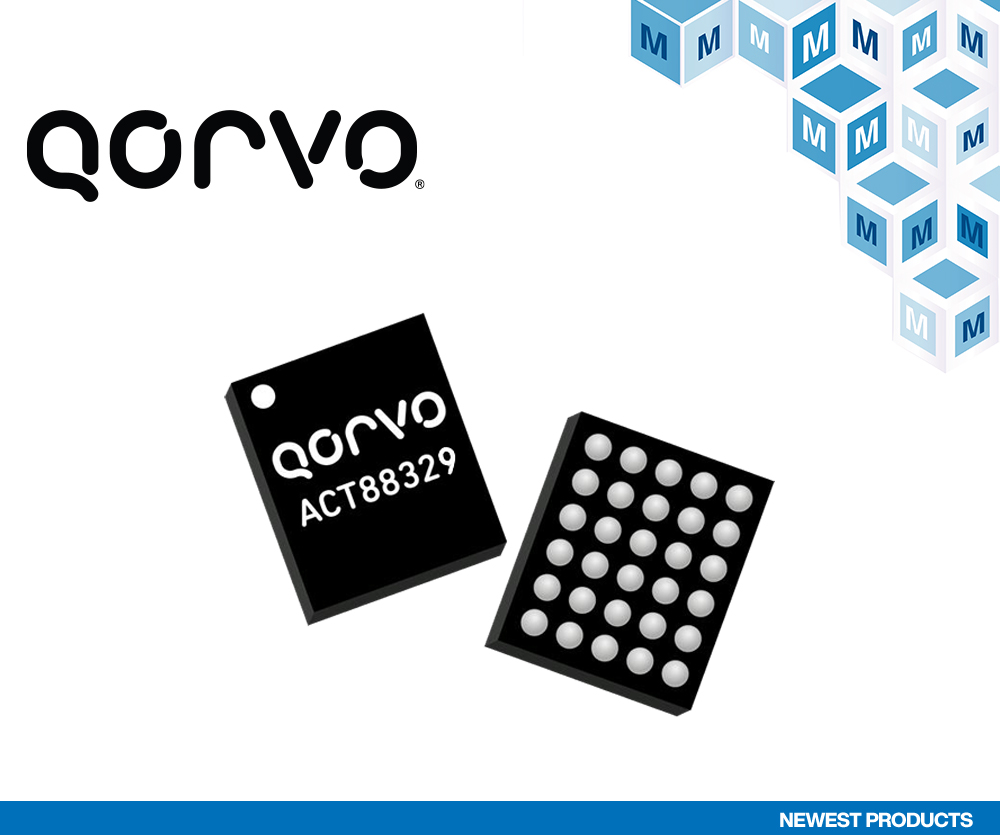 About Mouser Electronics
Mouser Electronics, a Berkshire Hathaway company, is an authorised semiconductor and electronic component distributor focused on New Product Introductions from its leading manufacturer partners. Serving the global electronic design engineer and buyer community, the global distributor's website, mouser.com, is available in multiple languages and currencies and features more than 5 million products from over 1,100 manufacturer brands. Mouser offers 27 support locations worldwide to provide best-in-class customer service in local language, currency and time zone. The distributor ships to over 630,000 customers in 223 countries/territories from its 1 million-square-foot, state-of-the-art distribution facilities in the Dallas, Texas, metro area. For more information, visit http://www.mouser.com.