15. februar 2021
The Latest News from Mouser Electronics
Mouser Electronics, Inc. is focused on supplying 100% certified, genuine products from its manufacturing partners for electronic design engineers and buyers. Mouser introduces hundreds of new products each month and supports innovation by supplying engineers with the newest products, technologies and resources.
The news highlights from Mouser this week are:
Mouser is now stocking the Sterling-LWB5+ modules from Laird Connectivity. The modules deliver Wi-Fi 5 (802.11ac) and Bluetooth 5.1® communications to next-generation Internet of Things (IoT) devices, such as battery-powered medical devices, industrial IoT sensors and rugged handheld devices, even in harsh environments. The modules are available in several small form-factor PCB formats with options for integrated and pre-certified external antennas.
Full press release here: https://eu.mouser.com/publicrelations_lairdconnectivity_sterling-lwb5modules_2021final/
New Supplier – Mouser signs global distribution deal with Hyperstone
The new global distribution agreement with NAND flash memory controller company, Hyperstone, includes the U9 USB 3.1 flash controller. The U9 controller features hyReliability™ flash management and the company's hyMap mapping system.
Full press release here: https://eu.mouser.com/publicrelations_hyperstone_newmanufacturer_2021final/
Mouser has created a new resource site dedicated to the RISC-V open-source instruction set architecture (ISA). RISC-V offers exceptional freedom, unconstrained by proprietary technology and is expected to be key to the development of 5G, artificial intelligence and the Internet of Things (IoT). The site features examples of innovative uses of the technology and explores the strategies used in RISC-V development, with videos featuring RISC-V development kits.
Full press release here: https://eu.mouser.com/publicrelations_risc-v_resource_2021final/
New eBook – Latest Intelligent Revolution eBook examines the human side of AI
The new eBook from Mouser, 'Artificial Intelligence: Improving Harvests and the Human Experience', is the third eBook in the series: The Intelligent Revolution. It examines fascinating new uses for AI in farming and other specialised applications targeting the human experience. The entire series of eBooks forms part of Mouser's award-winning Empowering Innovation Together program.
Full press release here: https://eu.mouser.com/publicrelations_eit_intelligentrevolution_ebook3_2021final/
New eBook – Power Distribution Network Design
An eBook produced by Mouser in collaboration with KEMET highlights new technologies and strategies for designing power distribution networks. The eBook, 7 Experts on New Approaches for Power Distribution Network Design, includes leaders in the field such as KEMET, Analog Devices and Samtec, with valuable insights into the complexities of powering precision digital circuits.
Full press release here: https://eu.mouser.com/publicrelations_kemet_pdn_ebook_2021final/
To see more new products and Mouser news, go to https://eu.mouser.com/pressroom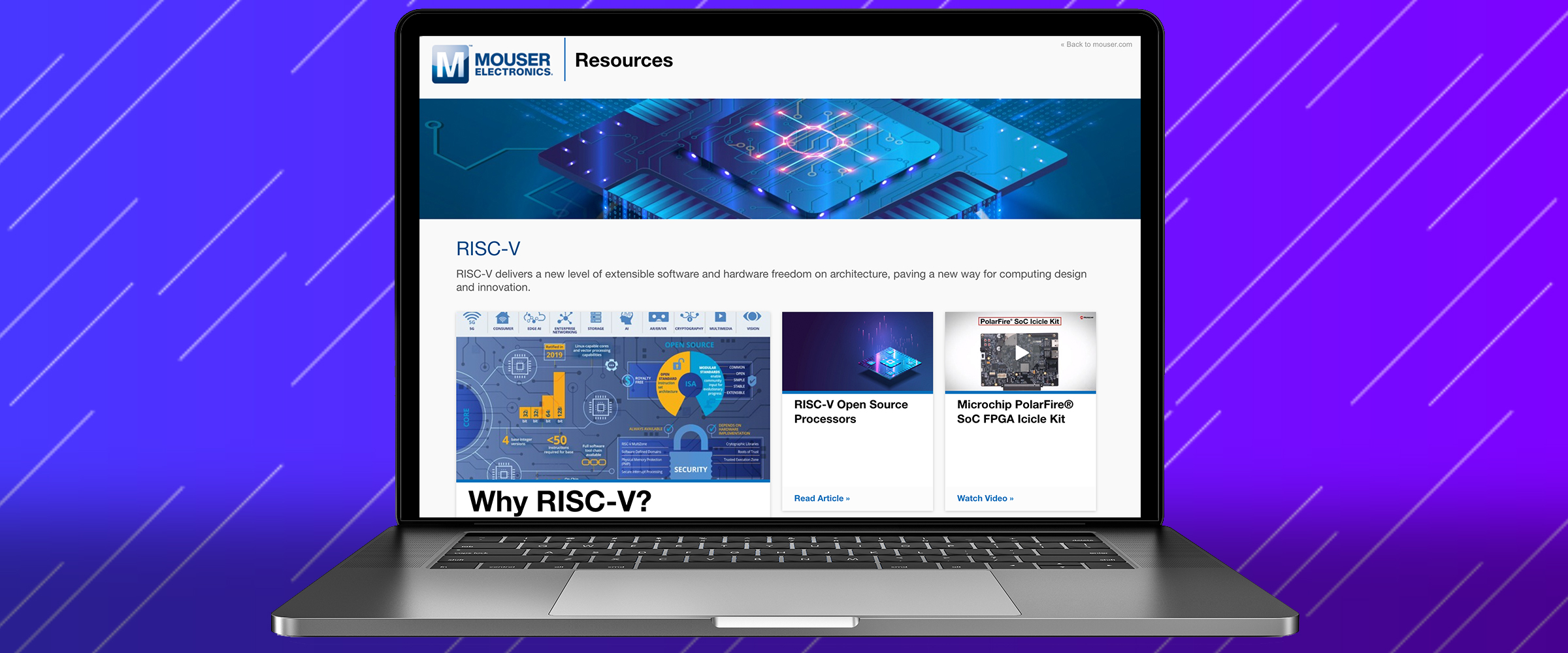 About Mouser Electronics
Mouser Electronics, a Berkshire Hathaway company, is an authorised semiconductor and electronic component distributor focused on New Product Introductions from its leading manufacturer partners. Serving the global electronic design engineer and buyer community, the global distributor's website, mouser.com, is available in multiple languages and currencies and features more than 5 million products from over 1,100 manufacturer brands. Mouser offers 27 support locations worldwide to provide best-in-class customer service in local language, currency and time zone. The distributor ships to over 630,000 customers in 223 countries/territories from its 1 million-square-foot, state-of-the-art distribution facilities in the Dallas, Texas, metro area. For more information, visit http://www.mouser.com.