12. maj 2023
The Latest News from Mouser Electronics
Mouser Electronics, Inc. is focused on supplying 100% certified, genuine products from its manufacturing partners for electronic design engineers and buyers. Mouser introduces hundreds of new products each month and supports innovation by supplying engineers with the newest products, technologies and resources.
The news highlights from Mouser this week are:
New Product – Mouser Now Stocking STMicroelectronics' ISM330IS and ISN330ISN iNEMO Inertial Modules for Industrial and IoT Applications
Mouser is now stocking the ISM330IS and ISN330ISN iNEMO inertial modules from STMicroelectronics. The modules offer an integrated, system-in-package solution combining a three-axis digital accelerometer and three-axis digital gyroscope. These modules feature an embedded intelligent sensor processing unit (ISPU), an ultra-low-power programmable core capable of executing signal processing and AI algorithms on the edge. The inertial modules offer a full-scale acceleration range of ±2 g to ±16 g and an angular rate range of ±125 dps to ±2000 dps. The modules' ISPU utilises data from the internal accelerometer/gyroscope and up to four external sensors using the device's sensor hub functionality. These modules are supported by the STEVAL-MKI233KA IS330IS evaluation kit. The evaluation kit includes a target board with a pre-mounted IS330IS sensor and an adapter card that enables connection to the STEVAL-MKI109V3 MEMS development platform (not included). The inertial modules enable always-on, low-power features for optimal performance in industrial and Internet of Things (IoT) applications, including industrial robots, asset tracking, condition monitoring, and complex motion detection.
Full press release here: https://eu.mouser.com/newsroom/publicrelations-stm-ism330is-isn330isn-inemo-2023final/
New Season – Mouser Shines Spotlight on Green Energy Storage Systems in Season Launch of Empowering Innovation Together
Mouser is excited to kick off a new season of the award-winning Empowering Innovation Together™ (EIT) content series on green energy storage. The kick off instalment focuses on the need, potential and future of energy storage systems, as well as their many components and battery chemistries. This EIT content series dives into trends in energy capture vs storage and how solar energy gets to batteries. It also highlights how engineers can select the right components for their designs in the sustainable storage arena. Kicking off the discussion is The Tech Between Us, EIT's popular podcast, hosted by Mouser Director of Technical Content Raymond Yin. In the first of three green energy storage related podcasts, Yin welcomes Dr. Imre Gyuk, Director of Energy Storage Research, U.S. Department of Energy for an informative conversation on the global importance of capturing and storing renewable energy to ensure a connected grid system with long-term, sustainable power. Alongside The Tech Between Us episode, the first instalment of the new season provides audiences with two articles and a case study, an infographic and videos that highlight what the design community is doing within the area of green energy storage systems. The program offers important insights into renewable energy and storage systems, as well as its potential impact on a global scale.
Full press release here: https://eu.mouser.com/newsroom/publicrelations-eit-episode-1-green-energy-systems-2023final/
New Product – Mouser Now Shipping the Infineon OPTIGA Trust M IoT Security Development Kit for Security Applications
Mouser is now stocking the OPTIGA™ Trust M IoT security development kit from Infineon Technologies. This development kit enables users to prototype various security use cases and build full-featured IoT applications like IP protection, crypto offloading and secured firmware updates, utilising Infineon's ModusToolbox™. This security development kit includes the OPTIGA Trust M security solution PSoC™ 62 Arm® Cortex®-M4/M0+ microcontroller, paired with an AIROC™ CYW43012 low-power, dual-band Wi-Fi® (2.4 GHz and 5.0 GHz) and Bluetooth® 5.0 combo chip. The development kit is also pre-loaded with two ready-to-use security use cases. The development kit develops and evaluates end-to-end security use cases for smart home, industrial automation and enterprise devices, just to name a few.
Full press release here: https://eu.mouser.com/newsroom/publicrelations-infineon-optiga-trust-m-kit-2023final/
New Fixture – Mouser-Supported Formula E Team Racing Team Heads to Germany for Berlin Double Header
Mouser cheered on the DS PENSKE Formula E racing team in Berlin, Germany, for rounds 7 and 8 of the Season 9 ABB FIA Formula E World Championship. The race weekend kicked off on 22 April for round 7 and 23 April for round 8. The DS PENSKE team came off a strong showing in Brazil, where the team earned pole position for the 25 March race, ultimately ending the weekend with a double Top 10 finish. The Berlin races took place at the historic Tempelhof Airport. The concrete slabs of the tarmac made for a highly abrasive racing. Team drivers for the race were Season 8 Champion Stoffel Vandoorne and two-time Formula E Champion Jean-Éric Vergne. The DS PENSKE Formula E racing team has recently earned the FIA Three-Star Environmental Accreditation. The FIA Environmental Accreditation Program is aimed at helping motorsport teams and mobility stakeholders worldwide to measure and enhance their environmental performance. To achieve accreditation, applicants must demonstrate the existence of a variety of environmental standards, transparently document them in detail in an environmental management system and define clear sustainability goals. By awarding the team with that special three-star accolade, FIA recognises that they demonstrate best practices and the commitment to seek continual improvement through the implementation of an environmental management system.
Full press release here: https://eu.mouser.com/newsroom/publicrelations-formula-e-berlin-2023final/
Sponsorship Update – Mouser and Analog Devices Support Charitable Initiative to Plant Thousands of Trees Across EMEA
Mouser and Analog Devices, Inc. have pledged to donate funds to One Tree Planted with the goal to plant up to 100,000 trees. Starting in February 2023, for every Mouser order placed in the EMEA region, including at least one line of Analog Devices products, One Tree Planted will plant a tree in reforestation projects across EMEA. Between February and March 2023, the companies saw a total of 31,648 orders placed, which will be equally divided between projects supporting Climate Resilient Restoration in Germany, Essex Forest Initiative in England and Nationwide Community Tree Cover in Ireland. The trees will be planted in Autumn during the planting season. One Tree Planted is a non-profit group focused on global reforestation. As an official partner of the United Nations' Decade on Ecosystem Restoration, they have planted over 40 million trees in more than 47 countries across the globe since 2014.
Full press release here: https://eu.mouser.com/newsroom/publicrelations-mouser-adi-one-tree-planted-update-2023final/
New Product – Mouser Now Stocking Microchip Technology's AVR64EA 8-Bit AVR Microcontrollers for Industrial and Automotive Applications
Mouser is now shipping the AVR64EA 8-Bit AVR® microcontrollers from Microchip Technology. The AVR64EA microcontrollers (MCUs) provide engineers with high-speed, low-power, integrated, analogue and hardware-based core independent peripherals (CIPs), for a wide range of real-time control, sensor node and secondary safety monitoring, for industrial, consumer, and automotive applications. These microcontrollers are equipped with an AVR CPU with hardware multiplier, running at clock speeds up to 20MHz. These devices offer 64KB of Flash, 6KB of SRAM, and 512bytes of EEPROM, and feature a 12-bit differential analogue-to-digital converter (ADC) with a programmable gain amplifier (PGA) with up to 16x gain. The microcontroller enables measurement of smaller amplitude signals, reclaims signals from noisy environments and performs fast conversions for quick and accurate signal measurement in harsh environments, all with low-power efficiency. This microcontroller is supported by the Microchip Technology AVR64EA48 Curiosity Nano evaluation kit (EV66E56A).
Full press release here: https://eu.mouser.com/newsroom/publicrelations-microchip-avr64ea-mcus-2023final/
To see more new products and Mouser news, go to https://eu.mouser.com/pressroom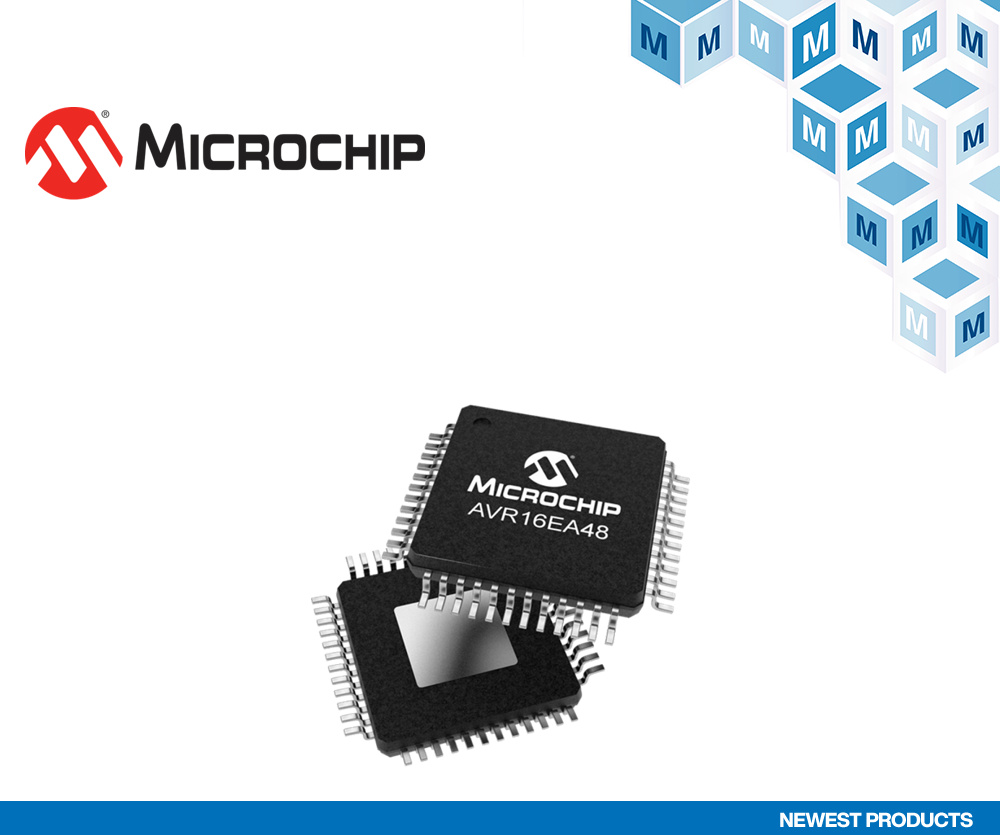 About Mouser Electronics
Mouser Electronics, a Berkshire Hathaway company, is an authorised semiconductor and electronic component distributor focused on New Product Introductions from its leading manufacturer partners. Serving the global electronic design engineer and buyer community, the global distributor's website, mouser.com, is available in multiple languages and currencies and features more than 6,8 million products from over 1.200 manufacturer brands. Mouser offers 27 support locations worldwide to provide best-in-class customer service in local language, currency and time zone. The distributor ships to over 650.000 customers in 223 countries/territories from its 93.000 square-meter, state-of-the-art facilities in the Dallas, Texas, metro area. For more information, visit https://www.mouser.com/.