25. januar 2021
The Latest News from Mouser Electronics
Mouser Electronics, Inc. is focused on supplying 100% certified, genuine products from its manufacturing partners for electronic design engineers and buyers. Mouser introduces hundreds of new products each month and supports innovation by supplying engineers with the newest products, technologies and resources.
The news highlights from Mouser this week are:
Mouser is now supplying the industry's first FPGA to integrate a multi-core processor subsystem based on the popular RISC-V instruction set architecture (ISA). The PolarFire SoC FPGAs require as much as 50% less power than comparable FPGAs and form part of Microchip Technology's growing RISC-V ecosystem.
Full press release here: https://eu.mouser.com/publicrelations_microchip_polarfire_soc_fpgas_2021final/
The NUCLEO-WL55JC boards are based on the STM32WL55xx, Long-Range sub-GHz wireless MCU, the world's first microcontroller that integrates a LoRA transceiver for long range, low-power wide area networking (LPWAN) in the industrial and consumer IoT.
Full press release here:
https://eu.mouser.com/publicrelations_stmicro_stm32wl_nucleo-64_2021final/
New online resource – Medical industry solutions site created by Mouser and Molex.
The new medical resource site is a one-stop resource for the products, technical specifications and development insights needed to create the next generation of medical devices.
Full press release here: https://eu.mouser.com/publicrelations_molex_medical_content_platform_2021final/
The kit is PCI-SIG compliant, allowing engineering teams to test PCI Express 4.0 designs using the Agilex FPGA. The kit also includes four DDR4 DIMM sockets and two DDR4 DIMM modules, and includes UART and Ethernet interfaces, as well as eMMC and SD card sockets.
Full press release here:
https://eu.mouser.com/publicrelations_intel_agilex_f-series_dev_kit_2021final/
The MCUs integrate a capacitive touch sensing unit and are based on the Arm® Cortex®-M23 core running at 48 MHz. The touch sensing technology meets the requirements of IEC EN61000-4-3 level 4 (radiated) and EN61000-4-6 level 3 (conducted) to deliver reliable operation.
Full press release here:
https://eu.mouser.com/publicrelations_renesas_ra2l1_mcus_2021final/
New award – Mouser named Global Distributor of the Year 2020 by Heyco.
Heyco, the leading manufacturer of moulded wire protection products and stamped electrical components has named Mouser as Global Distributor of the Year 2020. Mario Pieroni, Executive Vice President at Heyco commented that the Mouser team had earned this top recognition, which was awarded for exceptional commitment and outstanding sales performance throughout 2020.
Full press release here:
https://eu.mouser.com/publicrelations_heyco_distributor_year_award_2021final/
To see more new products and Mouser news, go to https://eu.mouser.com/pressroom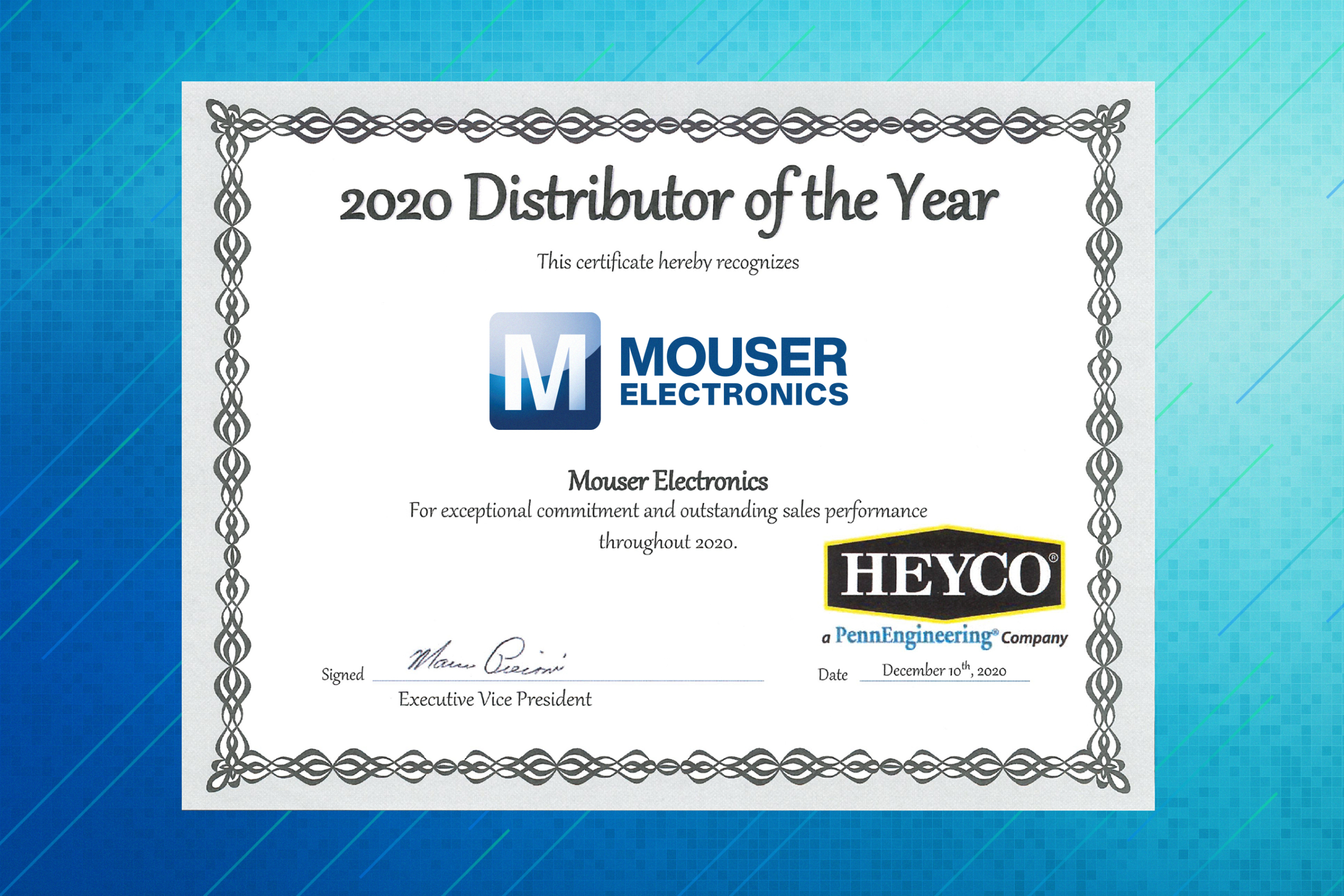 About Mouser Electronics
Mouser Electronics, a Berkshire Hathaway company, is an authorised semiconductor and electronic component distributor focused on New Product Introductions from its leading manufacturer partners. Serving the global electronic design engineer and buyer community, the global distributor's website, mouser.com, is available in multiple languages and currencies and features more than 5 million products from over 1,100 manufacturer brands. Mouser offers 27 support locations worldwide to provide best-in-class customer service in local language, currency and time zone. The distributor ships to over 630,000 customers in 223 countries/territories from its 1 million-square-foot, state-of-the-art distribution facilities in the Dallas, Texas, metro area. For more information, visit http://www.mouser.com.