20. juni 2017
Texas Instruments TPS61253A 4A Boost Converter, Now at Mouser, Offers Power Flexibility for Battery-Powered Applications
Texas Instruments TPS61253A 4A Boost Converter, Now at Mouser, Offers Power Flexibility for Battery-Powered Applications
June 20, 2017 – Mouser Electronics, Inc., the authorized global distributor with the newest semiconductors and electronic components, is now stocking the TPS61253A 4A boost converter from Texas Instruments (TI). The TPS61253A delivers a variety of features that enable the device to drive a multitude of portable power management applications, such as smartphones and USB charging ports, requiring fewer external components than other solutions.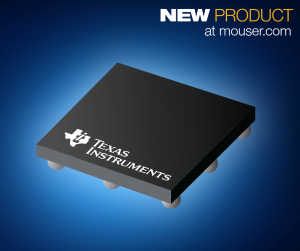 The TI TPS61253A 4A boost converter, available from Mouser Electronics, features an input voltage range from 2.3 V to 5.5 V with a fixed output voltage of 5.0 V and supports applications powered by Li-Ion batteries with a load current up to 1500 mA. Integrated with a 35-milliohm low-side FET and 60-milliohm high-side FET, the TPS61253A operates at a quasi-constant 3.8-MHz frequency in pulse width modulation (PWM) mode, and manages power load currents ranging from moderate to heavy. During PWM operation, the converter uses a quasi-constant, on-time, valley current-mode-control topology to achieve excellent line and load regulation.
For flexibility in power load conditions, the TPS61253A device offers designers three selectable modes: Auto PFM, Forced PWM, and Ultrasonic. The Auto PFM mode enables high efficiency at a light load, whereas the forced PWM operation can make the switching frequency constant across the whole load range. To avoid acoustic noise, the ultrasonic mode keeps the switching frequency always higher than 25 kHz at any load condition. Other features of the device include a built-in 600-μs soft start time, a thermal shutdown and a hiccup mode that enables automatic recovery after output shortages.
To learn more, visit http://www.mouser.com/new/Texas-Instruments/ti-tps61253a-converter/.
Mouser / Texas Instruments TPS6125xA 4A Boost Converter
Page Two
With its broad product line and unsurpassed customer service, Mouser strives to empower innovation among design engineers and buyers by delivering advanced technologies. Mouser stocks the world's widest selection of the latest semiconductors and electronic components for the newest design projects. Mouser Electronics' website is continually updated and offers advanced search methods to help customers quickly locate inventory. Mouser.com also houses data sheets, supplier-specific reference designs, application notes, technical design information, and engineering tools.
About Mouser Electronics
Mouser Electronics, a Berkshire Hathaway company, is an award-winning, authorized semiconductor and electronic component distributor focused on rapid New Product Introductions from its manufacturing partners for electronic design engineers and buyers. The global distributor's website, Mouser.com, is available in multiple languages and currencies and features more than 4 million products from over 600 manufacturers. Mouser offers 22 support locations around the world to provide best-in-class customer service and ships globally to over 550,000 customers in 170 countries from its 750,000 sq. ft. state-of-the-art facility south of Dallas, Texas. For more information, visit http://www.mouser.com.
Trademarks
Mouser and Mouser Electronics are registered trademarks of Mouser Electronics, Inc. All other products, logos, and company names mentioned herein may be trademarks of their respective owners.
– 30 –
Further information, contact:

Kevin Hess, Mouser Electronics

Senior Vice President of Marketing

(817) 804-3833

For press inquiries, contact:

Nick Foot, BWW Communications

PR Director

+44 (0) 1491 636393