7. september 2018
Texas Instruments' LMG1020 Low-Side GaN Driver, Ideal for High-Speed LiDAR and TOF Applications, Now Shipping from Mouser
Texas Instruments' LMG1020 Low-Side GaN Driver, Ideal for High-Speed LiDAR and TOF Applications, Now Shipping from Mouser
September 7, 2018 – Mouser Electronics, Inc., the industry's leading New Product Introduction (NPI) distributor with the widest selection of semiconductors and electronic components, is now stocking the LMG1020 gallium nitride (GaN) driver from Texas Instruments. The single, low-side driver enables efficient, high-performance designs in speed-critical applications such as LiDAR, time-of-flight laser drivers, facial recognition, augmented reality, and class E wireless chargers.
The Texas Instruments LMG1020 low-side GAN driver, available from Mouser Electronics, drives GaN FETs and logic-level MOFSETs, enabling propagation delays of just 2.5 nanoseconds and minimum pulse width of 1 nanosecond. The device's drive strength is independently adjustable for pull-up and pull-down edges by connecting external resistors between the gate and OUTH and OUTL, respectively. The robust LMG1020 driver features over-temperature protection and under-voltage lockout to guard against overload and fault conditions, plus common-mode transient immunity of more than 300V/ns, delivering industry-leading system-noise immunity.
The LMG1020 is housed in a 0.8 mm × 1.2 mm WCSP package, which minimizes gate loop inductance and maximizes power density in high-frequency applications. The miniscule size allows designers to reduce component count and decrease power supply size by up to 80 percent. The LMG1020 driver features an adjustable dead-time control feature to provide improved efficiency for applications such as DC-DC converters, Class D audio amplifiers, and motor drives.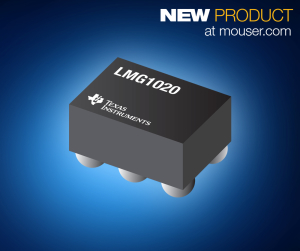 To learn more, visit http://www.mouser.com/ti-lmg1020-gan-driver.
Mouser / Texas Instruments LMG1020 Low-Side GaN Driver
With its broad product line and unsurpassed customer service, Mouser strives to empower innovation among design engineers and buyers by delivering advanced technologies. Mouser stocks the world's widest selection of the latest semiconductors and electronic components for the newest design projects. Mouser Electronics' website is continually updated and offers advanced search methods to help customers quickly locate inventory. Mouser.com also houses data sheets, supplier-specific reference designs, application notes, technical design information, and engineering tools.
About Mouser Electronics
Mouser Electronics, a Berkshire Hathaway company, is an award-winning, authorized semiconductor and electronic component distributor focused on rapid New Product Introductions from its manufacturing partners for electronic design engineers and buyers. The global distributor's website, Mouser.com, is available in multiple languages and currencies and features more than 5 million products from over 700 manufacturers. Mouser offers 23 support locations around the world to provide best-in-class customer service and ships globally to over 600,000 customers in more than 220 countries/territories from its 750,000 sq. ft. state-of-the-art facility south of Dallas, Texas. For more information, visit http://www.mouser.com.
Trademarks
Mouser and Mouser Electronics are registered trademarks of Mouser Electronics, Inc. All other products, logos, and company names mentioned herein may be trademarks of their respective owners.
Further information, contact:

Kevin Hess, Mouser Electronics

Senior Vice President of Marketing

(817) 804-3833

For press inquiries, contact:

Nick Foot, BWW Communications

PR Director

+44 (0) 1491 636393