28. juli 2017
Terasic's DE10-Nano Kit, Built on the Intel Cyclone V FPGA,
Terasic's DE10-Nano Kit, Built on the Intel Cyclone V FPGA, Now at Mouser Electronics
July 28, 2017 – Mouser Electronics, Inc., the New Product Introduction (NPI) leader that empowers innovation, is now stocking DE10-Nano development kit from Terasic Technologies, a platinum member of the Intel® FPGA Design Solutions Network. The DE10-Nano kit is a robust hardware design platform built around an Intel System-on-Chip (SoC) FPGA, which combines a processor, peripherals, and an FPGA fabric into a single, user-customizable device.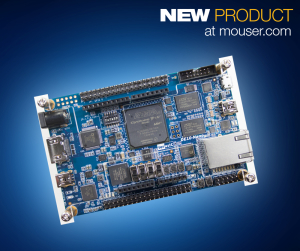 The Terasic DE10-Nano kit, available from Mouser Electronics, is based on the 28 nm Intel Cyclone® V SoC FPGA, which integrates dual-core ARM® Cortex®-A9 embedded cores with industry-leading programmable logic for maximum design flexibility. Developers can leverage the power of reconfigurability along with a high-performance, low-power processor system. The Cyclone V SoC combines an ARM-based hard processor system (HPS) consisting of processor, peripherals, and memory interfaces tied seamlessly with the FPGA fabric using a high-bandwidth interconnect backbone.
The DE10-Nano kit includes two 40pin general-purpose input/output (GPIO) headers, 1 GByte of high-speed DDR3 memory, a 12-bit analog-to-digital converter (ADC), Gigabit Ethernet networking, and an HDMI transmitter. The kit contains all the components required to use the board with a computer running Microsoft Windows XP or later.
To learn more about the DE10-Nano development kit, visit http://www.mouser.com/new/terasic-technologies/terasic-de10-nano-kit/.
Mouser / Terasic DE10-Nano Development Kit
Page Two
With its broad product line and unsurpassed customer service, Mouser strives to empower innovation among design engineers and buyers by delivering advanced technologies. Mouser stocks the world's widest selection of the latest semiconductors and electronic components for the newest design projects. Mouser Electronics' website is continually updated and offers advanced search methods to help customers quickly locate inventory. Mouser.com also houses data sheets, supplier-specific reference designs, application notes, technical design information, and engineering tools.
About Mouser Electronics
Mouser Electronics, a Berkshire Hathaway company, is an award-winning, authorized semiconductor and electronic component distributor focused on rapid New Product Introductions from its manufacturing partners for electronic design engineers and buyers. The global distributor's website, Mouser.com, is available in multiple languages and currencies and features more than 4 million products from over 600 manufacturers. Mouser offers 22 support locations around the world to provide best-in-class customer service and ships globally to over 550,000 customers in 170 countries from its 750,000 sq. ft. state-of-the-art facility south of Dallas, Texas. For more information, visit http://www.mouser.com.
About Terasic Technologies
Terasic Technologies offers expertise in FPGA/ASIC design, high speed board design and layout, low cost board design, device drivers, and all other supporting software and documentation. They are dedicated to providing a wide range of various FPGA based boards for academia and industries. Terasic's cutting-edge design and manufacturing capabilities provide state of the art products and exceptional services to their customers. Terasic products have enjoyed phenomenal success all over the world and continues to set the standard in development hardware.
Trademarks
Mouser and Mouser Electronics are registered trademarks of Mouser Electronics, Inc. All other products, logos, and company names mentioned herein may be trademarks of their respective owners.
– 30 –
Further information, contact:

Kevin Hess, Mouser Electronics

Senior Vice President of Marketing

(817) 804-3833

For press inquiries, contact:

Nick Foot, BWW Communications

PR Director

+44 (0)1491 636393