22. august 2017
STMicroelectronics' BlueCoin, Now Available at Mouser, Provides Voice-Over-BLE and Sensor Fusion in One Module
STMicroelectronics' BlueCoin, Now Available at Mouser, Provides Voice-Over-BLE and Sensor Fusion in One Module
August 22, 2017 – Mouser Electronics, Inc., the industry's leading New Product Introduction (NPI) distributor with the widest selection of semiconductors and electronic components, is now stocking the BlueCoin hearing and motion sensing platform from STMicroelectronics (ST). BlueCoin is an integrated Bluetooth® development system that incorporates low-power, high-performance 9-axis inertial and environmental sensors and a cluster of four digital MEMS microphones that are coupled with a powerful STM32F4 microprocessor.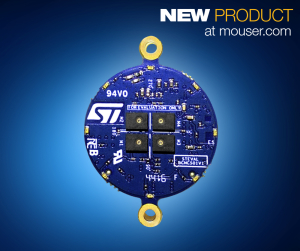 ST's BlueCoin, available from Mouser Electronics, is an augmented hearing and motion-sensing reference platform compatible with STM32 Open Development Environment (ODE) and ST's Open Software Expansion Libraries. The ODE function pack for ST's MEMS microphones features advanced audio processing and audio output. STM32Cube expansion pack software allows voice transmission over a Bluetooth low energy connection, making it ideal for audio entertainment, voice-controlled TV remotes, and wearable applications. The board can act as server and client simultaneously and can connect to any Internet of Things (IoT) or wireless sensor network.
The ODE function pack uses sound source localization, beamforming, and acoustic echo cancellation to improve sound quality. Additional applications include PC control software compatibility to configure optimizations, beam direction, and source localization.
The BlueCoin board offers sensor fusion through integrated inertial modules, a nano pressure sensor, and an array of four MEMS microphones with a low-power ARM-based STM32 F4 series microcontroller. An ST BlueNRG-MS network processor provides the Bluetooth low energy connectivity, while an STBC03 lithium-ion battery charger IC provides power management on the board.
To learn more about BlueCoin, visit http://www.mouser.com/new/stmicroelectronics/stm-bluecoin/.
Mouser / STMicroelectronics BlueCoin
Page Two
With its broad product line and unsurpassed customer service, Mouser strives to empower innovation among design engineers and buyers by delivering advanced technologies. Mouser stocks the world's widest selection of the latest semiconductors and electronic components for the newest design projects. Mouser Electronics' website is continually updated and offers advanced search methods to help customers quickly locate inventory. Mouser.com also houses data sheets, supplier-specific reference designs, application notes, technical design information, and engineering tools.
About Mouser Electronics
Mouser Electronics, a Berkshire Hathaway company, is an award-winning, authorized semiconductor and electronic component distributor focused on rapid New Product Introductions from its manufacturing partners for electronic design engineers and buyers. The global distributor's website, Mouser.com, is available in multiple languages and currencies and features more than 4 million products from over 600 manufacturers. Mouser offers 22 support locations around the world to provide best-in-class customer service and ships globally to over 550,000 customers in 170 countries from its 750,000 sq. ft. state-of-the-art facility south of Dallas, Texas. For more information, visit http://www.mouser.com.
Trademarks
Mouser and Mouser Electronics are registered trademarks of Mouser Electronics, Inc. All other products, logos, and company names mentioned herein may be trademarks of their respective owners.
– 30 –
Further information, contact:

Kevin Hess, Mouser Electronics

Senior Vice President of Marketing

(817) 804-3833

For press inquiries, contact:

Nick Foot, BWW Communications

PR Director

+44 (0) 1491 636393