8. august 2017
Seeed's BeagleBone Green Wireless IoT Developer Prototyping Kit Now Shipping from Mouser
Seeed's BeagleBone Green Wireless IoT Developer Prototyping Kit Now Shipping from Mouser
August 8, 2017 – Mouser Electronics, Inc., the New Product Introduction (NPI) leader that empowers innovation, is now stocking the BeagleBone Green Wireless IoT Developer Prototyping Kit for the Google Cloud Platform from Seeed Studio. Together with BeagleBoard.org and Google, Seeed Studio introduces an Internet of Things (IoT) prototyping kit that includes a variety of sensors and actuators from Seeed's modular Grove System to help engineers quickly design connected solutions.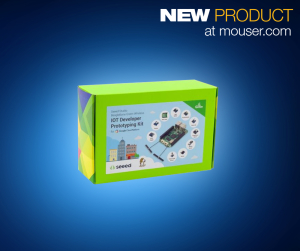 Seeed Studio's BeagleBone Green Wireless IoT Developer Prototyping Kit, available from Mouser Electronics, includes the open source BeagleBone Green Wireless board, a Grove base cape that attaches to the BeagleBone board, and eight plug-and-play Grove modules. The BeagleBone Green Wireless board features both 2.4 GHz Wi-Fi 802.11b/g/n and Bluetooth® 4.1 low energy connectivity to allow engineers to connect to the Google Cloud Platform. The board provides 512 MBytes of DDR3 RAM, 4 GBytes of eMMC flash storage, microSD slot, and two PRU 32-bit microcontrollers, plus a 3D graphics accelerator and NEON floating-point for enhanced multimedia and user experience. The board also includes 65 possible digital inputs and outputs (I/Os) from the dual 46-pin headers.
The included Grove base cape includes 12 easy-to-use Grove connectors, including two UART, two analog input, four I2C, and four digital I/O connectors that interface with corresponding pins on the BeagleBone board. The kit provides a range of Grove modules with functions used in many internet-equipped devices, including a 3-axis accelerometer, motion sensor, light sensor, and temperature sensor as well as an OLED display.
The BeagleBone Green Wireless ships with Linux and BeagleBoard's Cloud9 integrated development environment (IDE) on the eMMC, and also supports Debian, Ubuntu, and many other distributions of Linux; Android; and other open source operating systems.
To learn more about BeagleBone Green Wireless IOT Developer Prototyping Kit for Google Cloud Platform, visit http://www.mouser.com/new/seeedstudio/seeed-beaglebone-green-iot-kit/.
Mouser / Seeed Studio BeagleBone Green Wireless IOT Developer Prototyping Kit
Page Two
With its broad product line and unsurpassed customer service, Mouser strives to empower innovation among design engineers and buyers by delivering advanced technologies. Mouser stocks the world's widest selection of the latest semiconductors and electronic components for the newest design projects. Mouser Electronics' website is continually updated and offers advanced search methods to help customers quickly locate inventory. Mouser.com also houses data sheets, supplier-specific reference designs, application notes, technical design information, and engineering tools.
About Mouser Electronics
Mouser Electronics, a Berkshire Hathaway company, is an award-winning, authorized semiconductor and electronic component distributor focused on rapid New Product Introductions from its manufacturing partners for electronic design engineers and buyers. The global distributor's website, Mouser.com, is available in multiple languages and currencies and features more than 4 million products from over 600 manufacturers. Mouser offers 22 support locations around the world to provide best-in-class customer service and ships globally to over 550,000 customers in 170 countries from its 750,000 sq. ft. state-of-the-art facility south of Dallas, Texas. For more information, visit http://www.mouser.com.
About Seeed Studio
Seeed Studio is an innovative electronics manufacturer of hardware modules for makers of DIY projects. Seeed's portfolio of platforms inspires engineers and hobbyists to develop, grow and innovate projects and products. Hardware innovators can quickly prototype, integrate, and create differentiating designs using the modules to support the boom of open source hardware and 3D printing applications. By working closely with technology providers of all scales, Seeed Studio provides accessible technologies with quality and speed.
Trademarks
Mouser and Mouser Electronics are registered trademarks of Mouser Electronics, Inc. All other products, logos, and company names mentioned herein may be trademarks of their respective owners.
– 30 –
Further information, contact:

Kevin Hess, Mouser Electronics

Senior Vice President of Marketing

(817) 804-3833

For press inquiries, contact:

Nick Foot, BWW Communications

PR Director

+44 (0)1491 636393