20. februar 2018
Renesas Electronics' Latest Versatile, Low-Power RX130 32-bit Microcontrollers Now Shipping from Mouser
Renesas Electronics' Latest Versatile, Low-Power RX130 32-bit Microcontrollers Now Shipping from Mouser
February 19, 2018 – Mouser Electronics, Inc., the authorized global distributor with the newest semiconductors and electronic components, is now stocking the RX130 Group of 32-bit microcontrollers from Renesas Electronics. With a new capacitive touch IP with improved sensitivity and robustness, the RX130 microcontrollers are ideal for devices designed with nontraditional touch materials or required to operate in wet or dirty environments, such as human machine interfaces, household kitchen and bath, motor control, and factory applications.
The Renesas RX130 microcontrollers, available from Mouser Electronics, feature a 50-DMIPS RX core with up to 512 Kbytes of flash for code with no wait states. In addition to extended memory options, the microcontrollers increase package size up to 100 pins to provide higher performance and compatibility with the RX231/RX230 Group of touch microcontrollers.
The low-power RX130 microcontrollers feature a 0.37-µA sleep mode with a recovery time of only 4.8 µs and integrate a 36-channel capacitive touch sensor, offering high responsiveness and functionality for a broad variety of touch-based applications. The microcontrollers also offer a two-channel digital-to-analog converter (DAC) and a 12-bit analog-to-digital converter (ADC) capable of conversion within 1.4 μs.
The RX130 32-bit microcontrollers are supported by multiple development tools, also available from Mouser Electronics. The RX130 Capacitive Touch Evaluation System is a modular development platform for demonstrating the microcontrollers' various touch functions. The system includes a base CPU board, a self-capacitance application board, and a mutual-capacitance application board for testing functions such as slider, wheel, and proximity touch.
The RX130 Starter Kit provides a compact development platform that includes bundled code, Renesas' Eclipse-based e2 studio integrated development environment and a C/C++ compiler. The starter kit allows developers to begin evaluating the RX130 microcontroller right out of the box.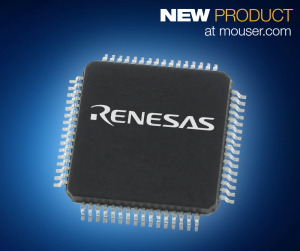 To learn more, visit http://www.mouser.com/renesas-rx130-mcu.
Mouser / Renesas RX130 Microcontrollers
With its broad product line and unsurpassed customer service, Mouser strives to empower innovation among design engineers and buyers by delivering advanced technologies. Mouser stocks the world's widest selection of the latest semiconductors and electronic components for the newest design projects. Mouser Electronics' website is continually updated and offers advanced search methods to help customers quickly locate inventory. Mouser.com also houses data sheets, supplier-specific reference designs, application notes, technical design information, and engineering tools.
About Mouser Electronics
Mouser Electronics, a Berkshire Hathaway company, is an award-winning, authorized semiconductor and electronic component distributor focused on rapid New Product Introductions from its manufacturing partners for electronic design engineers and buyers. The global distributor's website, Mouser.com, is available in multiple languages and currencies and features more than 5 million products from over 700 manufacturers. Mouser offers 22 support locations around the world to provide best-in-class customer service and ships globally to over 600,000 customers in 170 countries from its 750,000 sq. ft. state-of-the-art facility south of Dallas, Texas. For more information, visit http://www.mouser.com.
Trademarks
Mouser and Mouser Electronics are registered trademarks of Mouser Electronics, Inc. All other products, logos, and company names mentioned herein may be trademarks of their respective owners.
Further information, contact:
Kevin Hess, Mouser Electronics
Senior Vice President of Marketing
(817) 804-3833
Kevin.Hess@mouser.com
For press inquiries, contact:
Nick Foot, BWW Communications
PR Director
+44 (0) 1491 636393
Nick.Foot@bwwcomms.com