1. december 2021
Now Shipping from Mouser: Qorvo's CMD328K3 Low-Noise Amplifier for X-Band and Ku-Band Satellite Comms
Mouser Electronics, Inc., the industry's leading New Product Introduction (NPI) distributor with the widest selection of semiconductors and electronic components™, is now stocking the CMD328K3 6 GHz – 18 GHz low-noise amplifier (LNA) from Qorvo®. The device is ideally suited for electronic defense and communications systems where small size and low power consumption are needed.
The Qorvo CMD328K3, available from Mouser Electronics, is a broadband MMIC LNA that operates between 6 GHz and 18 GHz with a noise figure of just 1.4 dB. The CMD328K3 amplifier delivers greater than 27 dB of gain with a corresponding output 1 dB compression point of +12 dBm. The broadband device is a 50-ohm matched design, which eliminates the need for external DC blocks and RF port matching.
Housed in a leadless 3 mm × 3 mm plastic surface-mount air cavity package, the CMD328K3 amplifier is an ideal alternative to hybrid amplifiers. Applications for the CMD328K3 LNA include X-band and Ku-band radar, satellite communications, and electronic defense receivers.
To learn more, visit https://eu.mouser.com/new/qorvo/qorvo-cmd328k3-low-noise-amplifier/.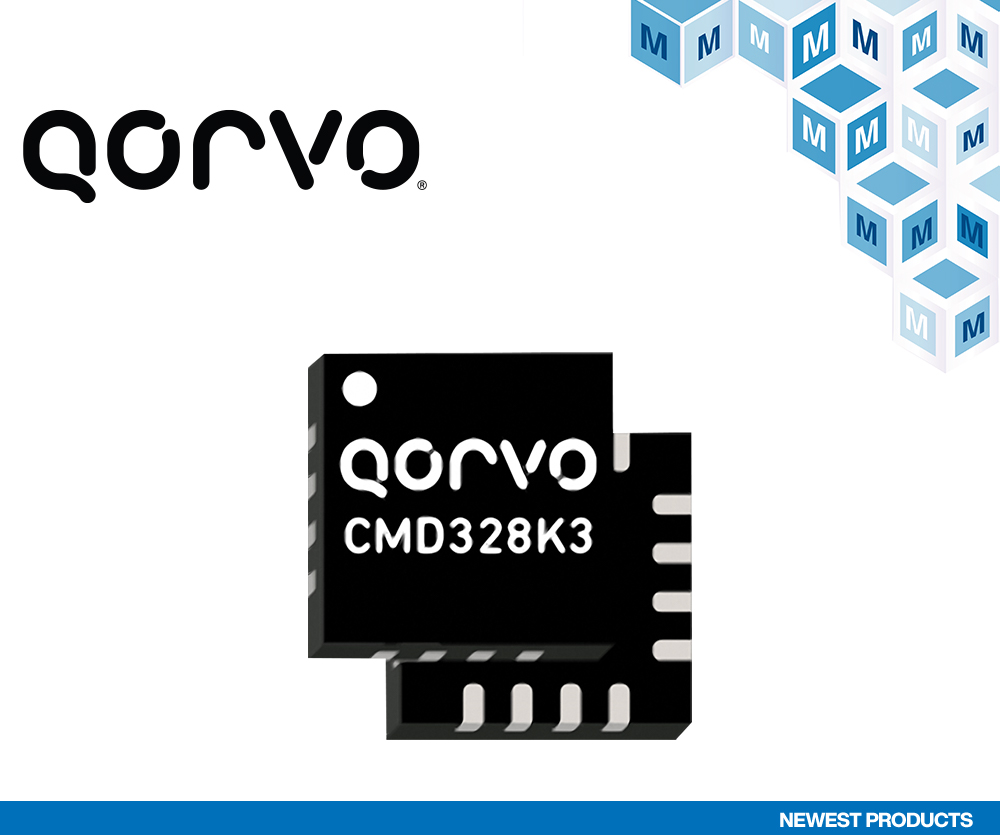 About Mouser Electronics
Mouser Electronics, a Berkshire Hathaway company, is an authorised semiconductor and electronic component distributor focused on New Product Introductions from its leading manufacturer partners. Serving the global electronic design engineer and buyer community, the global distributor's website, mouser.com, is available in multiple languages and currencies and features more than 5 million products from over 1.100 manufacturer brands. Mouser offers 27 support locations worldwide to provide best-in-class customer service in local language, currency and time zone. The distributor ships to over 630.000 customers in 223 countries/territories from its 93.000 square-meter, state-of-the-art facilities in the Dallas, Texas, metro area. For more information, visit https://www.mouser.com/.