29. marts 2018
Now Available from Mouser: EPCOS B82806D Pulse Transformers for PoE++ Applications up to 60W
Now Available from Mouser: EPCOS B82806D Pulse Transformers for PoE++ Applications up to 60W
March 29, 2018 – Mouser Electronics, Inc., the industry's leading New Product Introduction (NPI) distributor with the widest selection of semiconductors and electronic components, is now stocking the B82806D pulse transformers from EPCOS, a TDK Group company. These new EPCOS transformers are designed specifically for the IEEE 802.3bt Power over Ethernet++ (PoE++) standard for supplying devices with higher power demands, such as video and point-of-sale systems, lighting controllers, fire alarm systems, and building access systems.
The EPCOS B82806D devices, available from Mouser Electronics, are a series of 60 W PoE transformers with different turns ratios for output voltages of 3.3 V, 5 V, 12 V, and 24 V. Featuring an EPCOS EFD 20 ferrite core, the B82806D PoE transformers offer DC resistance values as low as 3.5 milliohms and a typical switching frequency of 250 kHz. The B82806D transformers are compliant with UL 1446 class 130 (B) standards, are RoHS compatible, and can withstand a high-voltage test for one second between the primary and secondary sides at 1500 V AC, 50 Hz.
Capable of supplying powerful loads, the transformers' high efficiency also makes them appropriate for active clamp forward converter topologies.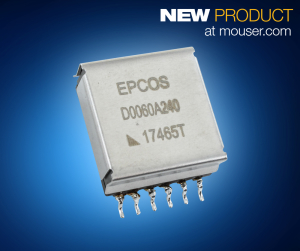 To learn more, visit http://www.mouser.com/epcostdk-b82806d-pulse-transformers.
Mouser / EPCOS B82806D Pulse Transformers
With its broad product line and unsurpassed customer service, Mouser strives to empower innovation among design engineers and buyers by delivering advanced technologies. Mouser stocks the world's widest selection of the latest semiconductors and electronic components for the newest design projects. Mouser Electronics' website is continually updated and offers advanced search methods to help customers quickly locate inventory. Mouser.com also houses data sheets, supplier-specific reference designs, application notes, technical design information, and engineering tools.
About Mouser Electronics
Mouser Electronics, a Berkshire Hathaway company, is an award-winning, authorized semiconductor and electronic component distributor focused on rapid New Product Introductions from its manufacturing partners for electronic design engineers and buyers. The global distributor's website, Mouser.com, is available in multiple languages and currencies and features more than 5 million products from over 700 manufacturers. Mouser offers 22 support locations around the world to provide best-in-class customer service and ships globally to over 600,000 customers in 170 countries from its 750,000 sq. ft. state-of-the-art facility south of Dallas, Texas. For more information, visit http://www.mouser.com.
About TDK EPCOS
TDK Corporation is a leading electronics company based in Tokyo, Japan. It was established in 1935 to commercialize ferrite, a key material in electronic and magnetic products. TDK's portfolio includes passive components, such as ceramic, aluminum electrolytic and film capacitors, ferrites and inductors, high-frequency products, and piezo and protection components, as well as sensors and sensor systems and power supplies. These products are marketed under the product brands TDK, EPCOS, InvenSense, Micronas, Tronics and TDK-Lambda. TDK's further main product groups include magnetic application products, energy devices, and flash memory application devices. TDK focuses on demanding markets in the areas of information and communication technology and automotive, industrial and consumer electronics.
Trademarks
Mouser and Mouser Electronics are registered trademarks of Mouser Electronics, Inc. All other products, logos, and company names mentioned herein may be trademarks of their respective owners.
Further information, contact:

Kevin Hess, Mouser Electronics

Senior Vice President of Marketing

(817) 804-3833

For press inquiries, contact:

Nick Foot, BWW Communications

PR Director

+44 (0) 1491 636393