11. januar 2019
Now at Mouser: Texas Instruments TPSM846C24 High-Density Step-Down Power Module
Now at Mouser: Texas Instruments TPSM846C24 High-Density Step-Down Power Module
January 11, 2019 – Mouser Electronics, Inc., the industry's leading New Product Introduction (NPI) distributor with the widest selection of semiconductors and electronic components, is now stocking the TPSM846C24 power module from Texas Instruments (TI). The 35 A module features overcurrent protection and is designed for compact PCI/PCIe, broadband, point-of-load, and medical equipment applications.
TI's PSM846C24, available from Mouser Electronics, is a fixed-frequency, 35 A, step-down power module that incorporates a controller, power MOSFETs, inductor, and associated components into a thermally enhanced, surface-mount package. Setting the operating parameters of the module requires just input and output capacitors as well as a few other passive components.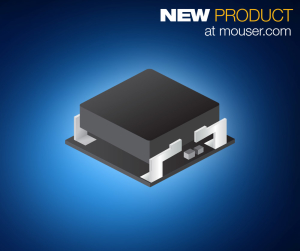 Engineers can achieve a two-phase power solution by configuring two modules to work in parallel up to 70 A with current sharing. The TPSM846C24 operates at an junction temperature range of minus 40 to 125 degrees Celsius, and is available in a 15 mm × 16 mm footprint that is easy to solder onto a PCB and allows a compact, point-of-load design.
The module is supported by the TPSM846C24EVM-006 and TPSM846C24EVM-007 evaluation modules. Both evaluation modules provide test points and jumpers to facilitate easy testing. The TPSM846C24EVM-006 contains a single TPSM846C24 module, while the TPSM846C24EVM-007 contains two TPSM846C24 modules working in parallel to enable up to 70 A output current.
For more information, visit http://www.mouser.com/ti-tpsm846c24-power-modules.
Mouser / Texas Instruments TPSM846C24 Power Module
Page Two
With its broad product line and unsurpassed customer service, Mouser strives to empower innovation among design engineers and buyers by delivering advanced technologies. Mouser stocks the world's widest selection of the latest semiconductors and electronic components for the newest design projects. Mouser Electronics' website is continually updated and offers advanced search methods to help customers quickly locate inventory. Mouser.com also houses data sheets, supplier-specific reference designs, application notes, technical design information, and engineering tools.
About Mouser Electronics
Mouser Electronics, a Berkshire Hathaway company, is an award-winning, authorized semiconductor and electronic component distributor focused on rapid New Product Introductions from its manufacturing partners for electronic design engineers and buyers. The global distributor's website, Mouser.com, is available in multiple languages and currencies and features more than 5 million products from over 750 manufacturers. Mouser offers 23 support locations around the world to provide best-in-class customer service and ships globally to over 600,000 customers in more than 220 countries/territories from its 750,000 sq. ft. state-of-the-art facility south of Dallas, Texas. For more information, visit http://www.mouser.com.
Trademarks
Mouser and Mouser Electronics are registered trademarks of Mouser Electronics, Inc. All other products, logos, and company names mentioned herein may be trademarks of their respective owners.
– 30 –
Further information, contact:

Kevin Hess, Mouser Electronics

Senior Vice President of Marketing

(817) 804-3833

For press inquiries, contact:

Nick Foot, BWW Communications

PR Director

+44 (0)1491 636393