17. august 2017
Now at Mouser: Texas Instruments' LMX2594 Wideband Microwave PLLatinum RF Synthesizer
Now at Mouser: Texas Instruments' LMX2594 Wideband Microwave PLLatinum RF Synthesizer
August 17, 2017 – Mouser Electronics, Inc., the industry's leading New Product Introduction (NPI) distributor with the widest selection of semiconductors and electronic components, is now stocking the LMX2594 wideband PLLatinum™ radio frequency (RF) synthesizer from Texas Instruments (TI). Part of TI's PLLatinum series, the LMX2594 enables designers to easily synchronize the output of all onboard PLLs, saving design time for multiple-input/multiple-output (MIMO), beamforming, and other applications.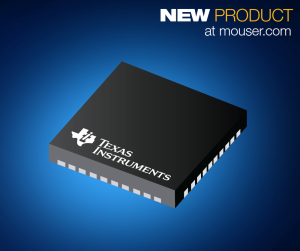 The TI LMX2594 wideband PLLatinum RF synthesizer, available from Mouser Electronics, is a high-performance wideband phased-locked loop (PLL) RF synthesizer with an integrated voltage-controlled oscillator (VCO) that can generate any frequency from 10 MHz to 15 GHz without using an internal frequency doubler, eliminating the need for complex onboard filters to remove subharmonics. The device features best-in-class noise performance with one of the lowest normalized PLL noise floors (at -236 dBc/Hz and 1/f of -129 dBc/Hz), enabling designers to improve radio sensitivity and spectral resolution. Integrated ramp generation and LDOs further simplify the design process, eliminating up to five devices typically required to perform this function.
The LMX2594 device comes equipped with a 32-bit fractional divider that allows fine frequency selection and supports both fractional-N and integer-N modes. The device also offers 45 fs RMS jitter at 7.5 GHz, support for JESD204B SYSREF, phase synchronization and ramp generation to simplify high-performance microwave and millimeter-wave system design.
Target applications for the LMX2594 include 5G and millimeter-wave wireless infrastructures, test and measurement equipment, radar, MIMO, phased array antennas and beam forming, and high-speed data converter clocking applications. For development, Mouser also stocks the LMX2594EVM RF synthesizer evaluation module.
To learn more, visit http://www.mouser.com/new/Texas-Instruments/ti-lmx2594-synthesizer/.
Mouser / Texas Instruments LMX2594 Wideband PLLatinum RF Synthesizer
Page Two
With its broad product line and unsurpassed customer service, Mouser strives to empower innovation among design engineers and buyers by delivering advanced technologies. Mouser stocks the world's widest selection of the latest semiconductors and electronic components for the newest design projects. Mouser Electronics' website is continually updated and offers advanced search methods to help customers quickly locate inventory. Mouser.com also houses data sheets, supplier-specific reference designs, application notes, technical design information, and engineering tools.
About Mouser Electronics
Mouser Electronics, a Berkshire Hathaway company, is an award-winning, authorized semiconductor and electronic component distributor focused on rapid New Product Introductions from its manufacturing partners for electronic design engineers and buyers. The global distributor's website, Mouser.com, is available in multiple languages and currencies and features more than 4 million products from over 600 manufacturers. Mouser offers 22 support locations around the world to provide best-in-class customer service and ships globally to over 550,000 customers in 170 countries from its 750,000 sq. ft. state-of-the-art facility south of Dallas, Texas. For more information, visit http://www.mouser.com.
Trademarks
Mouser and Mouser Electronics are registered trademarks of Mouser Electronics, Inc. All other products, logos, and company names mentioned herein may be trademarks of their respective owners.
– 30 –
Further information, contact:

Kevin Hess, Mouser Electronics

Senior Vice President of Marketing

(817) 804-3833

For press inquiries, contact:

Nick Foot, BWW Communications

PR Director

+44 (0)1491 636393.