3. oktober 2017
Now at Mouser: Sensirion's SGP Gas Sensors Offer Long-Term Stability for Environmental Monitoring
Now at Mouser: Sensirion's SGP Gas Sensors Offer Long-Term Stability for Environmental Monitoring
October 3, 2017 – Mouser Electronics, Inc., the industry's leading New Product Introduction (NPI) distributor with the widest selection of semiconductors and electronic components, is now stocking the multi-pixel Sensirion Gas Platform (SGP) devices. Among the only long-term stable siloxane-resistant MEMS gas sensors in the market today, the Sensirion SGP devices are ideal for integration into mobile devices for reporting indoor air quality, measuring breath alcohol concentration, or recognizing smells.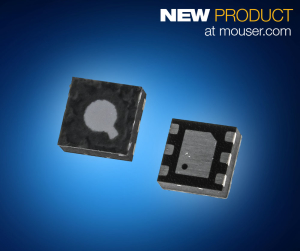 The Sensirion multi-pixel gas sensor SGP, available from Mouser Electronics, integrates four sensing elements with intelligent algorithms and pattern recognition to detect the type and concentration of gases and measure key environmental parameters, including relative humidity, temperature, volatile organic compounds (VOCs), particulate matter (PM2.5), and CO2. For VOCs that are simultaneously present in the air, the SGP devices feature a total VOC (TVOC) output capability, which enable the device to measure in-depth air quality information and survey indoor environments for contamination in one of the most practical and cost-effective ways possible.
The strength of Sensirion's multi-pixel gas sensor SGP lies with its stability over time, high sensitivity and fast response in measuring certain types of chemical compounds and impurities. Traditional metal-oxide gas sensors may degrade due to these environmental contaminants; the proprietary metal-oxide technology and multi-pixel platform found in the SGP devices offer unrivaled robustness that result in unique long-term stability, accuracy and resistance against contamination from siloxanes.
Sensirion's multi-pixel SGP gas sensor devices are available in a very small 2.45 × 2.45 × 0.90 mm, 6-pin DFN package, and can be easily integrated into a variety of consumer wearables, smartphones, tablets, industrial ventilation devices and Internet of Things (IoT) applications.
To learn more, visit http://www.mouser.com/new/sensirion/sensirion-sgp-gas-sensor/.
Mouser / Sensirion Multi-Pixel Gas Sensor SGP
Page Two
With its broad product line and unsurpassed customer service, Mouser strives to empower innovation among design engineers and buyers by delivering advanced technologies. Mouser stocks the world's widest selection of the latest semiconductors and electronic components for the newest design projects. Mouser Electronics' website is continually updated and offers advanced search methods to help customers quickly locate inventory. Mouser.com also houses data sheets, supplier-specific reference designs, application notes, technical design information, and engineering tools.
About Mouser Electronics
Mouser Electronics, a Berkshire Hathaway company, is an award-winning, authorized semiconductor and electronic component distributor focused on rapid New Product Introductions from its manufacturing partners for electronic design engineers and buyers. The global distributor's website, Mouser.com, is available in multiple languages and currencies and features more than 4 million products from over 600 manufacturers. Mouser offers 22 support locations around the world to provide best-in-class customer service and ships globally to over 550,000 customers in 170 countries from its 750,000 sq. ft. state-of-the-art facility south of Dallas, Texas. For more information, visit https://www.mouser.com/.
About Sensirion
Sensirion is a leading sensor manufacturer, providing relative humidity sensors and flow sensor solutions with unique performance. The company's product range includes liquid flow sensors, mass flow meters, mass flow controllers and differential pressure sensors. Using Sensirion's microsensor solutions, OEM customers benefit from the proven CMOSens® technology and excellent technical support. Among a large variety of applications, the flow and humidity sensors are successfully used in the automotive and medical industry.
Trademarks
Mouser and Mouser Electronics are registered trademarks of Mouser Electronics, Inc. All other products, logos, and company names mentioned herein may be trademarks of their respective owners.
– 30 –
Further information, contact:

Kevin Hess, Mouser Electronics

Senior Vice President of Marketing

(817) 804-3833

For press inquiries, contact:

Nick Foot, BWW Communications

PR Director

+44 (0)1491 636393