11. juli 2018
Now at Mouser: NXP's LPC540xx MCUs Offer Flexible Communication for Next-Gen IoT Applications
Now at Mouser: NXP's LPC540xx MCUs Offer Flexible Communication for Next-Gen IoT Applications
July 11, 2018 – Mouser Electronics, Inc., the industry's leading New Product Introduction (NPI) distributor with the widest selection of semiconductors and electronic components, is now stocking LPC540xx microcontrollers from NXP Semiconductors. Designed for applications that require data aggregation from multiple inputs, the power-efficient LPC540xx microcontrollers balance rich feature integration with impressive power efficiency, delivering an active mode current of 100 µA/MHz. The devices include 11 FlexComm interfaces for HMI and sensors, allowing developers to adapt to the communication and connectivity requirements of various Internet of Things (IoT), building automation, data collectors, and diagnostic equipment applications.
The 32-bit NXP LPC540xx microcontrollers, available from Mouser Electronics, feature a 180 MHz Arm® Cortex®-M4 processor with 360 Kbytes of SRAM and a quad SPI flash interface for expanding program memory. The powerful, low-power microcontrollers boast Serial Wire Output and ETM Trace for enhanced debug capabilities and feature Ethernet support with Audio Video Bridging, two CAN FD modules, and a TFT LCD controller. The flexible LPC540xx microcontrollers are an ideal choice for multi-node and multi-protocol communication hubs, with a graphics display for easy usability and support for HMI and GUI applications.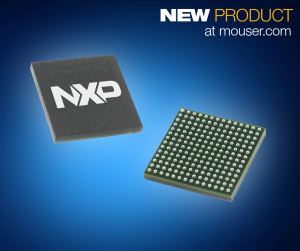 Mouser is also stocking the NXP LPCXpresso54018 development board, LPC54018 IoT module, and IoT module baseboard. The LPCXpresso54018 development board supports the MCUXpresso integrated development environment (IDE) to enable rapid prototyping and evaluation. The board features a standard 10-pin header compatible with third-party debug probes, as well as an Arduino Uno-compatible expansion port. The board includes a complete set of peripheral interfaces, allowing developers to thoroughly explore the capabilities of LPC540xx microcontrollers.
The self-contained, high-performance LPC54018 IoT module incorporates an LPC54018 microcontroller and a Longsys GT1216 IEEE802.11b/g/n module. The IoT module can be used standalone or plugged into the NXP IoT module base board for rapid product development and prototyping on IoT platforms. The IoT module base board provides several on-board peripherals for rapid prototyping and evaluation, including SDRAM, USB interface, LCD with touchscreen, stereo audio codec, digital microphone, Ethernet PHY, micro SD and Arduino Uno expansion connectors.
To learn more about the NXP LPC540xx microcontrollers and associated products, visit http://www.mouser.com/nxp-lpc540-mcu.
Mouser / NXP LPC540xx MCUs
Page Two
With its broad product line and unsurpassed customer service, Mouser strives to empower innovation among design engineers and buyers by delivering advanced technologies. Mouser stocks the world's widest selection of the latest semiconductors and electronic components for the newest design projects. Mouser Electronics' website is continually updated and offers advanced search methods to help customers quickly locate inventory. Mouser.com also houses data sheets, supplier-specific reference designs, application notes, technical design information, and engineering tools.
About Mouser Electronics
Mouser Electronics, a Berkshire Hathaway company, is an award-winning, authorized semiconductor and electronic component distributor focused on rapid New Product Introductions from its manufacturing partners for electronic design engineers and buyers. The global distributor's website, Mouser.com, is available in multiple languages and currencies and features more than 5 million products from over 700 manufacturers. Mouser offers 23 support locations around the world to provide best-in-class customer service and ships globally to over 600,000 customers in more than 220 countries/territories from its 750,000 sq. ft. state-of-the-art facility south of Dallas, Texas. For more information, visit http://www.mouser.com.
Trademarks
Mouser and Mouser Electronics are registered trademarks of Mouser Electronics, Inc. All other products, logos, and company names mentioned herein may be trademarks of their respective owners.
– 30 –
Further information, contact:

Kevin Hess, Mouser Electronics

Senior Vice President of Marketing

(817) 804-3833

For press inquiries, contact:

Nick Foot, BWW Communications

PR Director

+44 (0)1491 636393