5. juli 2018
Now at Mouser: Infineon's iMOTION IMC100 Motor Control ICs Integrate Hardware and Algorithm for Variable Speed Drives
Now at Mouser: Infineon's iMOTION IMC100 Motor Control ICs Integrate Hardware and Algorithm for Variable Speed Drives
July 3, 2018 – Mouser Electronics, Inc., the authorized global distributor with the newest semiconductors and electronic components, is now stocking the IMC100 series, a new family of iMOTION™ motor control ICs from Infineon Technologies. These ready-to-use solutions for high-efficiency, variable-speed drives integrate both the required hardware and control algorithm for a permanent magnet synchronous motor (PMSM).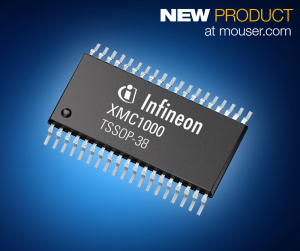 The Infineon IMC100 series motor control ICs, available from Mouser Electronics, are based on Infineon's proven Motion Control Engine (MCE), which implements field-oriented control (FOC) and eliminates software coding from the development of motor control algorithms. The FOC uses single- or leg-shunt current feedback and space-vector PWM with sinusoidal signals to achieve high energy efficiency. The ICs also provide protection features like over- and under-voltage, over-current, rotor lock to safeguard the motor and power stage. The IMC100 devices provide highly flexible communication interfaces, including UART, SPI, I2C, analog input, frequency input, and CAN.
The IMC100 series ICs are supported by the iMOTION™ Modular Application Design Kit for motor control (iMOTION MADK), EVAL-M1-101T evaluation control board, and EVAL-M3-102T evaluation board. The iMOTION MADK is a compact and flexible evaluation system that provides a scalable design platform for three-phase motor drives ranging from 20W to 300W. The EVAL-M1-101T evaluation control board and EVAL-M3-102T evaluation board connect to the iMOTION MADK and are capable of providing three-phase modulation or type 3 of two-phase modulation.
The Infineon iMOTION IMC100 series ICs are ideal for motor control applications in home appliances, air conditioning units, fans, and pumps. To learn more, visit http://www.mouser.com/infineon-imotion-imc100.
Mouser / Infineon IMC100
Page Two
With its broad product line and unsurpassed customer service, Mouser strives to empower innovation among design engineers and buyers by delivering advanced technologies. Mouser stocks the world's widest selection of the latest semiconductors and electronic components for the newest design projects. Mouser Electronics' website is continually updated and offers advanced search methods to help customers quickly locate inventory. Mouser.com also houses data sheets, supplier-specific reference designs, application notes, technical design information, and engineering tools.
About Mouser Electronics
Mouser Electronics, a Berkshire Hathaway company, is an award-winning, authorized semiconductor and electronic component distributor focused on rapid New Product Introductions from its manufacturing partners for electronic design engineers and buyers. The global distributor's website, Mouser.com, is available in multiple languages and currencies and features more than 5 million products from over 700 manufacturers. Mouser offers 23 support locations around the world to provide best-in-class customer service and ships globally to over 600,000 customers in more than 220 countries/territories from its 750,000 sq. ft. state-of-the-art facility south of Dallas, Texas. For more information, visit http://www.mouser.com.
About Infineon Technologies
Infineon Technologies is a leading global designer, manufacturer and supplier of a broad range of semiconductors used in various microelectronic applications. Infineon's product portfolio consists of logic products, including digital, mixed-signal, and analog integrated circuits, as well as discrete semiconductor products.
Trademarks
Mouser and Mouser Electronics are registered trademarks of Mouser Electronics, Inc. All other products, logos, and company names mentioned herein may be trademarks of their respective owners.
– 30 –
Further information, contact:

Kevin Hess, Mouser Electronics

Senior Vice President of Marketing

(817) 804-3833

For press inquiries, contact:

Kelly DeGarmo, Mouser Electronics

Manager, Corporate Communications and Media Relations

(817) 804-7764