15. juni 2018
Nordic's nRF52840 Multi-Protocol SoC, Now at Mouser, Offers Simultaneous Thread and Bluetooth 5 Connectivity
Nordic's nRF52840 Multi-Protocol SoC, Now at Mouser,
Offers Simultaneous Thread and Bluetooth 5 Connectivity
June 15, 2018 – Mouser Electronics, Inc., the authorized global distributor with the newest semiconductors and electronic components, is now stocking the nRF52840 multi-protocol system-on-chip (SoC) from Nordic Semiconductor. Based on Nordic's nRF52 Series architecture and compatible with Nordic's existing nRF52 Series, nRF51 Series, and nRF24 Series products, the ultra-low power nRF52840 SoC is one of the only single-chip solutions on the market to offer simultaneous Bluetooth® 5 and Thread support, with Zigbee® support coming soon.
The Nordic nRF52840 SoC, available from Mouser Electronics, builds on the architecture of Nordic's existing nRF52 Series of SoCs to support complex Bluetooth low energy and other low-power wireless applications. The nRF52840 SoC employs a 64MHz, 32-bit Arm® Cortex®-M4F processor, plus a CPU with 1 Mbyte of flash and 256 Kbytes of RAM, floating point unit, and digital signal processor (DSP) performance. The SoC also incorporates Arm TrustZone CryptoCell-310 cryptographic accelerator for best-in-class security.
The nRF52840 SoC complies with the Bluetooth 5 specification, which, coupled with increased maximum output power, enables the device to deliver Bluetooth low energy wireless connectivity with up to four times the range or up to twice the raw data bandwidth (2 Mbps) compared with the Bluetooth low energy implementation of Bluetooth 4.2. In addition to Bluetooth 5 support, the nRF52840 SoC includes NFC-A tag support plus IEEE 802.15.4 capabilities for Zigbee- and Thread-based smart home technologies or as a Network Adaptation Layer with 6LoWPAN and standard internet protocols.
The SoC is supported by the Nordic nRF52840 Preview Development Kit, which includes an onboard nRF52840 SoC and four user-programmable buttons and LEDs, is hardware compatible with the Arduino Uno R3-based shields, and features connector pins for all inputs and outputs (I/O) and interfaces, including a dedicated connector for the included external NFC antenna.
Nordic's nRF52840 multi-protocol SoC is an ideal solution for a variety of wireless Internet of Things (IoT) applications, including advanced wearables, virtual reality (VR) and augmented reality (AR), high-performance HID controllers, smart home products, and connected industrial devices.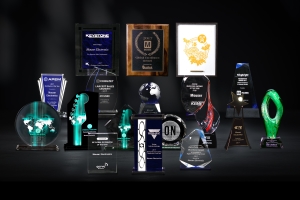 To learn more, visit http://www.mouser.com/nordic-nrf52840-soc.
Mouser / Nordic Semiconductor nRF52840 Multi-Protocol SoC
With its broad product line and unsurpassed customer service, Mouser strives to empower innovation among design engineers and buyers by delivering advanced technologies. Mouser stocks the world's widest selection of the latest semiconductors and electronic components for the newest design projects. Mouser Electronics' website is continually updated and offers advanced search methods to help customers quickly locate inventory. Mouser.com also houses data sheets, supplier-specific reference designs, application notes, technical design information, and engineering tools.
About Mouser Electronics
Mouser Electronics, a Berkshire Hathaway company, is an award-winning, authorized semiconductor and electronic component distributor focused on rapid New Product Introductions from its manufacturing partners for electronic design engineers and buyers. The global distributor's website, Mouser.com, is available in multiple languages and currencies and features more than 5 million products from over 700 manufacturers. Mouser offers 23 support locations around the world to provide best-in-class customer service and ships globally to over 600,000 customers in more than 220 countries/territories from its 750,000 sq. ft. state-of-the-art facility south of Dallas, Texas. For more information, visit http://www.mouser.com.
About Nordic Semiconductor
Nordic Semiconductor provides class-leading levels of wireless performance and sophistication at a price that enables the company's ultralow power (ULP) wireless chips to be used in even the most cost-sensitive consumer products. Nordic Semiconductor's chips can be found in products such as wireless PC peripherals, gaming controllers, sports and fitness sensors, toys, advanced multi-media controllers, and digital/satellite TV (set-top box) remotes and much more.
Trademarks
Mouser and Mouser Electronics are registered trademarks of Mouser Electronics, Inc. All other products, logos, and company names mentioned herein may be trademarks of their respective owners.
Further information, contact:

Kevin Hess, Mouser Electronics

Senior Vice President of Marketing

(817) 804-3833

For press inquiries, contact:

Nick Foot, BWW Communications

PR Director

+44 (0) 1491 636393