20. februar 2018
New Lattice Modules Make Replacing USB Connectors with 12 Gbps Wireless Technology a Snap
New Lattice Modules Make Replacing USB Connectors with 12 Gbps Wireless Technology a Snap
Lattice Snap Modules Drive Continued Adoption of 60 GHz Wireless Technology in Consumer and Embedded Applications
 Lattice Snap modules incorporate key benefits of SiBEAM Snap technology for a robust, environment-proof and connector-less link at 12 Gbps speeds  International regulatory compliance speeds time-to-market  Lattice Snap evaluation kit enables easy integration of short-range 60 GHz wireless technology ideal for mobile accessories, tablets, notebooks, action and surveillance cameras
PORTLAND, OR – Feb. 20, 2018 – Lattice Semiconductor Corporation (NASDAQ: LSCC), the leading provider of customizable smart connectivity solutions, today announced the expansion of its Lattice Snap® wireless connector product family to support broader adoption of 60 GHz wireless technology in consumer and embedded applications. The new Lattice Snap modules, based on Lattice's production-proven SiBEAM 60 GHz technology, enable manufacturers to easily integrate short-range, high-speed 60 GHz wireless links into their products. To simplify the design process further, Lattice included the Snap modules, which are compliant with regulatory requirements in several jurisdictions, into their Snap evaluation kit for fast prototyping and time-to-market.
"We were seeking a wireless solution that was robust, easy to integrate and wouldn't require a lot of design support," said Ehren Achee, CTO at SecuraShot. "Lattice's Snap modules met all of our expectations, allowing us to develop a more rugged product that can seamlessly support the transfer of data wirelessly without delay."
The Snap modules offer 12 Gbps full-duplex bandwidth at sub-frame latencies, making this technology ideal for the replacement of physical connectors, such as USB. By eliminating the
MEDIA CONTACTS: Sherrie Gutierrez Lattice Semiconductor 408-826-6752 sherrie.gutierrez@latticesemi.com
INVESTOR CONTACT: David Pasquale Global IR Partners 914-337-8801 lscc@globalirpartners.com
Deanna Meservey Racepoint Global 617-624-3415 Lattice@racepointglobal.com
connector, the industrial designs of new products can be optimized by making them thinner, lighter, and environment-proof, all while maintaining a robust and high-speed connection. To enable faster prototyping for both existing and new customers, Lattice created the Snap Evaluation Kit, which includes the modules, system design guidelines and improved de-bug tools.
"As a leader in wireless connectivity solutions, the Lattice Snap products demonstrate our commitment to innovate products at the edge," said Abdullah Raouf, senior manager at Lattice. "SiBEAM Snap wireless connector technology offers a unique advantage in data transfer for a variety of high volume mobile applications, such as smartphones, tablets and notebooks. The new Snap modules not only accelerate time to market, but will enable 60 GHz technology to be easily integrated into broader consumer and industrial products."
Key features of the Snap modules include:  Fully integrated power regulation, timing, 60 GHz antenna design & regulatory compliance  A plug and play approach to enabling a short range, high speed, wireless link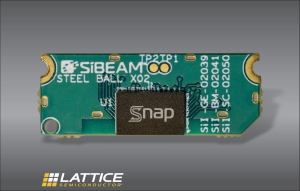 For more information on Lattice's Snap products visit: http://www.latticesemi.com/Products/mmWave/SiBEAMSnap.aspx.
Lattice at the Embedded World Conference 2018 – Nuremberg, Germany
Lattice will be exhibiting at Embedded World 2018, where the company will be showcasing Snap modules along with other products and technology solutions targeted for the industrial, automotive and consumer markets. To meet with Lattice, please visit hall 4, booth #4-278 at the Nuremberg Messe from Tuesday, February 27, 2018 – Thursday, March 1, 2018.
To schedule a press meeting, please contact: lattice@racepointglobal.com. To schedule a customer meeting, please visit: http://www.latticesemi.com/en/About/ContactUs.aspx.
About Lattice Semiconductor
Lattice Semiconductor (NASDAQ: LSCC) is a leader in smart connectivity solutions at the network edge, where the "things" of IoT live. Our low power FPGA, 60 GHz millimeter wave, video ASSP and IP products deliver edge intelligence, edge connectivity, and control solutions to the consumer, communications, industrial, compute, and automotive markets. Our unwavering commitment to our global customers enables them to accelerate their innovation, creating an ever better and more connected world.
For more information about Lattice please visit http://www.latticesemi.com. You can also follow us via LinkedIn, Twitter, Facebook, YouTube, WeChat, Weibo or Youku.
Lattice Semiconductor Corporation, Lattice Semiconductor (& design), SiBEAM, Snap, and specific product designations are either registered trademarks or trademarks of Lattice Semiconductor Corporation or its subsidiaries in the United States and/or other countries. The use of the word "partner" does not imply a legal partnership between Lattice and any other entity.
GENERAL NOTICE: Other product names used in this publication are for identification purposes only and may be trademarks of their respective holders.