30. september 2020
New eBook from Mouser, with STMicroelectronics, Offers Expert Opinions on Developing Smart Home Devices
Mouser Electronics, Inc., the New Product Introduction (NPI) leader empowering innovation, announces a new eBook produced in collaboration with STMicroelectronics that explores strategies for overcoming challenges facing designers of smart home devices. In 7 Experts on Designing Commercially Successful Smart Home Devices, subject matter experts from industry-leading companies such as Microsoft, Cisco, and Ingersoll Rand offer their perspectives on the most important factors for developing new Internet of Things (IoT) solutions.
Homes and commercial buildings have evolved to incorporate intelligent design across a wide range of applications, with smart devices controlling everything from lighting and climate to HVAC and security. These interconnected systems require carefully planned design engineering as well as detailed knowledge into the specific needs for a successful connected device. Smart buildings and cities bring together a network of sensors, processors, artificial intelligence (AI), and connectivity solutions, challenging engineers to maintain mastery of an extensive range of technologies and products.
7 Experts on Designing Commercially Successful Smart Home Devices, the new eBook from Mouser and ST, offers plenty of food for thought for developers and engineers, covering topics including edge processing, user experience, and life cycle design. The eBook also includes product information for several useful ST solutions, including the STM32 L5 ultra-low-power microcontroller series. Part of the STM32 family of microcontrollers, the STM32 L5 series is based on an Arm® Cortex®-M33 processor with TrustZone® for Armv8-M, and is ideal for IoT applications requiring high security and low power consumption. ST's BlueNRG-M2 application processor modules provide a complete RF platform in a minuscule form factor, supporting IoT and smart home devices with Bluetooth® Low Energy 5.0 connectivity and BQE qualification. ST's VL53L3CX time-of-flight ranging sensor embeds the company's third-generation FlightSense patented technology, combining a high-performance proximity and ranging sensor with multi-target distance measurements and automatic smudge correction for use in a variety of robotics and automation applications.
To learn more about ST products available from Mouser, visit https://eu.mouser.com/manufacturer/stmicroelectronics/.
To read the new e-book, go to https://eu.mouser.com/news/stmicro-smarthome-ebook/mobile/index.html.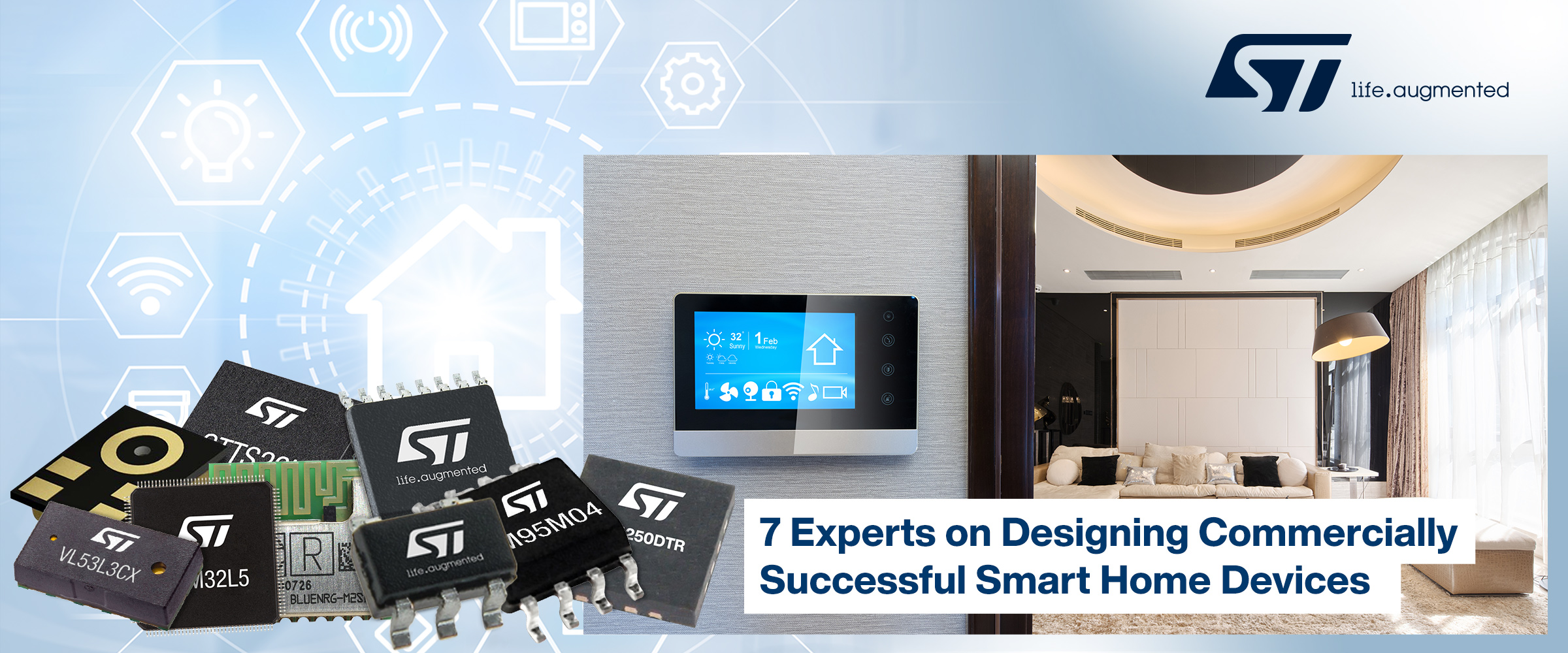 About Mouser Electronics
Mouser Electronics, a Berkshire Hathaway company, is an authorised semiconductor and electronic component distributor focused on New Product Introductions from its manufacturing partners for electronic design engineers and buyers. The global distributor's website, Mouser.com, is available in multiple languages and currencies and features more than 5 million products from over 800 manufacturers. Mouser offers 27 support locations around the world to provide best-in-class customer service in local language, currency and time zone. The distributor ships to over 630,000 customers in more than 223 countries/territories from its 93,000 square-meter, state-of-the-art facilities in the Dallas, Texas, metro area. For more information, visit http://www.mouser.com.