8. september 2021
New eBook from Mouser Electronics and Amphenol Explores the Interconnects, Sensors, and Antennas Required for IIoT
Mouser Electronics, Inc., the authorised global distributor with the newest semiconductors and electronic components, announces a new eBook in collaboration with Amphenol Corporation, highlighting the many applications of the Industrial Internet of Things (IIoT) as well as the technical challenges in developing IIoT solutions. In Enabling the Industrial IoT Revolution, subject matter experts from Mouser and Amphenol offer detailed insights into topics including industrial data centres; heating, ventilation, and cooling (HVAC) systems; and indoor air quality systems as well as smart manufacturing, intelligent automation, construction, and mining.
The new eBook from Mouser and Amphenol offers six in-depth articles exploring some of the most fascinating challenges facing IIoT design. Readers can enjoy extensive graphic resources, including a valuable infographic highlighting interconnect solutions from Amphenol RF ideal for smart construction and mining. The infographic showcases products such as IP-rated waterproof and ruggedised RF connectors that enable wireless connectivity in the harshest environments. In addition, Amphenol Industrial's leading-edge power solutions, such as the RADSOK® Power-to-Board connectors, offer many options for high-current (up to 200 A), single-point connections in a compact footprint design that increase heat dissipation at the pin-and-socket interface, which lowers temperature rise and reduces potential failures.
The eBook also features other Amphenol IIoT solutions, such as the Amphenol ICC Minitek MicroSpace™ crimp-to-wire connector system, a vibration-tolerant product known for its high locking strength that supports a broad range of industrial applications, such as robotics, automated guided vehicles, navigation systems, and industrial cameras, as well as factory lighting and HVAC. Amphenol MCP's PCB antennas feature an omnidirectional radiation pattern in a band range of 410 MHz to 5.85 GHz, making them an ideal choice for IIoT applications such as machine-to-machine communications, smart lighting, and smart meters.
Paramount to any IIoT system design is the need for sensors. Amphenol i2s' Climate Control Pressure Transmitter (CCT) sensors are specifically designed to measure the pressure of many fluids, including refrigerant, process fluid, and hydronic fluid systems. The hermetically sealed sensors, with a high-quality stainless steel measurement element in a robust aluminium case, are designed to provide reliable long-term performance in many industrial and heating, ventilation, cooling, and refrigeration (HVACR) applications. Find a comprehensive collection of product information and technical insights on the Amphenol IIoT solutions page.
To learn more about Amphenol, visit https://eu.mouser.com/manufacturer/amphenol/. To read the new e-book, go to https://eu.mouser.com/news/Amphenol-iiot-revolution/amphenol-Industrial-Iot-ebook.html.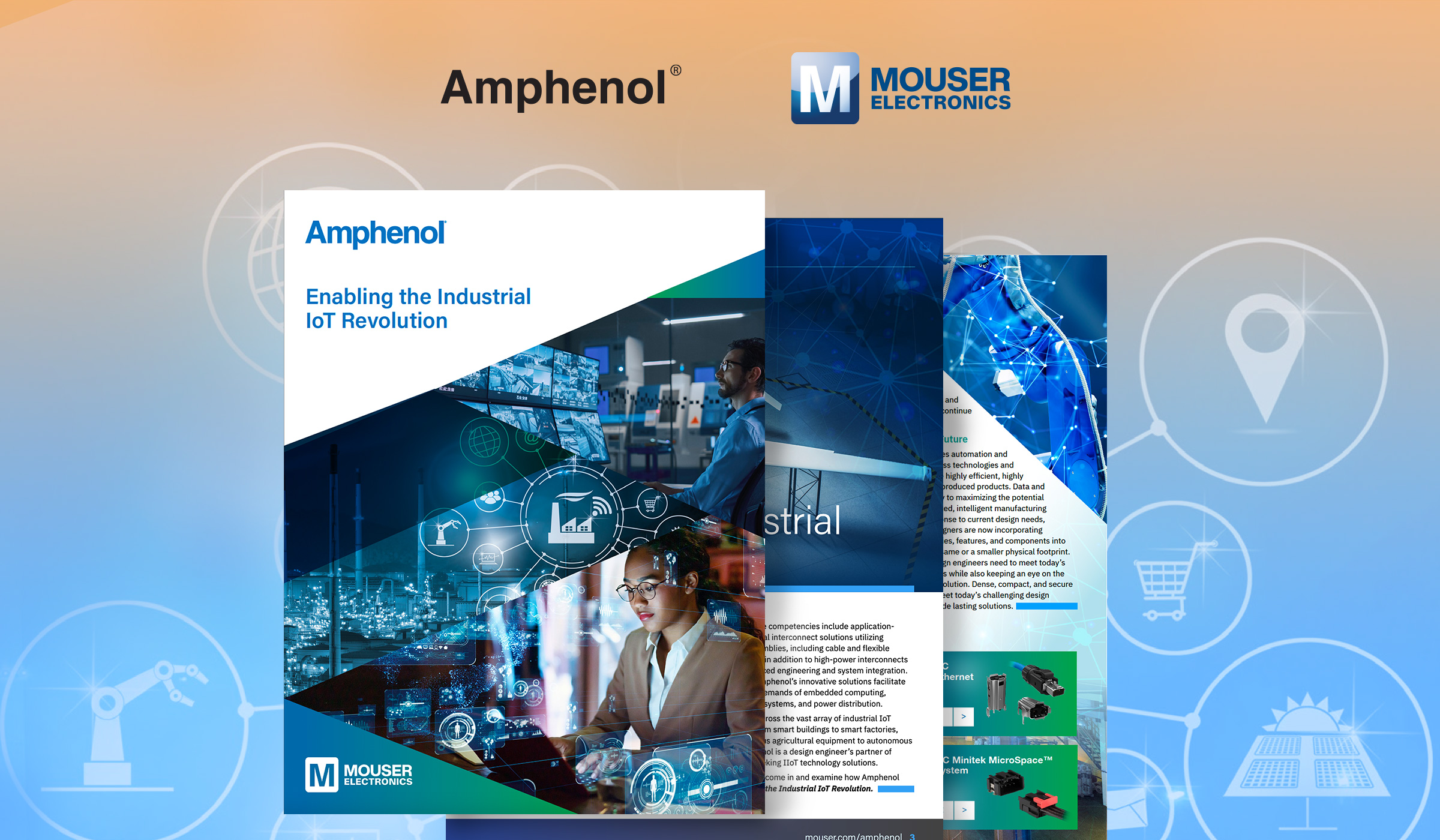 About Mouser Electronics
Mouser Electronics, a Berkshire Hathaway company, is an authorised semiconductor and electronic component distributor focused on New Product Introductions from its leading manufacturer partners. Serving the global electronic design engineer and buyer community, the global distributor's website, mouser.com, is available in multiple languages and currencies and features more than 5 million products from over 1,100 manufacturer brands. Mouser offers 27 support locations worldwide to provide best-in-class customer service in local language, currency and time zone. The distributor ships to over 630,000 customers in 223 countries/territories from its 1 million-square-foot, state-of-the-art distribution facilities in the Dallas, Texas, metro area. For more information, visit eu.mouser.com.