23. marts 2017
Mouser/Molex-Sponsored IndyCar Takes Checkered Flag at St. Pete
Mouser/Molex-Sponsored IndyCar Takes Checkered Flag at St. Pete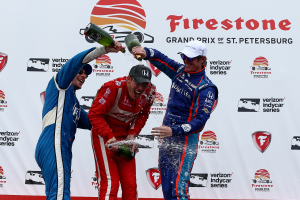 March 22, 2017 – The Mouser-sponsored No. 18 car opened the 2017 Verizon IndyCar Series in grand style, capturing a first-place finish in Florida at the Firestone Grand Prix of St. Petersburg on March 12. It was a historic win for driver Sebastien Bourdais, who overcame a last-place start to secure his 36th career IndyCar victory, advancing himself to sixth place on the all-time open wheel win list.
Mouser Electronics, Inc., the authorized global distributor with the newest semiconductors and electronic components, is proud to partner with valued supplier Molex to sponsor the No. 18 Dale Coyne Racing Honda in this year's Verizon IndyCar Series. The 2017 season marks the 22nd season of the IndyCar Series and includes the 101st running of the famed Indianapolis 500, set for May 28. The Mouser- and Molex-sponsored car won the Indianapolis 500 in 2013. Mouser first sponsored IndyCar racing in 2011 as an inventive way to communicate its performance-driven business model and promote the newest technologies and how they affect the high-tech world of IndyCar racing.
"IndyCar teams like Dale Coyne Racing capitalize on the latest technologies to fine-tune performance and control on the track," said Todd McAtee, Mouser Electronics' Vice President, Americas Business Development. "This outstanding partnership between Mouser Electronics, Molex and Dale Coyne Racing is a testament to our collective commitment to speed, performance and excellence — both on and off the racetrack.
"Out of the gate, this season promises to be exciting," added McAtee. "Bourdais' amazing win in Florida has set the stage for six months of gritty competition in this fast, high-tech sport."
"For us at Molex, this sponsorship is an opportunity to further demonstrate our commitment to developing products that help advance the automotive industry," said Fred Bell, Vice President of Global Distribution for Molex. "We have a long history of designing small-footprint, high-performance interconnects that excel in challenging automotive applications. We look forward to being a key part of this important partnership."
Next stop for the No. 18 car is the Toyota Grand Prix of Long Beach on April 9, followed by the Honda Indy Grand Prix of Alabama on April 23. From there, the 2017 Championship includes 13 more events, featuring the Indianapolis 500 and the season finale at Sonoma, California. For more about Mouser-sponsored IndyCar racing, visit http://www.mouser.com/indy-racing/.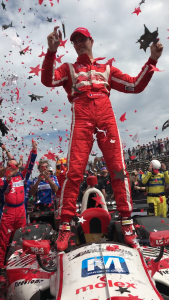 Mouser / IndyCar Kickoff 2017
Page Two
With its broad product line and unsurpassed customer service, Mouser strives to empower innovation among design engineers and buyers by delivering advanced technologies. Mouser stocks the world's widest selection of the latest semiconductors and electronic components for the newest design projects. Mouser Electronics' website is continually updated and offers advanced search methods to help customers quickly locate inventory. Mouser.com also houses data sheets, supplier-specific reference designs, application notes, technical design information, and engineering tools.
About Mouser Electronics
Mouser Electronics, a subsidiary of TTI, Inc., is part of Warren Buffett's Berkshire Hathaway family of companies. Mouser is an award-winning, authorized semiconductor and electronic component distributor focused on rapid New Product Introductions from its manufacturing partners for electronic design engineers and buyers. The global distributor's website, Mouser.com, is available in multiple languages and currencies and features more than 4 million products from over 600 manufacturers. Mouser offers 22 support locations around the world to provide best-in-class customer service and ships globally to over 500,000 customers in 170 countries from its 750,000 sq. ft. state-of-the-art facility south of Dallas, Texas. For more information, visit http://www.mouser.com.
Trademarks
Mouser and Mouser Electronics are registered trademarks of Mouser Electronics, Inc. All other products, logos, and company names mentioned herein may be trademarks of their respective owners.
– 30 –
Further information, contact:

Kevin Hess, Mouser Electronics

Senior Vice President of Marketing

(817) 804-3833

For press inquiries, contact:

Nick Foot BWW Communications

PR Director

+4(0) 1491 636393