5. april 2017
Mouser Unveils FORTE, a Revolutionary New BOM Tool
Mouser Unveils FORTE, a Revolutionary New BOM Tool
Easy-to-Use, Robust Tool Takes Selecting and Purchasing to New Levels
April 4, 2017 – Mouser Electronics, Inc., the New Product Introduction leader that empowers innovation, is pleased to announce FORTE — Mouser's intelligent BOM tool. FORTE is a comprehensive bill of materials (BOM) management tool designed to increase confidence, save time, and improve order accuracy in specifying and purchasing electronic components.
Access over four million part numbers in Mouser's vast inventory. FORTE, free to anyone with a My Mouser account, quickly validates part numbers, product availability, and price, and recommends alternative products to reduce design and product lifecycle risks. FORTE evaluates the millions of daily interactions of purchasing professionals and engineers, and uses a unique relevancy engine that analyzes partial part numbers and descriptions to suggest the best options for customers — an industry-leading feature.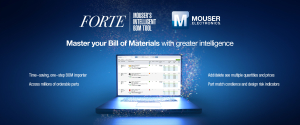 "At Mouser, we are always improving our tools to help buyers and engineers manage their specification and purchasing," said Hayne Shumate, Mouser Senior Vice President, Internet Business. "Our original BOM tool was very helpful when customers loaded complete manufacturer's part numbers. With FORTE, customers receive intelligent advice even when they search for outdated or partial part numbers."
FORTE offers expanded customization, added intelligence, and enhanced part match confidence that makes the BOM-building process faster, easier to use, and easier to share. The highly intelligent tool remembers users' preferences, spreadsheet layouts, naming conventions, and previous product orders. FORTE also offers legacy features like translations for all of Mouser's supported languages, support for the most common file formats, real-time product pricing and availability, and easy purchasing directly from the BOM.
"We also wanted to simplify the workflow to get the customer through the BOM task faster," Shumate added. "The new tool can match a higher percentage of parts and help customers understand the confidence and risk of each part. With those thoughts in mind, we developed FORTE into what purchasing professionals really need in a BOM tool."
To learn more about Mouser's revolutionary new intelligent BOM tool, visit http://www.mouser.com/bomtool/.
Mouser / FORTE BOM Tool
Page Two
With its broad product line and unsurpassed customer service, Mouser strives to empower innovation among design engineers and buyers by delivering advanced technologies. Mouser stocks the world's widest selection of the latest semiconductors and electronic components for the newest design projects. Mouser Electronics' website is continually updated and offers advanced search methods to help customers quickly locate inventory. Mouser.com also houses data sheets, supplier-specific reference designs, application notes, technical design information, and engineering tools.
About Mouser Electronics
Mouser Electronics, a subsidiary of TTI, Inc., is part of Warren Buffett's Berkshire Hathaway family of companies. Mouser is an award-winning, authorized semiconductor and electronic component distributor focused on rapid New Product Introductions from its manufacturing partners for electronic design engineers and buyers. The global distributor's website, Mouser.com, is available in multiple languages and currencies and features more than 4 million products from over 600 manufacturers. Mouser offers 22 support locations around the world to provide best-in-class customer service and ships globally to over 500,000 customers in 170 countries from its 750,000 sq. ft. state-of-the-art facility south of Dallas, Texas. For more information, visit http://www.mouser.com.
Trademarks
Mouser and Mouser Electronics are registered trademarks of Mouser Electronics, Inc. All other products, logos, and company names mentioned herein may be trademarks of their respective owners.
– 30 –
Further information, contact:

Nick Foot, BWW Communications

PR Director

+44 (0) 1491 636393

For press inquiries, contact:

Kelly DeGarmo, Mouser Electronics

Manager, Corporate Communications and Media Relations

(817) 804-7764