27. maj 2020
Mouser Stocks Latest pHAT-format I2C Environmental Sensor and I2S Digital Audio Boards from Pimoroni
Mouser Stocks Latest pHAT-format I2C Environmental Sensor and I2S Digital Audio Boards from Pimoroni
Mouser Electronics has added several new products from Pimoroni for use with the Raspberry Pi Zero and all 40-pin Raspberry Pi single board computers. These include the fully-assembled indoor environmental data sensor board, and a series of four Pimoroni Pirate Audio accessory boards. Python libraries and application examples are available for all boards.
PIM486 Enviro – An Indoor Environmental Sensor Board
The PIM486 is ideal for monitoring indoor environmental conditions. The compact pHAT-format board can perform accurate measurement of air pressure, temperature, humidity, noise level, and ambient light level. Data are collected from each sensor IC over I2C.
A Bosch BME820 sensor provides air pressure, humidity and temperature sensing.
Light levels and proximity detection measurements are performed by a Lite-On LTR-559ALS-01 optical sensor.
Noise level monitoring uses a Knowles SPH0645LM4H-B MEMS digital microphone.
An on-board 160 x 80 colour LED provides a convenient way of presenting data.
To learn more, visit: https://www2.mouser.com/new/pimoroni/pimoroni-pim486-enviro/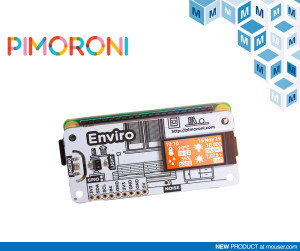 Pirate Audio I2S Digital Audio Accessory Boards
The Pimoroni Pirate Audio series comprises four fully assembled I2S digital audio boards that provide high-quality audio playback, device control buttons, and incorporate a 240 x 240 colour IPS LCD. The Pirate Audio software eases implementing playback control and displaying album art.
The Pirate Audio Speaker board, PIM485, provides a complete mono 1-Watt mini speaker with a Maxim Integrated MAX98357A combined I2S DAC and amplifier.
For stereo I2C output, the Pirate Audio 3-Watt Amplifier board, uses a MAX98357A to drive two speaker outputs. Push-fit connectors ease connecting the speakers.
To upgrade an existing amplifier to accept I2C, the Pirate Audio Line-Out board, PIM483, provides a line-level output from an I2S stream using a PCM5100A DAC.
For headphone use, the Pirate Audio Headphone Amplifier board (PIM483) outputs stereo audio up to 25 mW per channel via a standard 3.5 mm jack from a digital input.
To learn more, visit: https://www2.mouser.com/new/pimoroni/pimoroni-pirate-audio-accessories/