13. juli 2022
Mouser Spotlight: Sensors
Mouser Stocks Latest Sensor Solutions for a Diverse Set of Applications
Mouser Electronics, Inc., the industry's leading New Product Introduction (NPI) distributor, continues to grow its portfolio of sensor solutions to meet the growing demand in an increasingly diverse range of applications. The global authorised distributor stocks the most recent environmental sensors from leading manufacturers like Sensirion, in addition to automotive-qualified sensors from ams OSRAM and a new self-learning AI smart sensor from Bosch for use in wearables and hearables.
The following are a selection of the many sensors currently available from Mouser:
The BHI260AP self-learning AI smart sensor from Bosch is coined as the world's first self-learning AI sensor for wearables and hearables. The BHI260AP integrates a six-axis inertial measurement unit (IMU), a 32-bit customer-programmable microcontroller, and software functionalities in a system-in-package (SiP) solution.
https://eu.mouser.com/newsroom/publicrelations-bosch-bhi260ap-sensor-2022final/
The SEN5x environmental sensor nodes from Sensirion are optimised with multiple sensing parameters, enabling designers to save valuable R&D, BOM and assembly costs by providing an all-in-one sensor solution that replaces multiple environmental sensors.
https://eu.mouser.com/newsroom/publicrelations-sensirion-sen5x-nodes-2022final/
The AS5172E high-resolution magnetic position sensor from ams OSRAM has an AEC-Q100 Grade 1-qualified construction and offers durable performance for automotive applications such as brake and gas pedals, fuel-level measurement systems, steering angle sensors, and contactless potentiometers.
https://eu.mouser.com/newsroom/publicrelations-ams-osram-as5172e-2022final/
For the latest in-depth articles, videos and more about sensor technology, visit https://resources.mouser.com/sensor.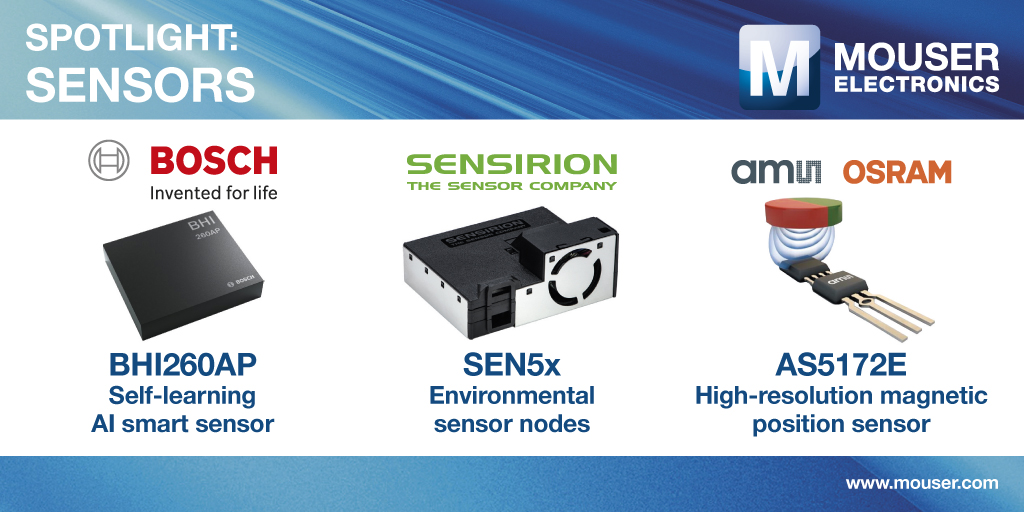 About Mouser Electronics
Mouser Electronics, a Berkshire Hathaway company, is an authorised semiconductor and electronic component distributor focused on New Product Introductions from its leading manufacturer partners. Serving the global electronic design engineer and buyer community, the global distributor's website, mouser.com, is available in multiple languages and currencies and features more than 6,8 million products from over 1.200 manufacturer brands. Mouser offers 27 support locations worldwide to provide best-in-class customer service in local language, currency and time zone. The distributor ships to over 650.000 customers in 223 countries/territories from its 93.000 square-meter, state-of-the-art facilities in the Dallas, Texas, metro area. For more information, visit https://www.mouser.com/.