28. juli 2021
Mouser Spotlight: New Wireless Modules, Filters, and Antennas
Mouser Electronics, Inc., the New Product Introduction (NPI) leader empowering innovation, this month announced several new products for wireless connectivity applications. These include a dual-protocol wireless module, a bulk acoustic wave filter, and antennas. Provisioning reliable wireless connectivity is increasingly a vital aspect of modern developments for industrial automation, automotive, and cellular network infrastructure, and Mouser is a trusted source for the latest in these wireless solutions.
New wireless connectivity products available from Mouser this month include:
The low-power, dual-protocol Dialog DA16600 Wi-Fi and Bluetooth® Low Energy modules integrate the Dialog DA16200 Wi-Fi SoC and Dialog DA14531 Bluetooth Low Energy SoC in a compact, low-profile package that is easily integrated into any space-constrained design. The modules are type approved by all leading certification bodies.
https://eu.mouser.com/new/dialog-semiconductor/dialog-da16600-wifi-ble-module/
Designed specifically to address the coexistence channels of 5G cellular and Wi-Fi in dense urban environments, the Qorvo QPQ1298 is a high-performance bulk acoustic wave (BAW) filter for use in cellular base stations, small cells, and repeater infrastructure. It offers a 160 MHz rejection bandwidth with low insertion loss in a compact, low-profile, surface-mounted package.
https://eu.mouser.com/new/qorvo/qorvo-qpq1298-baw-filter/
Mouser now stocks a variety of Multiple-in Multiple-Out (MIMO) vehicular antennas from Laird Connectivity. With several port and radiator options, the cross-horizon antennas are available for 698 MHz–960 MHz, 1710 MHz–2700 MHz, 2300 MHz–2700 MHz, and 4900 MHz–5900 MHz frequency ranges, with IP67- and EN61373-rated enclosures.
https://eu.mouser.com/new/laird-connectivity/laird-mimo-antennas/
Laird Connectivity NanoBlade Flex 6E embedded antennas are designed specifically for use in Wi-Fi 6E applications, with operation in the 2400 MHz–2500 MHz, 4900 MHz–6000 MHz, and 6000 MHz–7125 MHz frequency bands. With a compact form factor and high-efficiency characteristics (typically 68% to 76% across the three frequency bands), they are ideal for use in embedded IoT devices.
https://eu.mouser.com/new/laird-connectivity/laird-mini-nanoblade-flex-6ghz-antennas/
Additionally, Mouser provides a wealth of engaging articles, eBooks, applications notes, and more to support wireless design engineers: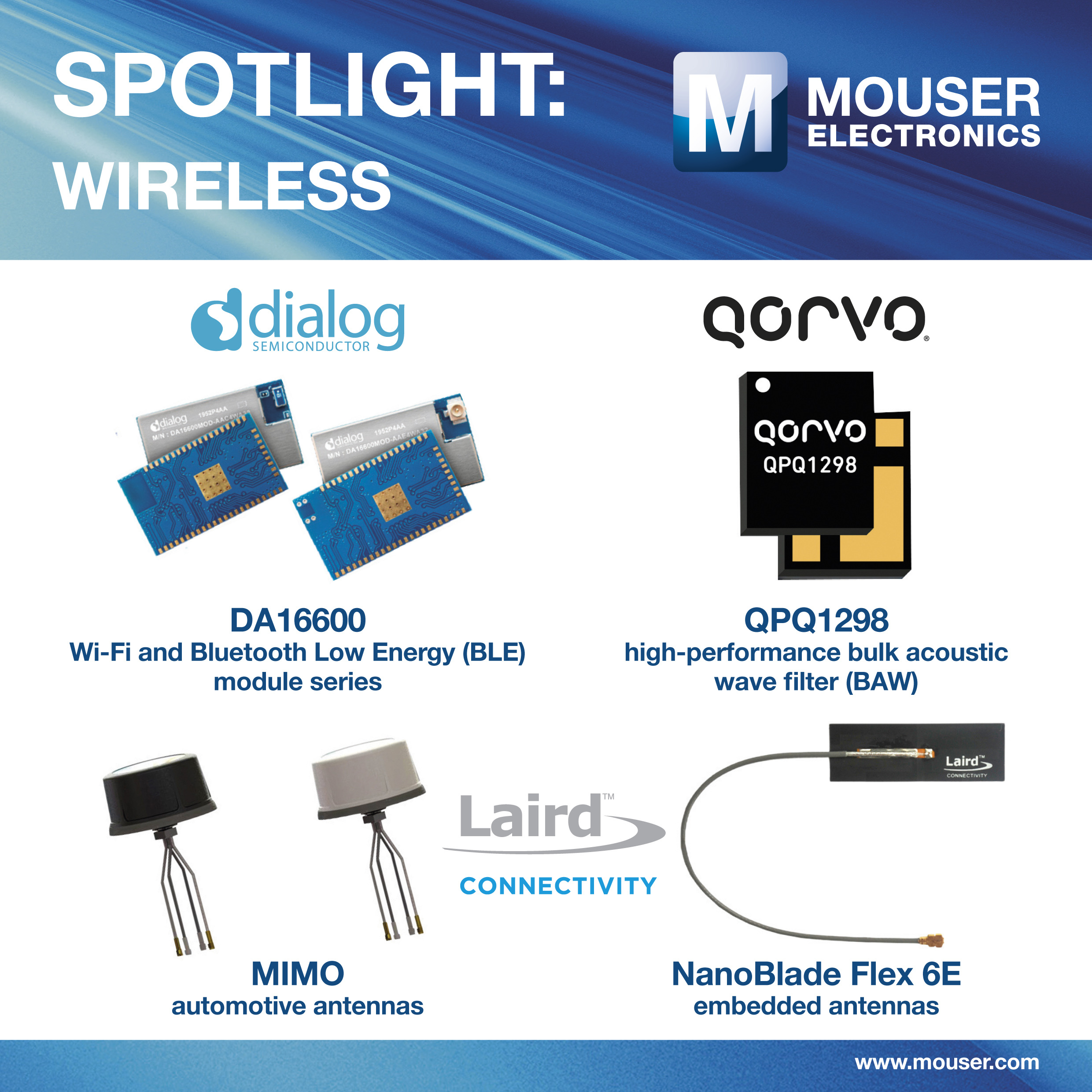 About Mouser Electronics
Mouser Electronics, a Berkshire Hathaway company, is an authorised semiconductor and electronic component distributor focused on New Product Introductions from its leading manufacturer partners. Serving the global electronic design engineer and buyer community, the global distributor's website, mouser.com, is available in multiple languages and currencies and features more than 5 million products from over 1.100 manufacturer brands. Mouser offers 27 support locations worldwide to provide best-in-class customer service in local language, currency and time zone. The distributor ships to over 630.000 customers in 223 countries/territories from its 93.000 m², state-of-the-art distribution facilities in the Dallas, Texas, metro area. For more information, visit https://eu.mouser.com/.