5. juni 2023
Mouser Spotlight: Microcontrollers
Mouser Extends its Comprehensive Microcontroller Line-up to Provide Embedded Developers with More Processor Choices
Mouser Electronics, Inc., the industry's leading New Product Introduction (NPI) distributor with the widest selection of semiconductors and electronic components™, recently added new microcontrollers to its extensive Embedded Processors and Controllers portfolio.
Microcontrollers are the foundational building blocks of any embedded systems design. Specified for a wide range of use cases, from ultra-low power fitness trackers to industrial automation sensor nodes, and automotive motor control to consumer smart home thermostats, the microcontroller is the computational heart of every embedded design. These versatile devices are increasingly highly integrated and optimised to suit specific applications, featuring the memory capacities, peripheral interfaces, and power management capabilities required.
New microcontroller product highlights available from Mouser include the following:
The EZ-PD PMG1-B1 high voltage microcontroller from Infineon Technologies suits a broad range of USB C power delivery developments such as power tools, small consumer appliances, and electric bikes. Capable of accommodating a 4 VDC to 24 VDC input voltage with a tolerance up to 40 VDC, this Arm® Cortex® M0+ 48 MHz based microcontroller core features a comprehensive set of peripherals, including 21 GPIOs, 2 x 8-bit ADCs, 8 x 16-bit timer/counter/PWMs, a 12-bit ADC, and a cryptographic true random number generator (TRNG). An integrated buck/boost converter offers a configurable switching frequency from 160 kHz to 600 kHz and delivers an output voltage range from 3.3 VDC to 21.5 VDC.
Designed for battery-powered, ultra-low-power artificial intelligence at-the-edge applications, the dual-core MAX78002 AI microcontroller from Analog Devices, Inc. features an Arm Cortex-M4 core with a floating point unit (FPU) capable of operating up to 120 MHz and a 60 MHz 32-bit RISC-V coprocessor. In addition, the MAX78002 integrates a convolutional neural network (CNN) accelerator that is optimised for use with deep neural network models with input image sizes of 2048 x 2048 pixels and a network depth of up to 128 layers. The accelerator is capable of processing VGA images at 30 fps. Image sensor interfaces include a MIPI CSI-2 camera controller, a 12-bit parallel camera interface, and an I2S controller for digital audio use cases. Example use cases for the MAX7002 include industrial sensors and process control, smart security cameras, and portable medical diagnostic equipment.
The AVR EA family is the latest addition to Microchip Technology's 8-bit AVR microcontroller line-up. Capable of running up to 20 MHz and featuring 64 KB flash, 6 KB SRAM, and 512 B EEPROM, the EA family is available in 28-, 32- and 48-pin packages and suits a wide range of industrial, consumer and automotive applications. Data conversion and timer functions include two 16-bit timer/counters, four 16-bit input capture timer/counters, a 12-bit 375 ksps differential input ADC with an integrated programmable gain amplifier and a 10-bit DAC. Serial bus interfaces include three USARTs, an SPI, and an I2C-compatible two-wire interface capable of operating up to 1 MHz in fast mode plus. Programmable GPIO pins are package dependent, ranging from 24 to 48 pins. The EA family is also equipped with various clock options, including an internal 20 MHz high-precision oscillator and a 32.768 kHz crystal oscillator.
In Q1 2023, Mouser launched more than 15,000 new parts for shipment. To see more new innovative products, visit https://info.mouser.com/new_Products/.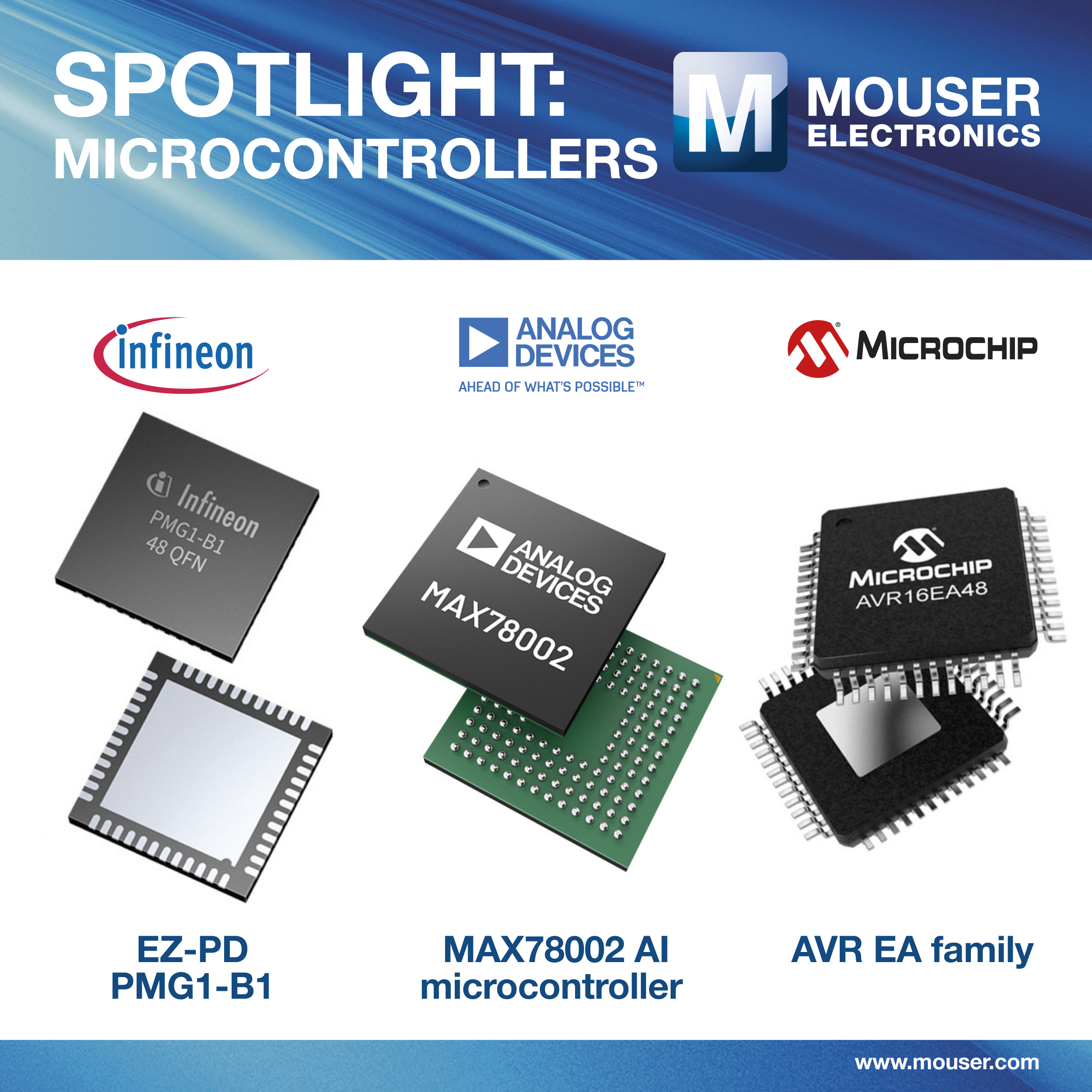 About Mouser Electronics
Mouser Electronics, a Berkshire Hathaway company, is an authorised semiconductor and electronic component distributor focused on New Product Introductions from its leading manufacturer partners. Serving the global electronic design engineer and buyer community, the global distributor's website, mouser.com, is available in multiple languages and currencies and features more than 6.8 million products from over 1,200 manufacturer brands. Mouser offers 27 support locations worldwide to provide best-in-class customer service in local language, currency and time zone. The distributor ships to over 650,000 customers in 223 countries/territories from its 1 million-square-foot, state-of-the-art distribution facilities in the Dallas, Texas, metro area. For more information, visit https://www.mouser.com/.