17. december 2021
Mouser Signs Global Distribution Agreement with Siretta to Deliver Leading-Edge IoT Mobile Broadband Technologies
Mouser Electronics, Inc., the authorised global distributor with the newest semiconductors and electronic components, announced it has entered into a global distribution agreement with Siretta, a leading global manufacturer and developer of Internet of Things (IoT) products, software, and complete end-to-end solutions. As part of the agreement, Mouser Electronics becomes an authorized distributor of Siretta's advanced mobile broadband technologies, including its lines of SNYPER network signal analysers, high-speed QUARTZ industrial routers, and ZETA modem starter kits — all designed for a variety of IoT, industrial, and transportation applications.
The Siretta SNYPER-LTEM (GL), now available from Mouser Electronics, is a high-performance, multi-language network signal analyser dedicated to surveying LTE Cat M, LTE Cat NB IoT, and 2G/GSM Global networks. The powerful SNYPER summary page displays percentage thresholds to determine the most suitable mobile network operator (MNO) available and the performance of a "preferred" MNO can be evaluated against the other networks.
Siretta's high-speed EU industrial routers include the QUARTZ-LTE dual-port LTE routers (EU) and the QUARTZ-COMPACT single-port 4G/LTE routers (EU), which enable industrial IoT applications to transfer large amounts of data over a cellular network. Both routers offer upload speeds up to 50 Mbps, with fallback to 3G/UMTS or 3G communication (respectively), should 4G/LTE be unavailable.
The QUARTZ-LTE router enables fast downloads up to 100 Mbps, with dual SIM backup, dual-port Ethernet capabilities, and Wi-Fi or GNSS asset tracking/management options. The QUARTZ-COMPACT router offers download speeds of up to 150 Mbps, a single SIM slot, 10/100 Ethernet LAN port and serial port for serial-to-IP transfers, which can be swapped out for an optional GPS. Both routers contain QUARTZ software (which offers support for VPN security) and function across the European (EU) 4G/LTE bands. The routers provide a robust industrial design and strong resistance to EMI and are ideal for applications requiring local or remote communications.
The Siretta ZETA modem starter kits, which include all the necessary antennas, serial cables, multi-region PSU and power cables to aid developers in evaluating the use of ZETA modems in their IoT applications. The ZETA family of modems connect equipment to the LTE Cat 4, LTE Cat 1, LTE Cat M, and LTE Cat NBIoT networks and provide backward compatibility to the existing 3G/UMTS and 2G/GSM cellular networks.
Mouser also now offers a comprehensive portfolio of Siretta connectivity solutions customizable to individual requirements, including Alpha, Delta, Echo, Mike, Oscar, and Tango series antennas designed for 2G, 3G, 4G, Wi-Fi, GPS/GLONASS/Galileo, Bluetooth, and ISM applications
To learn more about all of the Siretta products available from Mouser Electronics, visit https://eu.mouser.com/manufacturer/siretta/.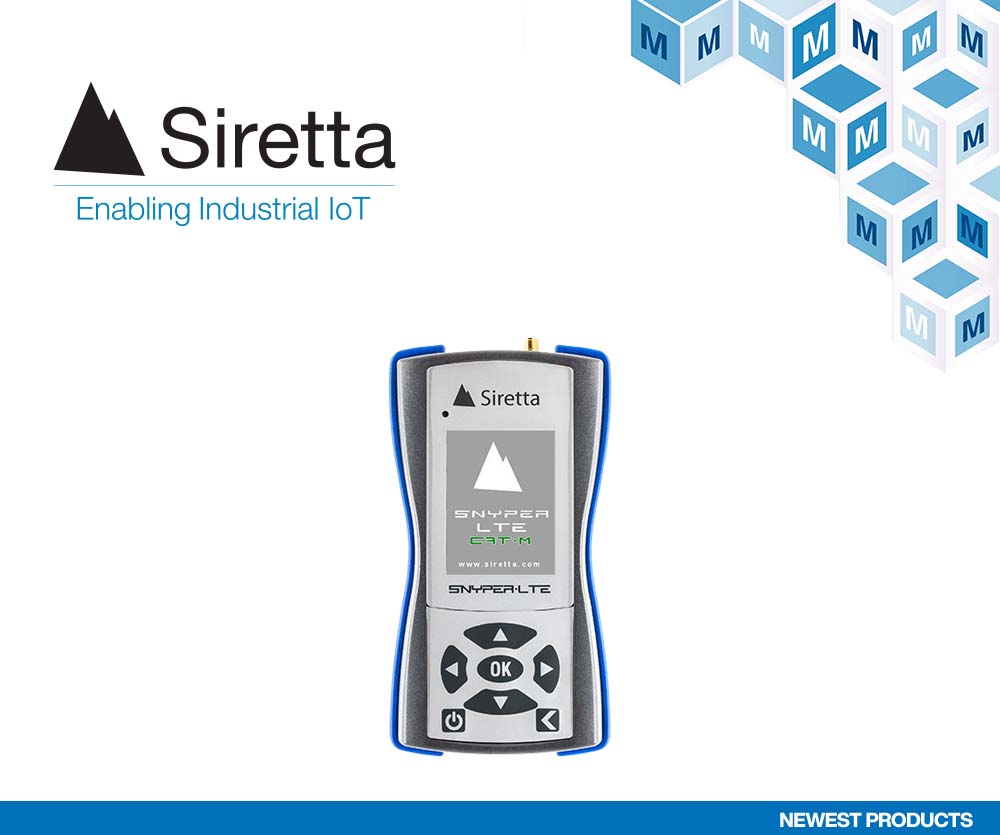 About Mouser Electronics
Mouser Electronics, a Berkshire Hathaway company, is an authorised semiconductor and electronic component distributor focused on New Product Introductions from its leading manufacturer partners. Serving the global electronic design engineer and buyer community, the global distributor's website, mouser.com, is available in multiple languages and currencies and features more than 5 million products from over 1.100 manufacturer brands. Mouser offers 27 support locations worldwide to provide best-in-class customer service in local language, currency and time zone. The distributor ships to over 630.000 customers in 223 countries/territories from its 93.000 square-meter, state-of-the-art facilities in the Dallas, Texas, metro area. For more information, visit https://www.mouser.com/.
About Siretta
Siretta Ltd is a leading global manufacturer and developer of IoT products, IoT software and IoT solutions. Located in Reading, United Kingdom, the company has extensive knowledge and experience within the IoT market space. Their primary focus is on cellular technologies in support of 2G (GPRS), 3G (UMTS), 4G (LTE), NB-IoT and LTE Category M. Siretta's comprehensive portfolio includes cellular modems and terminals, routers, cellular network analysers and RF antennas, including solutions for WLAN, LoRa, and Sigfox. The company offers complete end-to-end solutions designed for Industrial and B2B markets.