7. september 2018
Mouser Signs Global Distribution Agreement with Samtec
Mouser Signs Global Distribution Agreement with Samtec
September 5, 2018 – Mouser Electronics, Inc., the industry's leading New Product Introduction (NPI) distributor with the widest selection of semiconductors and electronic components, today announced a global distribution agreement with Samtec, a leader in the electronic interconnect industry and a global manufacturer of connectors, cables, optics and RF systems. Through the agreement, Mouser now stocks the full line of Samtec products, including high-speed board-to-board, connectors, cables, and optics.
"Samtec is renowned for its high-quality, reliable and innovative interconnect solutions," said Jeff Newell, Senior Vice President of Products at Mouser Electronics. "We are excited to now offer Samtec's products to our customers around the world and look forward to a mutually successful partnership."
"Mouser is a proven leader in the industry, and we are proud to announce this distribution agreement," said Ashley Quinlan, Strategic Marketing Director at Samtec. "Mouser recognizes that Samtec is a different type of supplier when it comes to offering bleeding edge technology with incredibly short lead times and on-time delivery rates, and their strategies have shown a commitment to bringing our product breadth to their customers."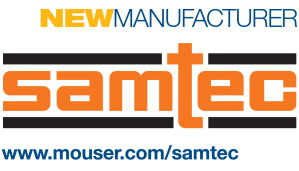 Much more than just another connector company, Samtec puts people first with a commitment to exceptional service, quality products, and convenient design tools. The company believes that people matter, and taking care of its customers and employees is paramount in how they approach their business. This belief is deeply ingrained throughout the organization, and means that customers can expect exceptional service coupled with technologies that take the industry further faster.
To learn more about Samtec and its portfolio of connector and interconnect solutions, visit http://www.mouser.com/samtec.
Mouser / Samtec New Supplier Announcement
Page Two
With its broad product line and unsurpassed customer service, Mouser strives to empower innovation among design engineers and buyers by delivering advanced technologies. Mouser stocks the world's widest selection of the latest semiconductors and electronic components for the newest design projects. Mouser Electronics' website is continually updated and offers advanced search methods to help customers quickly locate inventory. Mouser.com also houses data sheets, supplier-specific reference designs, application notes, technical design information, and engineering tools.
About Mouser Electronics
Mouser Electronics, a Berkshire Hathaway company, is an award-winning, authorized semiconductor and electronic component distributor focused on rapid New Product Introductions from its manufacturing partners for electronic design engineers and buyers. The global distributor's website, Mouser.com, is available in multiple languages and currencies and features more than 5 million products from over 700 manufacturers. Mouser offers 23 support locations around the world to provide best-in-class customer service and ships globally to over 600,000 customers in more than 220 countries/territories from its 750,000 sq. ft. state-of-the-art facility south of Dallas, Texas. For more information, visit http://www.mouser.com.
About Samtec
Founded in 1976, Samtec is a privately held global manufacturer of a broad line of electronic interconnect solutions, including high-speed board-to-board, high-speed cables, mid-board and panel optics, microelectronics, flexible stacking, and micro/rugged components and cables. With 33 locations in 18 different countries, Samtec's global presence enables its unmatched customer service.
Trademarks
Mouser and Mouser Electronics are registered trademarks of Mouser Electronics, Inc. All other products, logos, and company names mentioned herein may be trademarks of their respective owners.
– 30 –
Further information, contact:

Kevin Hess, Mouser Electronics

Senior Vice President of Marketing

(817) 804-3833

For press inquiries, contact:

Nick Foot, BWW Communications

PR Director

+44 (0)1491 636393