10. april 2018
Mouser Signs Global Distribution Agreement with Altitude Technology
Mouser Signs Global Distribution Agreement with Altitude Technology
 Altitude Tech's IoT Bit HAT Modules Enrich Raspberry Pi Applications
April 10, 2018 – Mouser Electronics, Inc., the New Product Introduction (NPI) leader empowering innovation, today announced it has entered into a global distribution agreement with Altitude Technology, a leading-edge designer and supplier of intelligent sensor technologies for the smart home and secure Internet of Things (IoT) market. As part of the agreement, Mouser Electronics becomes an authorized distributor of Altitude Tech's popular line of IoT Bit HAT modules and accessories, which easily integrate with the Raspberry Pi single-board computer to enable internet access, GPS location data, and Bluetooth® connectivity.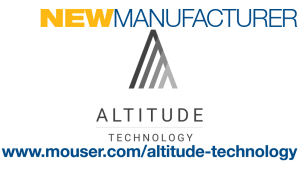 The Altitude Technology portfolio of solutions, available from Mouser Electronics, consists of three main IoT Bit Hardware Attached on Top (HAT) modules that support the Raspberry Pi single-board computer. Each module is plug-and-play, supports any Micro SIM card with a single terminal command setup, and provides high-efficiency power regulation up to 3 A.
The IoT Bit GSM HAT is an 85-Kbits per second (kbps) intelligent HAT module that provides GSM mobile data logging for the Raspberry Pi, as well as GPS positioning information, Bluetooth connectivity, and battery support. The IoT Bit 3G HAT is a 4.5-Mbits per second (Mbps) intelligent HAT module that provides fast internet connectivity for web browsing and small data transfers. The IoT Bit 4G HAT delivers ultra-fast 4G internet connectivity (100 mbps down/50 mbps up) and is excellent for large downloads and video streaming. Both the 3G HAT and the 4G HAT also offer access to GPS data and SMS transmission through the application programming interface (API).
Supporting IoT Bit HAT modules is a variety of optional antenna accessories also available from Mouser. Optional accessories include a water-resistant GSM 28 dBi antenna, two 433 MHz antennas for the GSM HAT, and a high-speed 4G aerial 28 dBi antenna or a 4G SMA aerial 10 dBi antenna upgrade for the 4G HAT.
To learn more about the Altitude Technology portfolio available from Mouser, visit http://www.mouser.com/altitude-technology.
Mouser / Altitude Technology New Supplier Announcement
Page Two
With its broad product line and unsurpassed customer service, Mouser strives to empower innovation among design engineers and buyers by delivering advanced technologies. Mouser stocks the world's widest selection of the latest semiconductors and electronic components for the newest design projects. Mouser Electronics' website is continually updated and offers advanced search methods to help customers quickly locate inventory. Mouser.com also houses data sheets, supplier-specific reference designs, application notes, technical design information, and engineering tools.
About Mouser Electronics
Mouser Electronics, a Berkshire Hathaway company, is an award-winning, authorized semiconductor and electronic component distributor focused on rapid New Product Introductions from its manufacturing partners for electronic design engineers and buyers. The global distributor's website, Mouser.com, is available in multiple languages and currencies and features more than 5 million products from over 700 manufacturers. Mouser offers 22 support locations around the world to provide best-in-class customer service and ships globally to over 600,000 customers in 170 countries from its 750,000 sq. ft. state-of-the-art facility south of Dallas, Texas. For more information, visit http://www.mouser.com.
About Altitude Technology
The Altitude Tech Umbrella was founded by a group of like-minded professionals with key skills in the robotics, electronics, computer systems integration and product design, which makes the team the heart of the company. The company's team brings their skills together to focus on new sensor technologies for the secure Internet of Things future and to build reliable secure systems that collect and send data in the city of the future.
Trademarks
Mouser and Mouser Electronics are registered trademarks of Mouser Electronics, Inc. All other products, logos, and company names mentioned herein may be trademarks of their respective owners.
– 30 –
Further information, contact:

Kevin Hess, Mouser Electronics

Senior Vice President of Marketing

(817) 804-3833

For press inquiries, contact:

Nick Foot, BWW Communications

PR Director

+44 (0)1491 636393