11. april 2017
Mouser Signs Global Agreement with ReFLEX CES to Distribute Out-of-the-Box Arria 10 Development Kits
Mouser Signs Global Agreement with ReFLEX CES to Distribute Out-of-the-Box Arria 10 Development Kits
April 11, 2017 – Mouser Electronics, Inc., the authorized global distributor with the newest semiconductors and electronic components, today announced a global distribution agreement with ReFLEX CES, a leading provider of complex, high-density FPGA-based boards. Through the agreement, Mouser is stocking the company's Attilla, Alaric, and Achilles Arria® 10 Instant Development Kits (IDKs). All ReFLEX CES IDKs are complete, out-of-the-box solutions that combine a compact hardware platform with an efficient and intuitive software environment.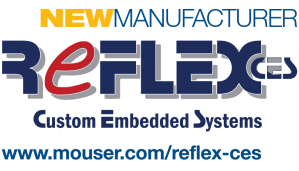 ReFLEX CES's portfolio of Arria 10 IDKs, now available from Mouser Electronics, are high-performance kits that provide all the hardware, software design tools, and pre-verified test designs necessary to develop solutions based on Intel® Arria 10 FPGAs and systems-on-chips (SoCs).         The ReFLEX CES Attila IDK, based on the Intel Arria 10 FPGA GX, is designed for high-performance serial transceiver applications. The Atilla IDK comes equipped with an advanced memory interface with DDR4 SODIMM memory up to 16 GBytes, extension inputs and outputs (IOs), an on-board programmable PLL oscillator, and an eight-lane PCIe. Network communications are developed using an RJ45 copper connector with 10/100/1000 Base-T Ethernet (through the RGMII PHY).
The Alaric IDK is based on Intel's system-on-chip (SoC) FPGA technology, which integrates a dual-core ARM® Cortex®-A9 processor subsystem into a user-customizable FPGA that leverages a high-bandwidth interconnect. Also designed for high-performance serial transceiver applications, this IDK comes equipped with an advanced memory interface with DDR3 on-board memory up to 4 GBytes, a display output port for video and an eight-lane PCIe.
The Achilles IDK also features a dual-core ARM Cortex-A9 MPCore, as well as up to 660,000 advanced low-power FPGA logic elements, combining the flexibility and ease of programming a CPU with the configurability and parallel processing power of an FPGA. The kit is comprised of the Arria 10 SoC system-on-module (SoM) plus a starter board for quick prototyping and application testing. This IDK offers superior signal integrity, and provides support for multi-Gigabit serial protocols including PCIe Gen3 and 10G Ethernet. Target applications for the ReFLEX CES IDKs include video capture and processing devices, industrial products, test and measurement equipment, and medical devices.
To learn more about ReFLEX CES and the Arria 10 IDKs, visit http://www.mouser.com/reflex-ces/.
Mouser / ReFLEX CES New Supplier Announcement
Page Two
With its broad product line and unsurpassed customer service, Mouser strives to empower innovation among design engineers and buyers by delivering advanced technologies. Mouser stocks the world's widest selection of the latest semiconductors and electronic components for the newest design projects. Mouser Electronics' website is continually updated and offers advanced search methods to help customers quickly locate inventory. Mouser.com also houses data sheets, supplier-specific reference designs, application notes, technical design information, and engineering tools.
About Mouser Electronics
Mouser Electronics, a subsidiary of TTI, Inc., is part of Warren Buffett's Berkshire Hathaway family of companies. Mouser is an award-winning, authorized semiconductor and electronic component distributor focused on rapid New Product Introductions from its manufacturing partners for electronic design engineers and buyers. The global distributor's website, Mouser.com, is available in multiple languages and currencies and features more than 4 million products from over 600 manufacturers. Mouser offers 22 support locations around the world to provide best-in-class customer service and ships globally to over 500,000 customers in 170 countries from its 750,000 sq. ft. state-of-the-art facility south of Dallas, Texas. For more information, visit http://www.mouser.com.
About ReFLEX CES
ReFLEX CES designs and manufactures custom embedded electronic systems. The company offers high-value-added solutions for applications such as high-density prototyping, embedded video, bus interfacing, and PC modules based systems. The company expertise spans from chip-level and software-level design up to complete system-level design, manufacturing, and production.
Trademarks
Mouser and Mouser Electronics are registered trademarks of Mouser Electronics, Inc. All other products, logos, and company names mentioned herein may be trademarks of their respective owners.
– 30 –
Further information, contact:

Nick Foot, BWW Communications

PR Director

+44 (0) 1491 636393

For press inquiries, contact:

Kelly DeGarmo, Mouser Electronics

Manager, Corporate Communications and Media Relations

(817) 804-7764