19. december 2017
Mouser Signs Global Agreement with Keysight Technologies
Mouser Signs Global Agreement with Keysight Technologies
Global Distributor to Stock Keysight's Test and Measurement Tools
December 19, 2017 – Mouser Electronics, Inc. announces a global agreement with Keysight Technologies, a company focused on helping organizations solve electronic design and test and measurement challenges through a combination of trusted hardware, innovative software, and a global team of industry experts.
The Keysight product line available from Mouser Electronics includes oscilloscopes, benchtop power supplies, waveform generators, and digital multimeters. From high performance to extreme value and bandwidths ranging from 50 MHz to 200 MHz, Keysight offers oscilloscope solutions to meet evolving needs. Keysight Technologies InfiniiVision 1000/2000 X-Series oscilloscopes are engineered to provide industry-proven technology at low prices. These oscilloscopes feature professional-level functionality for measurements with industry-leading software analysis and accessible expertise.
Keysight benchtop DC power supplies enable engineers to prove designs, understand issues, and ensure product quality. Keysight offers a broad selection of bench-friendly instruments with a wealth of available capabilities to meet a variety of challenges. These power supplies allow engineers to test confidently with clean and precise DC power that is fully specified and guaranteed.
Keysight waveform generators offer capability, fidelity and flexibility. The devices' low harmonic distortion offers clean, spurious-free signals that don't introduce noise or artifacts. Reduced jitter provides very low phase noise for the most accurate representation of signals, and variable bandwidth noise enables engineers to control the frequency content of the signal.
Keysight digital multimeters (DMMs) help engineers visualize their measurement data in multiple ways, obtain useable information faster, and document results more easily. The company's Truevolt DMMs feature advanced graphical capabilities, such as trend and histogram charts, that help engineers achieve greater insights faster.
Many Keysight products are supported by Keysight BenchVue PC software. BenchVue software makes it simple to connect, control instruments, and automate test sequences, which helps engineers quickly move past the test development phase and access results.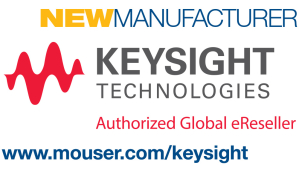 To learn more about Keysight, visit http://www.mouser.com/keysight.
Mouser / Keysight New Supplier Announcement
With its broad product line and unsurpassed customer service, Mouser strives to empower innovation among design engineers and buyers by delivering advanced technologies. Mouser stocks the world's widest selection of the latest semiconductors and electronic components for the newest design projects. Mouser Electronics' website is continually updated and offers advanced search methods to help customers quickly locate inventory. Mouser.com also houses data sheets, supplier-specific reference designs, application notes, technical design information, and engineering tools.
About Mouser Electronics
Mouser Electronics, a Berkshire Hathaway company, is an award-winning, authorized semiconductor and electronic component distributor focused on rapid New Product Introductions from its manufacturing partners for electronic design engineers and buyers. The global distributor's website, Mouser.com, is available in multiple languages and currencies and features more than 4 million products from over 600 manufacturers. Mouser offers 22 support locations around the world to provide best-in-class customer service and ships globally to over 550,000 customers in 170 countries from its 750,000 sq. ft. state-of-the-art facility south of Dallas, Texas. For more information, visit http://www.mouser.com.
About Keysight Technologies
Keysight Technologies, Inc. is a leading technology company that helps its engineering, enterprise and service provider customers optimize networks and bring electronic products to market faster and at a lower cost. Keysight's solutions go where the electronic signal goes, from design simulation, to prototype validation, to manufacturing test, to optimization in networks and cloud environments. Customers span the worldwide communications ecosystem, aerospace and defense, automotive, energy, semiconductor and general electronics end markets. In April 2017, Keysight acquired Ixia, a leader in network test, visibility, and security. More information is available at http://www.keysight.com.
Trademarks
Mouser and Mouser Electronics are registered trademarks of Mouser Electronics, Inc. All other products, logos, and company names mentioned herein may be trademarks of their respective owners.
Further information, contact:
Kevin Hess, Mouser Electronics
Senior Vice President of Marketing
(817) 804-3833
Kevin.Hess@mouser.com
For press inquiries, contact:
Nick Foot, BWW Communications
PR Director
+44 (0) 1491 636393
Nick.Foot@bwwcomms.com