30. juni 2017
Mouser Signs Global Agreement with ITT Cannon to Distribute Commercial and Industrial Interconnect Solutions
Mouser Signs Global Agreement with ITT Cannon to Distribute Commercial and Industrial Interconnect Solutions
June 30, 2017 – Mouser Electronics, Inc., the authorized global distributor with the newest semiconductors and electronic components, announces a global distribution agreement with ITT Cannon, a world leader in the design and manufacture of highly reliable and innovative connector and interconnect products serving military and commercial customers in the aerospace and defense, medical, energy, transportation, and industrial markets.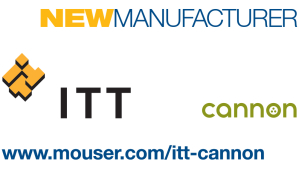 For over 100 years, ITT Cannon has delivered solutions that enable the transfer of data, signal and power in an increasingly connected world, and now their ITT Cannon solutions are available direct to Mouser customers worldwide.
"Mouser is excited to offer our customers this broad assortment of interconnect solutions from ITT Cannon," said Krystal Jackson, Vice President, Supplier Management at Mouser. "ITT Cannon has a rich history of designing and manufacturing reliable connectors, earning a reputation for innovation and quality."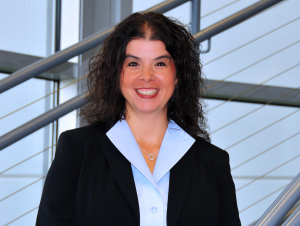 "We are eager to launch our partnership with Mouser," said Anh Phan, Vice President of Global Sales at ITT Cannon. "Mouser's attention to detail, cutting-edge products, and responsive customer service makes them a perfect partner for ITT Cannon. This partnership offers another excellent channel for customers to procure our products quickly, anywhere and at any time."
The ITT Cannon portfolio, now available from Mouser Electronics, includes D-subminiature, Micro D-subminiature, DL, and Trident Series solutions. The company's connectors are well suited for complex nonmagnetic military applications such as satellite equipment and for commercial office equipment. The Micro D-subminiature connectors are military-grade connectors that feature a high-reliability twist-pin contact system with Pos-A-Line alignment, appropriate for use in downhole drilling, aerospace, defense, industrial, and transportation applications.
The DL Series connectors are versatile, high-density zero-insertion force (ZIF) connectors that meet the needs of medical, commercial, industrial, test, instrumentation, sound and entertainment equipment. The Trident Connector System is a versatile range of electrical connectors based on a standard contact design. These contacts are fully interchangeable throughout the system, and are ideal for a variety of transportation and marine applications, heavy equipment, process control systems, remote sensors, and test and measurement equipment.
To learn more about ITT Cannon and its portfolio of connector and interconnect solutions, visit http://www.mouser.com/itt-cannon.
Mouser / ITT Cannon New Supplier Announcement
Page Two
With its broad product line and unsurpassed customer service, Mouser strives to empower innovation among design engineers and buyers by delivering advanced technologies. Mouser stocks the world's widest selection of the latest semiconductors and electronic components for the newest design projects. Mouser Electronics' website is continually updated and offers advanced search methods to help customers quickly locate inventory. Mouser.com also houses data sheets, supplier-specific reference designs, application notes, technical design information, and engineering tools.
About Mouser Electronics
Mouser Electronics, a Berkshire Hathaway company, is an award-winning, authorized semiconductor and electronic component distributor focused on rapid New Product Introductions from its manufacturing partners for electronic design engineers and buyers. The global distributor's website, Mouser.com, is available in multiple languages and currencies and features more than 4 million products from over 600 manufacturers. Mouser offers 22 support locations around the world to provide best-in-class customer service and ships globally to over 550,000 customers in 170 countries from its 750,000 sq. ft. state-of-the-art facility south of Dallas, Texas. For more information, visit http://www.mouser.com.
About ITT Cannon
ITT Cannon is a leading global manufacturer of connector products serving international customers in the aerospace and defense, medical, energy, transportation and industrial end markets. Whether delivering critical specs to aircraft pilots, streaming data through communications satellites or giving expectant parents a first look at their unborn children, Cannon connects the world's most important information to the people who need it. With over 100 years of making connections that help make history, the company proudly continues its legacy of innovating to connect the world and inspire the successes of the next century – because amazing things happen when great things connect.
Trademarks
Mouser and Mouser Electronics are registered trademarks of Mouser Electronics, Inc. All other products, logos, and company names mentioned herein may be trademarks of their respective owners.
– 30 –
Further information, contact:

Nick Foot, BWW Communications

PR Director

+44 (0)1491 636393

For press inquiries, contact:

Kelly DeGarmo, Mouser Electronics

Manager, Corporate Communications and Media Relations

(817) 804-7764