18. januar 2021
Mouser Offers Latest Products and Resources for Developing AI and Machine Learning Applications for IoT
Mouser Electronics, Inc., the New Product Introduction (NPI) leader empowering innovation, is expanding its comprehensive range of products and resources aimed at developers of AI and IoT solutions. These include a machine vision development kit from ADLINK suitable for industrial applications, a low-power dual-core processor with neural network accelerator from Maxim Integrated for use in battery-powered IoT devices, and a face recognition development kit from NXP Semiconductors.
Mouser has also recently announced the latest eBook from The Intelligent Revolution series, part of the Empowering Innovation Together programme. The new eBook, titled 'Artificial Intelligence: A multi-faceted approach to safety', provides a collection of resources examining potential use cases for AI and machine learning solutions. The eBook also covers applications for AI in public health and safety, and how AI can lead to tangible improvements in the health and safety sectors.
The products highlighted above are available from Mouser, and include:
The ADLINK Technology Vizi-AI machine vision AI development kit comprises a SMARC computer module based on an Intel® Atom® processor and an Intel Movidius™ Myriad X™ vision processing unit (VPU). Software support includes the Intel OpenVINO software development kit, which includes several ready-to-use, pre-built machine learning models. A collection of ADLINK neural model development tools is also included. With the kit, developers of industrial machine vision applications can rapidly prototype solutions that detect production line problems and deliver actionable insight to improve operational efficiencies.
The Maxim MAX78000 processor incorporates two 32-bit microcontroller cores and an ultra-low-power network accelerator in a single package. The microcontroller cores, one an Arm® Cortex®-M4 and the other a RISC-V co-processor, provide system control and fast loading of the 442-kByte weight convolutional neural network. The device is highly optimised for battery-powered IoT edge devices and is capable of conducting inference 100 times faster and consuming 1/100th of the power of conventional microcontroller devices. An evaluation kit for the MAX7800 is also available.
The NXP SLN-VIZNAS-IOT development kit provides a face recognition capability to IoT edge-based applications and includes a 'liveness' detection function that prevents spoofing by holding up a photo. Based around an NXP i.MX RT106F crossover processor, the kit includes 32 MBytes of SDRAM, 32 MBytes of flash memory, a PIR sensor and a combined Wi-Fi and Bluetooth® Low Energy wireless communication module. Wired connectivity is also provided through an on-board Ethernet controller. Comprehensive software support is available through the MCUXpresso IDE toolchain and a VIZNAS software development kit which includes a 'lite' version of the NXP OASIS machine learning vision engine.
Last month, Mouser launched more than 555 new products ready for same-day shipment. To see more new innovative products, visit https://info.mouser.com/new_Products/.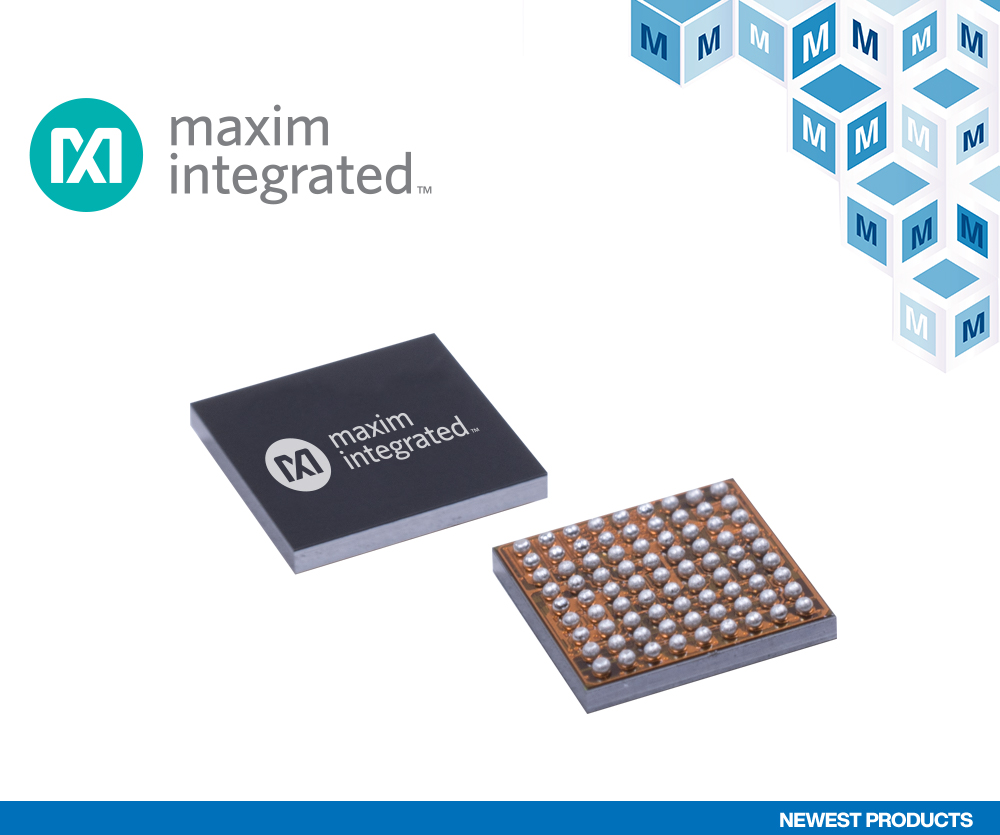 About Mouser Electronics
Mouser Electronics, a Berkshire Hathaway company, is an authorized semiconductor and electronic component distributor focused on New Product Introductions from its leading manufacturer partners. Serving the global electronic design engineer and buyer community, the global distributor's website, mouser.com, is available in multiple languages and currencies and features more than 5 million products from over 1,100 manufacturer brands. Mouser offers 27 support locations worldwide to provide best-in-class customer service in local language, currency and time zone. The distributor ships to over 630,000 customers in 223 countries/territories from its 1 million-square-foot, state-of-the-art distribution facilities in the Dallas, Texas, metro area. For more information, visit http://www.mouser.com.