12. september 2017
Mouser Offers Adafruit's Maker-Ready Feather nRF52 Bluefruit
Mouser Offers Adafruit's Maker-Ready Feather nRF52 Bluefruit
Lightweight Board Delivers Efficient BLE and Arduino Compatibility for Wearables
September 9, 2017 – Mouser Electronics, Inc., the New Product Introduction (NPI) leader that empowers innovation, is now stocking the Feather nRF52 Bluefruit from Adafruit. The Feather nRF52 Bluefruit, part of Adafruit's Feather line of standalone and stackable development boards, is a complete Arduino-compatible, Bluetooth® low energy development board with built-in USB and battery charging. Using the powerful onboard Nordic system-on-chip (SoC), engineers and makers can run code directly on the board without requiring an external microcontroller, which improves performance and power consumption for a variety of Internet of Things (IoT), wearables, lighting, MIDI audio, and other applications.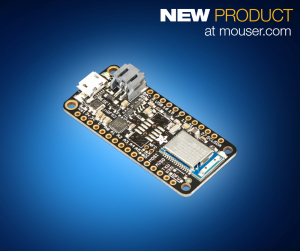 The Adafruit Feather nRF52 Bluefruit, available from Mouser Electronics, improves on previous nRF51-based Bluefruit modules with double the flash memory, SRAM, and performance plus native support for the Arduino integrated development platform (IDE). The Feather incorporates a Nordic nRF52 SoC, which is built around a 32-bit Arm® Cortex® M4F processor with 512 KBytes of flash and 64 KBytes of RAM. The SoC's embedded 2.4 GHz transceiver offers transmit power up to 4 dBm and receiver sensitivity of -96 dBm in Bluetooth low energy mode.
The board offers a range of peripherals, including 19 general-purpose inputs and outputs (GPIOs), eight analog inputs, and three 4-output PWM modules. A built-in USB-to-serial converter enables quick programming and debugging, and a standard lithium polymer battery connector provides onboard USB-based battery charging. True to its name, the 51 × 23 × 8 mm board weighs just 5.7 grams without headers and works with almost any Adafruit FeatherWings board that doesn't require UART.
To learn more, visit https://www.mouser.com/new/adafruit/adafruit-feather-nrf52-bluefruit-le/.
Mouser / Adafruit Feather nRF52 Bluefruit
Page Two
With its broad product line and unsurpassed customer service, Mouser strives to empower innovation among design engineers and buyers by delivering advanced technologies. Mouser stocks the world's widest selection of the latest semiconductors and electronic components for the newest design projects. Mouser Electronics' website is continually updated and offers advanced search methods to help customers quickly locate inventory. Mouser.com also houses data sheets, supplier-specific reference designs, application notes, technical design information, and engineering tools.
About Mouser Electronics
Mouser Electronics, a Berkshire Hathaway company, is an award-winning, authorized semiconductor and electronic component distributor focused on rapid New Product Introductions from its manufacturing partners for electronic design engineers and buyers. The global distributor's website, Mouser.com, is available in multiple languages and currencies and features more than 4 million products from over 600 manufacturers. Mouser offers 22 support locations around the world to provide best-in-class customer service and ships globally to over 550,000 customers in 170 countries from its 750,000 sq. ft. state-of-the-art facility south of Dallas, Texas. For more information, visit http://www.mouser.com.
About Adafruit
Adafruit is a private company founded in 2005 that focuses on designing and manufacturing open-source electronic hardware. Adafruit designs and manufactures its products in the US. Professional engineers and makers alike are encouraged to design new products using the wide variety of electronics products and accessories the company offers. They feature unique and fun DIY electronic components and kits that turn everyday objects into high tech prototypes suitable for education and advanced production concepts.
Trademarks
Mouser and Mouser Electronics are registered trademarks of Mouser Electronics, Inc. All other products, logos, and company names mentioned herein may be trademarks of their respective owners.
– 30 –
Further information, contact:

Kevin Hess, Mouser Electronics

Senior Vice President of Marketing

(817) 804-3833

For press inquiries, contact:

Nick Foot, BWW Communications

PR Director

+44 (0)1491 636393