3. maj 2017
Mouser Now Stocking the NXP QorIQ LS1012A 64-Bit Network Processor, Designed for Small, Battery-Powered Designs
Mouser Now Stocking the NXP QorIQ LS1012A 64-Bit Network Processor, Designed for Small, Battery-Powered Designs
May 2, 2017 – Mouser Electronics, Inc., the industry's leading New Product Introduction (NPI) distributor with the widest selection of semiconductors and electronic components, is now stocking the QorIQ® LS1012A processor from NXP® Semiconductors. The LS1012A delivers enterprise-class performance and security capabilities to consumer and networking applications, all in a 9.6mm × 9.6mm package. Combining a 64-bit ARMv8-based processor with network packet acceleration and QorIQ trust architecture security capabilities, the device features line-rate networking performance at 1W typical power.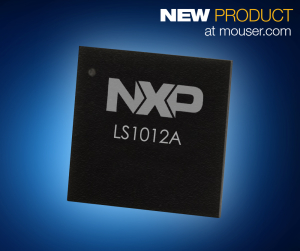 The QorIQ LS1012A processor, available from Mouser Electronics, is designed to enable engineers to create new products that combine battery-powered operation with line-rate networking. The processor is small enough to be integrated directly onto the PCB of a HDD, enabling an Ethernet-based drive and occupying the same form factor as the existing HDDs. The LS1012A combines a low-power, 2 Gbps packet crypto accelerator with a highly power-efficient 64-bit ARM Cortex® A53 core, and incorporates dual 2.5 Gigabit Ethernet, PCIe, SATA3 and USB 3.0 with integrated physical layer.
To speed product design, Mouser also offers development tools for the LS1012A processor, including the NXP FRDM-LS1012A development board, which offers easy access to processor inputs and outputs (I/O); battery-ready, low-power operation; a standard-based form factor with expansion board options; and a built-in debug interface for flash programming and run-control.
The QorIQ LS1012A is ideal for a range of established and fast-growing applications, including next-generation Internet of Things (IoT) gateways, portable entertainment platforms, and high-performance portable storage applications.
To learn more, visit http://www.mouser.com/new/NXP-Semiconductors/nxp-ls1012a-processor/.
Mouser / NXP QorIQ LS1012A
Page Two
With its broad product line and unsurpassed customer service, Mouser strives to empower innovation among design engineers and buyers by delivering advanced technologies. Mouser stocks the world's widest selection of the latest semiconductors and electronic components for the newest design projects. Mouser Electronics' website is continually updated and offers advanced search methods to help customers quickly locate inventory. Mouser.com also houses data sheets, supplier-specific reference designs, application notes, technical design information, and engineering tools.
About Mouser Electronics
Mouser Electronics, a subsidiary of TTI, Inc., is part of Warren Buffett's Berkshire Hathaway family of companies. Mouser is an award-winning, authorized semiconductor and electronic component distributor focused on rapid New Product Introductions from its manufacturing partners for electronic design engineers and buyers. The global distributor's website, Mouser.com, is available in multiple languages and currencies and features more than 4 million products from over 600 manufacturers. Mouser offers 22 support locations around the world to provide best-in-class customer service and ships globally to over 500,000 customers in 170 countries from its 750,000 sq. ft. state-of-the-art facility south of Dallas, Texas. For more information, visit http://www.mouser.com.
Trademarks
Mouser and Mouser Electronics are registered trademarks of Mouser Electronics, Inc. All other products, logos, and company names mentioned herein may be trademarks of their respective owners.
– 30 –
Further information, contact:

Nick Foot, BWW Communications

PR Director

+44 (0) 1491 636393

For press inquiries, contact:

Kelly DeGarmo, Mouser Electronics

Manager, Corporate Communications and Media Relations

(817) 804-7764