2. maj 2018
Mouser Now Stocking Cypress' PSoC 6 WiFi-BT Pioneer Kit for Robust IoT and Wearable Applications
Mouser Now Stocking Cypress' PSoC 6 WiFi-BT Pioneer Kit
for Robust IoT and Wearable Applications
May 2, 2018 – Mouser Electronics, Inc., the industry's leading New Product Introduction (NPI) distributor with the widest selection of semiconductors and electronic components, is now stocking the CY8CKIT-062-WiFi-BT PSoC® 6 Pioneer Kit from Cypress Semiconductor. Ideal for Internet of Things (IoT) applications and wearable devices, the PSoC 6 WiFi-BT Pioneer Kit enables the development of Wi-Fi applications using a high-performance Cypress PSoC 6 microcontroller.
The Cypress PSoC 6 Wi-Fi-BT Pioneer Kit, available from Mouser Electronics, includes a PSoC 6 WiFi-BT Pioneer Board, TFT display shield, necessary jumper wires, and a USB cable. The Pioneer Board offers header footprints for compatibility with Arduino UNO shields and Digilent® Pmod™ modules with operating voltages from 1.8V to 3.3V. The board also includes an onboard programmer and debugger with mass storage programming and custom applications support as well as 512 Mbits of NOR flash for expandable memory. The board's five-segment slider, two buttons, and one  proximity sensing header allow engineers to evaluate the latest generation of Cypress' CapSense® capacitive-sensing technology. The Pioneer Kit's TFT display shield includes a 2.4-inch module, six-axis motion sensor, ambient light sensor IC, and PDM microphone for voice input.
The Pioneer Board is based on a PSoC 62 microcontroller, coming soon to Mouser Electronics. The device delivers ultra-low-power performance with the critical security features required for IoT applications, integrating an Arm® Cortex®-M4 core and Arm Cortex-M0+ core, 1 MByte of flash, 288 Kbytes of SRAM, and 104 general-purpose inputs and outputs (GPIO). Additionally, the board features a USB Type-C power delivery system, plus a Murata LBEE5KL1DX module — based on a Cypress CYW4343W Wi-Fi and Bluetooth® combo chip — for 2.4-GHz WLAN and Bluetooth functionalities.
The PSoC 6 microcontroller capitalizes on Cypress' proprietary ultra-low-power 40-nm SONOS process technology, which enables industry-leading power consumption with 22 µA/MHz and 15 µA/MHz of active power on the Arm Cortex-M4 and Cortex-M0+ cores, respectively. The powerful microcontroller also features software-defined analog and digital peripherals, multiple connectivity options and programmable analog-front-end (AFE) functions.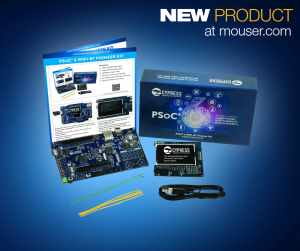 For more information about the PSoC 6 WiFi-BT Pioneer Kit, visit http://www.mouser.com/cypress-psoc6-wifi-bt-pioneer-kit.  To learn more about the Cypress Semiconductor PSoC 6 microcontroller, go to http://www.mouser.com/cypress-psoc-6-soc.
Mouser / Cypress PSoC 6 Wi-Fi-BT Pioneer Kit
With its broad product line and unsurpassed customer service, Mouser strives to empower innovation among design engineers and buyers by delivering advanced technologies. Mouser stocks the world's widest selection of the latest semiconductors and electronic components for the newest design projects. Mouser Electronics' website is continually updated and offers advanced search methods to help customers quickly locate inventory. Mouser.com also houses data sheets, supplier-specific reference designs, application notes, technical design information, and engineering tools.
About Mouser Electronics
Mouser Electronics, a Berkshire Hathaway company, is an award-winning, authorized semiconductor and electronic component distributor focused on rapid New Product Introductions from its manufacturing partners for electronic design engineers and buyers. The global distributor's website, Mouser.com, is available in multiple languages and currencies and features more than 5 million products from over 700 manufacturers. Mouser offers 22 support locations around the world to provide best-in-class customer service and ships globally to over 600,000 customers in 170 countries from its 750,000 sq. ft. state-of-the-art facility south of Dallas, Texas. For more information, visit http://www.mouser.com.
About Cypress Semiconductor
Cypress is the leader in advanced embedded system solutions for the world's most innovative automotive, industrial, smart home appliances, consumer electronics and medical products. Cypress' microcontrollers, analog ICs, wireless and USB-based connectivity solutions and reliable, high-performance memories help engineers design differentiated products and get them to market first. Cypress is committed to providing customers with the best support and development resources on the planet enabling them to disrupt markets by creating new product categories in record time.
Trademarks
Mouser and Mouser Electronics are registered trademarks of Mouser Electronics, Inc. All other products, logos, and company names mentioned herein may be trademarks of their respective owners.
Further information, contact:

Kevin Hess, Mouser Electronics

Senior Vice President of Marketing

(817) 804-3833

For press inquiries, contact:

Nick Foot, BWW Communications

PR Director

+44 (0) 1491 636393