13. april 2017
Mouser Now Stocking Analog Devices' Single-Ended HMC8400 Low Noise Amplifiers for RF Applications
Mouser Now Stocking Analog Devices' Single-Ended HMC8400 Low Noise Amplifiers for RF Applications
April 12, 2017 – Mouser Electronics, Inc., the authorized global distributor with the newest semiconductors and electronic components, is now stocking HMC8400 low noise amplifiers from Analog Devices. Members of Analog Devices' extensive series of single-ended, fixed-gain radio frequency (RF) ICs, the HMC8400 devices are wideband distributed low noise amplifiers (LNAs) that operate between 2 GHz and 30 GHz. These gallium arsenide (GaAs) pHEMT MMIC devices deliver low power consumption, high linearity, low noise figures and various fixed-gain options for use in a variety of applications.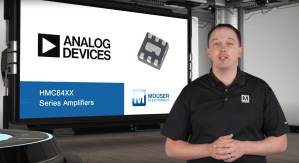 Analog Devices HMC8400 low noise amplifiers, available from Mouser Electronics, provide 13.5 dB of gain, a 2 dB noise figure, a 26.5 dBm output third-order intercept (IP3), and 14.5 dBm of output power at the 1 dB compression point (P1db). These self-biased, cascade-distributed amplifiers operate from a 5 V supply voltage, and require only a single positive supply to achieve a drain current of 67 mA. The amplifiers include a second gate bias voltage pad for gain control to allow designers to change the gate bias of the upper FETs within the range of -2 V through +2.6 V.
The HMC8400 amplifiers feature 50-Ohm internally matched and DC-blocked RF input and outputs to help facilitate integration into multichip modules. Both the inputs and outputs are AC-coupled, but have a large resistor to ground for electrostatic discharge (ESD) protection. Designed for excellent linearity at high output power, the HMC8400 maintains good heat dissipation and high reliability at elevated temperatures. The devices offer industry-leading performance for use in a broad array of RF applications that include test instrumentation, microwave radios and very small aperture terminals (VSATs), military and space equipment, telecommunications and fiber optics.
To learn more, visit http://www.mouser.com/new/Analog-Devices/adi-hmc8400-amplifiers/. For a video overview of the amplifiers, go to https://youtu.be/w9fWqPUTWXk.
Mouser / Analog Devices HMC8400 Low Noise Amplifiers
Page Two
With its broad product line and unsurpassed customer service, Mouser strives to empower innovation among design engineers and buyers by delivering advanced technologies. Mouser stocks the world's widest selection of the latest semiconductors and electronic components for the newest design projects. Mouser Electronics' website is continually updated and offers advanced search methods to help customers quickly locate inventory. Mouser.com also houses data sheets, supplier-specific reference designs, application notes, technical design information, and engineering tools.
About Mouser Electronics
Mouser Electronics, a subsidiary of TTI, Inc., is part of Warren Buffett's Berkshire Hathaway family of companies. Mouser is an award-winning, authorized semiconductor and electronic component distributor focused on rapid New Product Introductions from its manufacturing partners for electronic design engineers and buyers. The global distributor's website, Mouser.com, is available in multiple languages and currencies and features more than 4 million products from over 600 manufacturers. Mouser offers 22 support locations around the world to provide best-in-class customer service and ships globally to over 500,000 customers in 170 countries from its 750,000 sq. ft. state-of-the-art facility south of Dallas, Texas. For more information, visit http://www.mouser.com.
About Analog Devices
Analog Devices is the leading global high-performance analog technology company dedicated to solving the toughest engineering challenges. We enable our customers to interpret the world around us by intelligently bridging the physical and digital with unmatched technologies that sense, measure, power, connect and interpret. Visit http://www.analog.com.
Trademarks
Mouser and Mouser Electronics are registered trademarks of Mouser Electronics, Inc. All other products, logos, and company names mentioned herein may be trademarks of their respective owners.
– 30 –
Further information, contact:

Nick Foot, BWW Communications

PR Director

+44 (0) 1491 636393

For press inquiries, contact:

Kelly DeGarmo, Mouser Electronics

Manager, Corporate Communications and Media Relations

(817) 804-7764