31. maj 2018
Mouser Now Shipping Silicon Labs' Giant Gecko Series 1 MCUs
Mouser Now Shipping Silicon Labs' Giant Gecko Series 1 MCUs
for Performance-Intensive IoT Applications
May 31, 2018 – Mouser Electronics, Inc., the authorized global distributor with the newest semiconductors and electronic components, is now stocking the EFM32GG11 Giant Gecko Series 1 microcontrollers from Silicon Labs. Part of Silicon Labs' energy-friendly EFM32® Gecko portfolio, the EFM32GG11 Giant Gecko Series are industrial-strength microcontrollers that deliver higher performance, more features and lower power. The EFM32GG11 Giant Gecko family offers an advanced feature set, targeting Internet of Things (IoT), wearable tech, smart metering, asset tracking, industrial and building automation, and personal medical applications.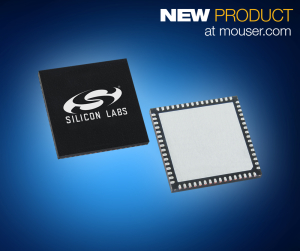 The Silicon Labs EFM32GG11 microcontrollers, available from Mouser Electronics, combine peak 72 MHz processing performance, large memory options, peripherals and hardware accelerators, and comprehensive software tools. The microcontrollers are based on a 32-bit Arm® Cortex®-M4 core with up to 2048 Kbytes of flash program memory and up to 512 Kbytes of RAM data memory to support performance-intensive applications.
The EFM32GG11 Giant Gecko family provides a safe, secure platform for building applications with best-in-class cryptography. The microcontrollers feature a high-performance, energy-efficient security accelerator, a security management unit (SMU) supporting fine-grained security for peripheral access, and a NIST-certified true random number generator (TRNG) for higher security randomization. The cryptographic hardware engine also supports AES, ECC, and SHA security encryption.
The microcontrollers offer a variety of new features, including an octal/quad-SPI memory controller, SD/MMC/SDIO controller and dual CAN bus controllers. Developers can also take advantage of the microcontrollers' graphics engine, robust capacitive touch sensing capabilities, and 10/100 Ethernet MAC for IP-based industrial control.
The Silicon Labs EFM32GG11 Giant Gecko Series 1 microcontrollers are software compatible across the entire EFM32 MCU and EFR32 Wireless Gecko SoC portfolio, enabling developers to reduced design time and cost. Additionally, Silicon Labs' Simplicity Studio development tools support the Gecko microcontrollers, giving developers one-click access to everything needed to complete projects in a unified Eclipse-based environment.
To learn more, visit http://www.mouser.com/silicon-labs-efm32gg11-mcus.
Mouser / Silicon Labs EFM32GG11 Giant Gecko
Page Two
With its broad product line and unsurpassed customer service, Mouser strives to empower innovation among design engineers and buyers by delivering advanced technologies. Mouser stocks the world's widest selection of the latest semiconductors and electronic components for the newest design projects. Mouser Electronics' website is continually updated and offers advanced search methods to help customers quickly locate inventory. Mouser.com also houses data sheets, supplier-specific reference designs, application notes, technical design information, and engineering tools.
About Mouser Electronics
Mouser Electronics, a Berkshire Hathaway company, is an award-winning, authorized semiconductor and electronic component distributor focused on rapid New Product Introductions from its manufacturing partners for electronic design engineers and buyers. The global distributor's website, Mouser.com, is available in multiple languages and currencies and features more than 5 million products from over 700 manufacturers. Mouser offers 23 support locations around the world to provide best-in-class customer service and ships globally to over 600,000 customers in more than 220 countries/territories from its 750,000 sq. ft. state-of-the-art facility south of Dallas, Texas. For more information, visit http://www.mouser.com.
Trademarks
Mouser and Mouser Electronics are registered trademarks of Mouser Electronics, Inc. All other products, logos, and company names mentioned herein may be trademarks of their respective owners.
– 30 –
Further information, contact:

Kevin Hess, Mouser Electronics

Senior Vice President of Marketing

(817) 804-3833

For press inquiries, contact:

Nick Foot, BWW Communications

PR Director

+44 (0)1491 636393