27. marts 2018
Mouser Now Shipping Maxim's Ultra Low-Power MAX12900 Sensor Transmitter for 4–20mA Loop Industrial Automation
Mouser Now Shipping Maxim's Ultra Low-Power MAX12900 Sensor Transmitter for 4–20mA Loop Industrial Automation
March 27, 2018 – Mouser Electronics, Inc., the authorized global distributor with the newest semiconductors and electronic components, is now stocking the MAX12900 sensor transmitter analog front end (AFE) from Maxim Integrated. With ultra-low power consumption of just 170 µA (typical) and a 5 mm × 5 mm footprint, the highly integrated sensor transmitter reduces space by up to 20 percent and power up to 50 percent compared to other 4 – 20 mA loop solutions.
The Maxim MAX12900 sensor transmitter, available from Mouser Electronics, enables increased system accuracy with 10 ppm per degree Celsius voltage reference and 0.01 percent maximum error. The ultra-low power transmitter converts PWM data from a microcontroller into current over a 4 – 20 mA loop, supporting two-, three- and four-wire configurations.
The MAX12900 integrates ten building blocks to help engineers optimize functionality and performance: a low-dropout (LDO) regulator; two conditioner circuits for PWM inputs; two low-power, low-drift general-purpose operational amplifiers; a wide-bandwidth, zero-offset drift operational amplifier; two diagnostic comparators; power-up sequencer; and a low-drift voltage reference.
The MAX12900 sensor transmitter is supported by the MAX12900 evaluation kit, which includes an evaluation board and graphic user interface to enable USB communication between the target device and a PC. The transmitter is ideal for smart sensors and remote instrumentation in industrial automation and process control.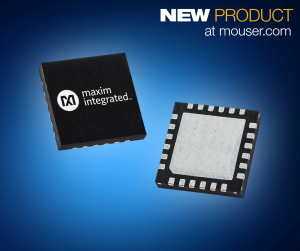 To learn more, visit http://www.mouser.com/maxim-integrated-max12900-afe.
Mouser / Maxim Integrated MAX12900 Sensor Transmitter AFE
With its broad product line and unsurpassed customer service, Mouser strives to empower innovation among design engineers and buyers by delivering advanced technologies. Mouser stocks the world's widest selection of the latest semiconductors and electronic components for the newest design projects. Mouser Electronics' website is continually updated and offers advanced search methods to help customers quickly locate inventory. Mouser.com also houses data sheets, supplier-specific reference designs, application notes, technical design information, and engineering tools.
About Mouser Electronics
Mouser Electronics, a Berkshire Hathaway company, is an award-winning, authorized semiconductor and electronic component distributor focused on rapid New Product Introductions from its manufacturing partners for electronic design engineers and buyers. The global distributor's website, Mouser.com, is available in multiple languages and currencies and features more than 5 million products from over 700 manufacturers. Mouser offers 22 support locations around the world to provide best-in-class customer service and ships globally to over 600,000 customers in 170 countries from its 750,000 sq. ft. state-of-the-art facility south of Dallas, Texas. For more information, visit http://www.mouser.com.
About Maxim Integrated
Maxim is the leader in analog integration. From mobile to industrial solutions, Maxim is making analog smaller, smarter and more energy efficient.
Trademarks
Mouser and Mouser Electronics are registered trademarks of Mouser Electronics, Inc. All other products, logos, and company names mentioned herein may be trademarks of their respective owners.
Further information, contact:

Kevin Hess, Mouser Electronics

Senior Vice President of Marketing

(817) 804-3833

For press inquiries, contact:

Nick Foot, BWW Communications

PR Director

+44 (0) 1491 636393