24. august 2017
Mouser Now Shipping Maxim's MAX32625MBED Mbed-Enabled Development Platform
Mouser Now Shipping Maxim's MAX32625MBED
Mbed-Enabled Development Platform
August 24, 2017 – Mouser Electronics, Inc., the industry's leading New Product Introduction (NPI) distributor with the widest selection of semiconductors and electronic components, is now stocking the MAX32625MBED Arm® Mbed™-enabled development platform from Maxim Integrated. The MAX32625MBED board provides a complete, functional system for developing and debugging a variety of low-power embedded systems, such as sensor hubs, connected sports devices, wearable medical patches, and fitness monitors.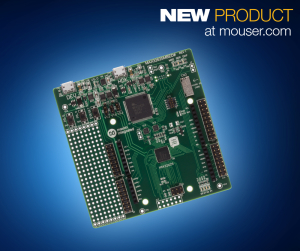 The Maxim MAX32625MBED development platform, available from Mouser Electronics, includes a Maxim MAX32625 microcontroller and an onboard Arm Mbed hardware development kit interface to provide quick connection to toolchains. The onboard MAX32625 device is based on the 32-bit RISC Arm Cortex®-M4F microcontroller with a floating point unit (FPU). It includes 512 MBytes of flash and 160 kBytes of SRAM, with the architecture combining high-efficiency signal-processing functionality with low cost and ease of use.
The MAX32625MBED board features a throughhole prototyping area with adjacent access to analog front end (AFE) connections and up to 40 general-purpose input/output (GPIO) access through Arduino-compatible pins and additional 100mil × 100mil headers. The MAX32625MBED offers SPI and I2C connectivity, as well as an integrated USB 2.0 Full Speed interface that provides a data channel of up to 12 Mbits/s.
To learn more, visit http://www.mouser.com/new/maxim-integrated/maxim-max32625mbed-platform/.
Mouser / Maxim MAX32625MBED Arm Mbed Enabled Development Platform
Page Two
With its broad product line and unsurpassed customer service, Mouser strives to empower innovation among design engineers and buyers by delivering advanced technologies. Mouser stocks the world's widest selection of the latest semiconductors and electronic components for the newest design projects. Mouser Electronics' website is continually updated and offers advanced search methods to help customers quickly locate inventory. Mouser.com also houses data sheets, supplier-specific reference designs, application notes, technical design information, and engineering tools.
About Mouser Electronics
Mouser Electronics, a Berkshire Hathaway company, is an award-winning, authorized semiconductor and electronic component distributor focused on rapid New Product Introductions from its manufacturing partners for electronic design engineers and buyers. The global distributor's website, Mouser.com, is available in multiple languages and currencies and features more than 4 million products from over 600 manufacturers. Mouser offers 22 support locations around the world to provide best-in-class customer service and ships globally to over 550,000 customers in 170 countries from its 750,000 sq. ft. state-of-the-art facility south of Dallas, Texas. For more information, visit http://www.mouser.com.
About Maxim Integrated
Maxim is the leader in analog integration. From mobile to industrial solutions, Maxim is making analog smaller, smarter and more energy efficient.
Trademarks
Mouser and Mouser Electronics are registered trademarks of Mouser Electronics, Inc. All other products, logos, and company names mentioned herein may be trademarks of their respective owners.
– 30 –
Further information, contact:

Kevin Hess, Mouser Electronics

Senior Vice President of Marketing

(817) 804-3833

For press inquiries, contact:

Nick Foot, BWW Communications

PR Director

+44 (0)1491 636393