3. november 2017
Mouser Now Shipping Energy-Efficient Si522xx PCIe Clock Generators from Silicon Labs
Mouser Now Shipping Energy-Efficient Si522xx
PCIe Clock Generators from Silicon Labs
November 3, 2017 – Mouser Electronics, Inc., the authorized global distributor with the newest semiconductors and electronic components, is now stocking the Si522xx PCIe clock generators from Silicon Labs. This new family of clock generators is compliant with all current versions of PCI Express® (PCIe®), including PCIe Gen 4 and Separate Reference Independent Spread (SRIS) standards, delivering exceptional jitter performance of just 0.4 picoseconds RMS. The family's wide-ranging applications include servers, storage, network interface cards, data centers, digital cameras, and docking stations.
The Silicon Labs Si522xx PCIe clock generators, available from Mouser Electronics, use low-power push-pull output buffer technology to limit power consumption, reduce package size, and eliminate the need for external terminating resistors in High Speed Current Steering Logic (HCSL) outputs. The devices' internal power filtering reduces component count, saving around 30 percent of board space compared to similar products.
The Si52212, Si52208, and Si52204 devices can source twelve, eight, and four 100 MHz PCIe differential clock outputs, respectively, plus one 25 MHz LVCMOS reference clock output, while the Si52202 can source two 100 MHz PCIe clock outputs only. All of the Si522xx devices feature individual hardware control pins for enabling and disabling each output, spread spectrum enable/disable for EMI reduction, and frequency selection for 133 MHz or 200 MHz differential output frequencies. These features can also be controlled via I2C.
The Si522xx clock generators are supported by the Silicon Labs Si52204-EVB evaluation board, which allows engineers to evaluate the four-output Si52204 clock generator. The board features I2C port access, plus jumpers and SMA connectors for easy static configuration of the control inputs and selector switches for selecting the voltage for both core and IO supplies.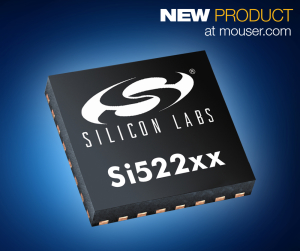 To learn more about the Si522xx clock generators and Si52204-EVB, visit https://www.mouser.com/silabs-si522xx-clock-generators/.
Mouser / Silicon Labs Si522xx PCIe Clock Generators
With its broad product line and unsurpassed customer service, Mouser strives to empower innovation among design engineers and buyers by delivering advanced technologies. Mouser stocks the world's widest selection of the latest semiconductors and electronic components for the newest design projects. Mouser Electronics' website is continually updated and offers advanced search methods to help customers quickly locate inventory. Mouser.com also houses data sheets, supplier-specific reference designs, application notes, technical design information, and engineering tools.
About Mouser Electronics
Mouser Electronics, a Berkshire Hathaway company, is an award-winning, authorized semiconductor and electronic component distributor focused on rapid New Product Introductions from its manufacturing partners for electronic design engineers and buyers. The global distributor's website, Mouser.com, is available in multiple languages and currencies and features more than 4 million products from over 600 manufacturers. Mouser offers 22 support locations around the world to provide best-in-class customer service and ships globally to over 550,000 customers in 170 countries from its 750,000 sq. ft. state-of-the-art facility south of Dallas, Texas. For more information, visit https://www.mouser.com/.
About Silicon Labs
Silicon Labs is a leading provider of silicon, software and solutions for a smarter, more connected world. The company's award-winning technologies are shaping the future of the Internet of Things, Internet infrastructure, industrial automation, consumer and automotive markets. Their world-class engineering team creates products focused on performance, energy savings, connectivity and simplicity.
Trademarks
Mouser and Mouser Electronics are registered trademarks of Mouser Electronics, Inc. All other products, logos, and company names mentioned herein may be trademarks of their respective owners.
Further information, contact:
Kevin Hess, Mouser Electronics
Senior Vice President of Marketing
(817) 804-3833
Kevin.Hess@mouser.com
For press inquiries, contact:
Nick Foot, BWW Communications
PR Director
+44 (0) 1491 636393
Nick.Foot@bwwcomms.com